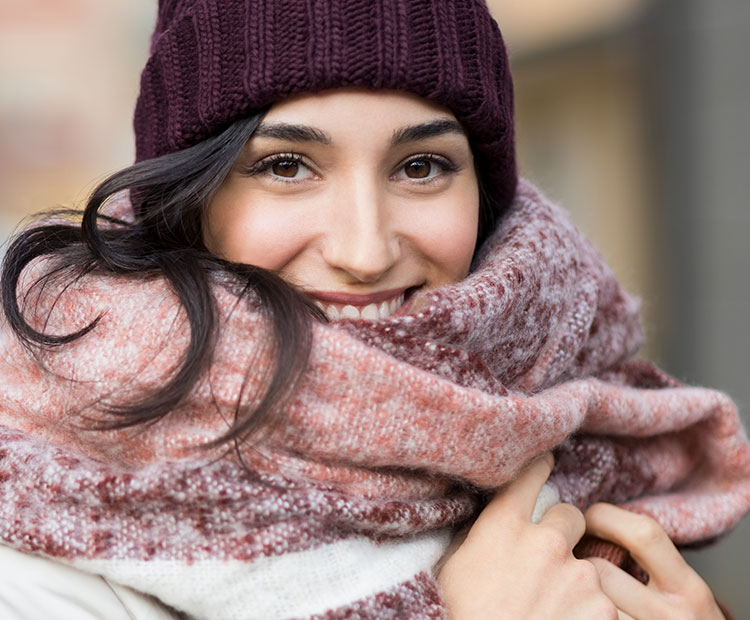 Let's face it, no other part of your body takes more abuse than your face. It is directly exposed to the harshest elements: intense sun, frigid temperatures, whipping winds, dry indoor heating, pollution and stress. These exposures strip your skin of moisture and can leave your face feeling tight, dry, itchy and irritated. The solution? Start every morning with an effective facial moisturizer to keep your skin healthy and hydrated all day. Proper hydration maintains soft and supple skin in the colder months while helping maintain a more youthful appearance all year round. It's a no-brainer!
Remember to adjust your moisturizer as you would your winter wardrobe and transition to heavier products like creams rather than lotions or gels. Creams are thicker and therefore better at locking in moisture. They also contain more oils that boost hydration because the skin absorbs them readily. Even those with oily or acne-prone skin can benefit from thicker creams in the winter. Keep in mind that a little goes a long way. A thin layer is all you need for adequate hydration without clogging pores or worsening acne. It's also best to avoid products with fragrances or preservatives because they can irritate already-dry, fragile skin. Another tip: Stick to products specifically formulated for the face—facial skin has unique qualities that require special consideration.
Here are my picks for facial moisturizers that hydrate in the winter (and also pack in some extra benefits).
Buy now

with Dermstore

A great product for those suffering from or prone to very dry patches on their faces. This product is thicker than other facial creams, but excels in cooling and calming irritated skin. It quickly eliminates dry and red winter itch. Key active ingredients include micronized sucralfate and thermal spring water, two components that rebuild the skin barrier and reduce inflammation. Patients with more irritable winter skin will love this product. It feels creamy upon application and rapidly quenches even the most inflamed skin.

Buy now with free delivery