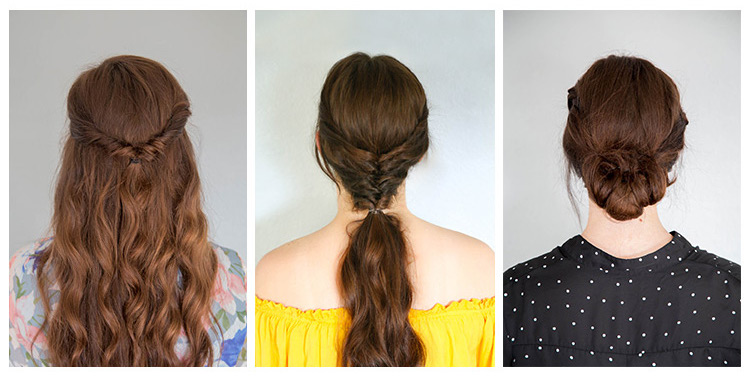 We all have those days when we just don't feel like styling our hair (some of us more than others, *cough cough*). You may have overslept, have your hands full with work or kids or are having a bad hair day and need a quick fix.
Fortunately, for those days when you're pressed for time or energy, you can still look like you didn't press snooze four times. Below, lifestyle and beauty blogger Hayley Paige shows us how to create three versatile, easy five-minute hairstyles. She creates each look in under five minutes using just three tools:
Quick Tip: Really, really pressed for time? Skip the curling iron. You'll still get a chic look in a minute or two.
---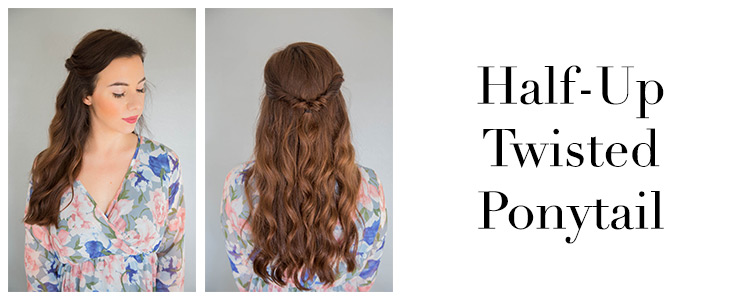 Hairstyle Instructions
1. Create beachy waves using a one-inch curling iron. Hayley uses the Beachwaver S1, which "has a small clamp that makes it really easy to prevent kinks." Plus, its automatic curl function lets you create effortless defined curls or looser waves, without having to wrap the hair around the barrel yourself. For a more natural, windswept look, curl your hair away from your face.
2. Tease the top section of your hair to add volume and texture, and then secure with an elastic.
3. Take the hair in your ponytail and flip it under the elastic, creating a twist effect. Pull on some of the pieces in the twist to get a looser, more textured look.
4. Brush out your hair to soften the look of the curls, and you're good to go.
---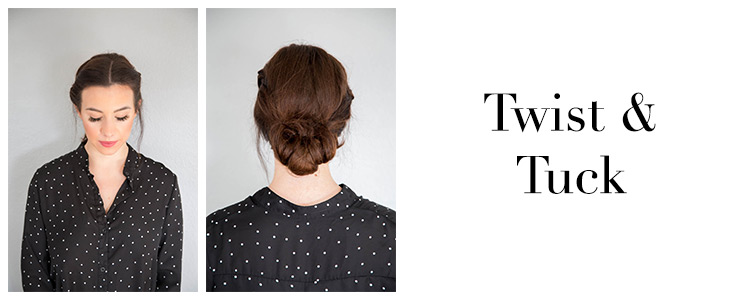 Hairstyle Instructions
Hayley says this hairstyle is "perfect for day-two or three hair that is in need of washing."
1. Add a slight curl to your hair or use a texturizing product to make your hair easier to work with. Hayley uses the one-inch Beachwaver curling iron to curl her hair away from her face before beginning.
2. Separate two one-inch sections toward the front of your hair.
3. Secure the rest of your hair with an elastic. Then, flip the ponytail over the elastic to create a twist effect.
4. Separate two smaller sections from the front of your hairline and twist away from your face. Secure on each side (toward the back of your head) with bobby pins.
5. Take all of the hair not secured in the first ponytail and secure with an elastic on top of the first ponytail.
6. Repeating step 3, flip the new ponytail over the elastic, then pull that hair through the bottom ponytail.
7. Wrap all of your hair over the top of both elastics several times, until you no longer have any hair hanging down.
8. Secure the hair with bobby pins.
9. Optional: Hayley likes to "pull out a few extra pieces for a lived-in look and curl loosely."
---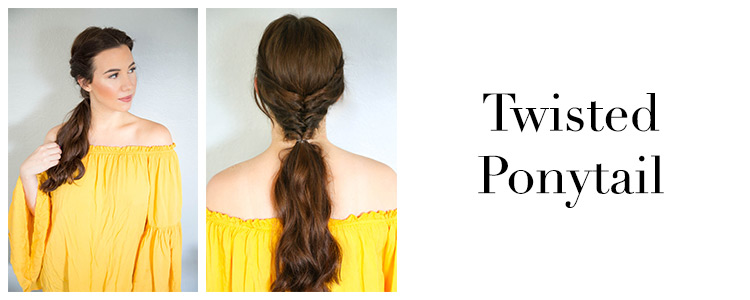 Hairstyle Instructions
"Although it looks complicated, it only takes a few minutes and two products," says Hayley.
1. Add texture and waves with a curling iron. "I'm using a one-inch Beachwaver curling iron to create loose, effortless waves that I will later brush out," she explains.
2. Take one small section from each side of your hairline, and twist the sections toward the back-middle of your head. Secure the sections together with a clear elastic.
3. Repeat 4 more times, securing each new section below the previous.
4. Secure all of the ponytails together with a larger elastic, positioned below the smaller ones.
5. Pull a couple of pieces out toward the front, and brush through the ends of your hair for a looser, more relaxed look.