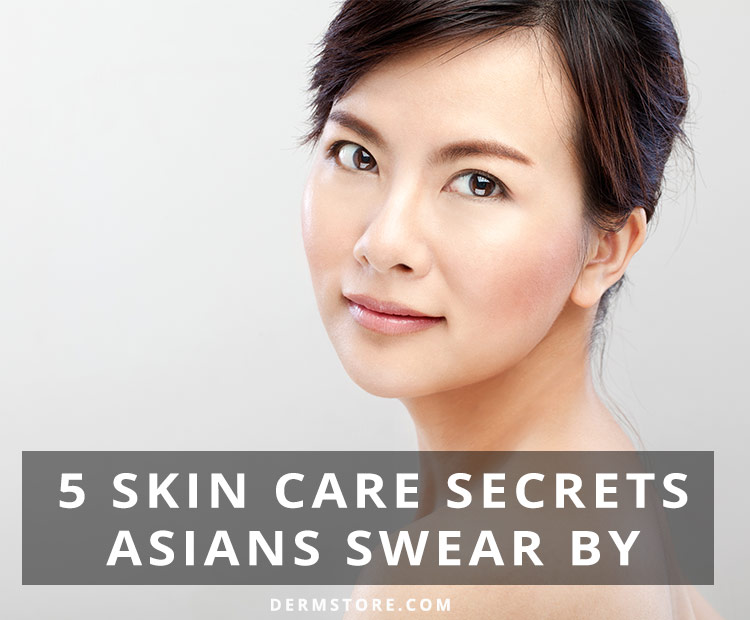 Have you noticed how Asian women seem impervious to aging? Sure, some of them use anywhere from 10 to 15 skin care products throughout the day, and others slather their skin with the most unusual things (snail cream, anyone?). But, according to experts, it's not just what they apply that makes their skin radiant and seemingly poreless—it's how they do it. Here are five Asian skin care practices we could all use in our daily routines.
1. Massaging Your Skin
According to Cynthia Beadle, makeup artist and esthetician for DHC, massaging the skin thoroughly cleanses your pores and revitalizes your complexion. "This is a necessary step in every woman's cleansing ritual, regardless of whether or not they're wearing makeup. We greatly emphasize the benefits of massaging and taking the time to make it an enjoyable ritual."
And it's not just your skin that can benefit from this age-old ritual. "This also goes for the scalp, which results in the vitality of hair. Our Head Oil is one of DHC's best-kept secrets. It's phenomenal because it gently removes product buildup (which leads to dullness) without interrupting hairs' natural moisture balance."
2. Using Jade Rollers
In traditional Chinese medicine, we all know it's important to keep a balance of yin and yang. Jade stone is yin and cooling in nature, which experts believe is very rejuvenating for the skin. "There are various forms of Asian facial massage, but I really love the roller because it stimulates muscles without tugging on your skin," says cosmetic acupuncturist and herbalist Kathleen Funk. "There are a lot of great acupuncture points that you can stimulate on your face for increased blood flow, lymph drainage and collagen production. Plus, it gets those tense muscles, like the ones in between the brows and the forehead, to relax."
3. Double Cleansing 
In the Asian art of double cleansing, removing makeup and skin cleansing are two separate steps (and facial wipes do not count). "The first step is to take off your makeup. This is the step where you would typically use a cleansing oil," explains Funk. "The second step is to use a face wash to remove all the excess sebum, dirt and makeup you loosened up on the first step. This leaves your skin fresh and perfectly prepped to absorb your skin regimen."
But why use cleansing oil, you ask. The answer can actually be explained by simple science. "Oil attracts oil and is therefore more effective at removing it," says Beadle. "Oil is also a gentle way to thoroughly cleanse your skin without having to scrub harshly or strip it of its natural oils," adds Funk.
4. Using Sheet Masks
If you're not using sheet masks yet, you're missing out on a whole lot of benefits. "Sheet masks work by creating an occlusive layer on the skin so that the evaporation of moisture is decreased and the absorption of ingredients by your skin is increased," explains Funk. "They are soaked with serums rich in vitamins, hydrating ingredients and collagen. They're an easy way to look like you just got a facial."
"They're not only perfectly formulated (ingredients are calibrated so that you're using just the right amount), but they're also disposable. No fuss, no muss," adds Beadle. "In addition, sheet masks are incredibly hydrating and provide immediate plumping benefits, reducing the appearance of fine lines."
5. Being Adamant About Sun Protection
Asian women may be obsessed with porcelain-like skin, but that's not the only thing that's keeping them from soaking up the sun. "Asian women are very conscious of the damages caused by sun exposure. I just got back from a trip to China, and literally every woman walking in this park had on a bonnet or visor, gloves and a parasol," says Funk. "While this might not be as fashionable here in the States, daily application of sunscreen is a must."
READERS—Are there other Asian skin care rituals and traditions that you've tried and absolutely swear by? Share it with us on the comments section below.