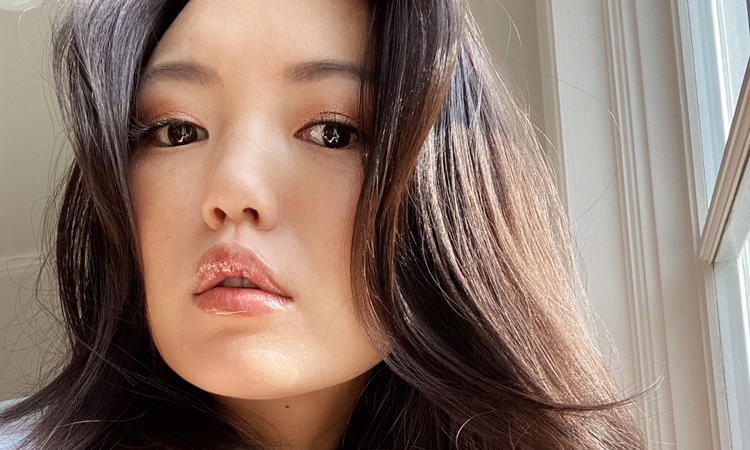 Photo: Courtesy of Amy Chang 
Upon first glance, you'd think that Amy Chang was #blessed with clear skin and a gorgeous head of hair from birth. If you're anything like us, you'll be surprised to know that this blogger and mom of two has had her fair share of beauty woes, from inflamed skin to dealing with hair loss as early as her 20s. After years of experimenting with different products, ingredients and aesthetic treatments, Amy launched her website Bond En Avant in 2016 to share her knowledge and passion for all things beauty and has quickly amassed quite the following.
For the latest installment of our More Than Skin Deep series, we had the chance to talk to Amy about her biggest beauty regrets, how she revived her thinning hair and the importance of being kind to your postpartum body.
The best (and worst) thing she's done to her skin:
The best: I stopped overexfoliating. Exfoliation is beneficial, but if you do it too frequently—like I was doing—the skin barrier can become compromised, leading to breakouts, dehydration and crepiness.
The worst: Neglecting sunscreen in my early twenties and visiting tanning beds (eek)!
What she drinks for a healthier gut and skin:  
I drink copious amounts of collagen-rich bone broth that I make at home. It's nourishing, aids in gut health and provides the building blocks the skin needs to make new collagen and elastin.
The "harsh wake-up call" that changed her hair for the better:
My hair-care routine has become super complex with age. In my late twenties, I experienced hair thinning/hair loss due to years of neglect. I used cheap, harsh products and colored it frequently. I never used heat protectants and heat-styled obsessively. I took my hair for granted and did major damage to it. My hair became brittle, dry, prematurely broke around my hairline and was thinning all over. It was a harsh wake-up call, but I'm glad I experienced it because I learned the importance of hair care and saw firsthand what a difference good lifestyle practices and quality hair products can make.
The best (and worst) thing she's done to her hair:
The best: Invest in good shampoo! Moisture is key for scalp and hair health and there are so many drying, irritating ingredients in bad shampoos. Whenever anyone messages me about a hair or scalp issue, the first thing I ask them is, "What shampoo are you using?" I've learned that eliminating a bad shampoo can make all the difference in correcting a hair problem.
The worst: Getting blonde highlights in my twenties. Bleach does a lot of damage to the hair and unlike skin, which renews every four to six weeks, it can take years and years to grow out damaged hair.
How she dealt with postpartum hair loss:
Postpartum hair loss is one of those unfortunate things that goes along with the beautiful act of bringing life into this world. It did happen to me after my first born and I suspect it will happen again in a few months now that I've had my second. Eating a healthy diet, taking supplements to support hair and skin health and of course, using a hair growth serum were what worked for me the first time around so I plan on following the same course of action this time.
Her advice to new moms experiencing changes in their skin, hair and body:
Be kind to yourself. You've just done the most amazing thing ever—you brought life into this world! Enjoy your new baby and say kind things to yourself and your body. Inevitably, your body, skin and hair will change after giving birth. But that doesn't mean it won't eventually get back to where it once was pre-partum. It can, but it just takes time so don't stress about the changes; most are only temporary.
The beauty products she swears by: