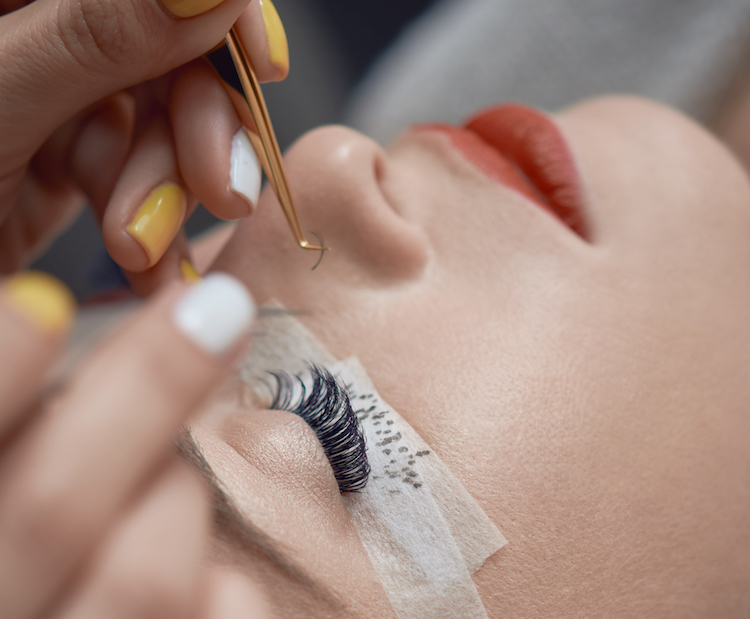 In the past 10 years, eyelash extensions have become one of the most popular beauty treatments available. Since 2007, average Google searches for "eyelash extensions" and "lash extensions" have grown by more than 750 percent (and the trend is still increasing!). This treatment—which involves applying semi-permanent false lashes one by one—is a great way to get longer, fuller, more feminine lashes. Extensions let you achieve a dramatic or subtle look for an extended period of time—without having to use mascara. For special occasions or everyday looks, eyelash extensions can help you cut back on the time you spend getting ready (Who doesn't want to wake up already looking glamorous and ready to go?). 
Though they're as popular as ever, eyelash extensions are still not as familiar to some as, say, an eyebrow wax. And since we're talking about the delicate and sensitive eye are, safety is also a concern. So, to help answer any questions you might have, I chatted with Christine Walsh, an esthetician at Dermstore Spa & Salon, about the whole process.
Dermstore: Are eyelash extensions safe?
Christine Walsh: When applied correctly by a professional, eyelash extensions are usually perfectly safe, and people who have reactions are typically just allergic to ingredients in the glue.* Each appointment starts with a consultation about allergies and walking the client through the process. Sterile tweezers are used to apply individual lash extensions to each of one's natural lashes. Call ahead and check for references on where you can look at their previous work and style when choosing a lash technician.
*Editor's Note on Safety: Common ingredients in eyelash glue include formaldehyde and latex, according to a Consumer Reports study, which are common allergens for many people. Before making an appointment, ask for a list of ingredients in the adhesive your esthetician uses. If you are unsure whether you are allergic to these materials, visit your doctor for an in-office allergy test to avoid a potentially dangerous situation.
If not applied or cared for properly, you can also risk bacterial infections or physical irritation. After getting eyelash extensions, see your doctor immediately if you notice any itching, pain, swelling or anything else abnormal.
Will eyelash extensions ruin your existing lashes?
If applied correctly, lash extensions will not ruin your existing lashes. When too much glue is applied or more than one lash is applied per lash, then you'd jeopardize the health of the natural lash.
What are some common reasons to get lash extensions?
Clients typically get extensions to keep makeup application minimal for an upcoming vacation, or simply to cut out an extra step of mascara or the application of strips in the morning. They're known to boost one's confidence with the simple act of enhancing the eyes, "the windows to the soul."
If someone wants to try extensions but isn't ready to fully commit, what would you recommend?
If someone was uncertain about lash extensions, I would recommend they start by trying a natural-looking set of extensions and gradually build up to a fuller volume or glam lash. Also the client has the option to just get the corner eyelashes enhanced. This way the client can get used to the application process as well as the cost and maintenance of extensions.
Also, lashes aren't for everyone! Some clients don't care for the feel of individual fibers attached to their lashes. In this case, the set is removed easily with a gel, not causing any harm to the natural lashes.
Can you choose the length and fullness of your extensions?
Most definitely! During the consultation portion of the appointment (which happens in the very beginning, of course), you discuss the style of lashes you wish to have. You can choose the length, curl shape and the amount of volume you wish to have applied. The technician will then explain and walk you through the style to expect with what you decided and also make recommendations of styles that would enhance your individual eye shape. Many technicians also have extensions in different colors or materials like mink.
How long do eyelash extensions take (average time of a first appointment)?
Typically a full set takes anywhere from one to two hours, depending on the desired look of lashes the client wants to achieve. During the time of application, I recommend the client enjoys a little beauty sleep. I personally perform the application in a private room at Dermstore Spa, where the client lies comfortably on a bed with relaxing music playing in the background to ease the mind and calm any nerves.
Can you walk us through what an appointment looks like?
Before starting, I always consult with the client on the application process, styles of lashes desired and also the home care of lashes.

I start by applying a thin piece of tape to the bottom lash line to ensure clear separation between top and bottom lashes. Then soothing hydrating gel patches are applied to the under-eye area.

Next I would begin to prep the lashes by applying a lash cleanser to remove any leftover mascara or natural oils that could interfere with the adhesion of the glue.

Once the lashes are prepped and dried the application process begins. The technician uses lash extension tweezers to apply the fibers to each individual lash. The client should only feel the pressure of the technician's palms on their forehead for balance.

Once the desired amount of lashes are applied, a sealant is then applied giving the extensions a glossy effect. This is followed by the removal of the hydrating gel patches and tape strips from the under-eye area.
You now have a beautiful set of eyelash extensions!
How should you care for your new eyelash extensions?
Do use only water-based (

oil free

) eye makeup remover. Cleanse with caution!

Avoid excess rubbing of the lashes.

For the first two hours after application avoid direct water contact with lashes.

For the first two days after application, it's best to avoid steam.

I do not recommend use of over-the-counter mascara unless it is labeled oil-free.

I do not recommend the use of lash curlers, this will break both the extension and natural lash.

It's best to avoid chemical peels because the AHAs and BHAs can dissolve the bonding agent in the adhesive.
How long do eyelash extensions last?
After about two weeks it's best to come in for a touch-up session. The lash life cycle when they are actively growing is typically 30–45 days. The extension falls off when the natural lash hits the end of its cycle and falls out naturally. Poor home care of lashes can result in lashes falling out sooner.
When applied correctly, eyelash extensions are a safe, easy way to enhance your everyday look. But, as Christine noted, they aren't for everyone. If you're still unsure, talk to your local esthetician about any hesitations and ask any additional questions you may have. And if you're looking for an alternative way to enhance your lashes, check out our recommended eyelash enhancing products below.