Co-Founder and CEO of Radical Skincare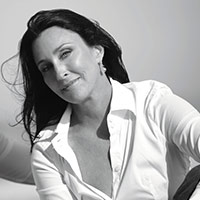 Liz Edlich is the co-founder and CEO of Radical Skincare. She brings an extensive career in financial management, capital sourcing, product development, production and market strategy to her position at Radical Skincare. She has spent the last 15 years of her career in the Direct Marketing and skincare business at her company One World Live, developing over 100 products for celebrities and influencers. While at One World, Edlich focused on corporate strategy while managing product and company acquisitions, celebrity relations, commercial production and closely collaborating on product development and packaging.
Edlich's career has also been defined by her commitment to giving back. Throughout her life, Edlich has volunteered her time and resources to advance important causes. From working with burn victims and developmentally disabled youths to children with facial deformities with Operation Smile in LA and in Africa; seeing her father through Multiple Sclerosis Rehab to working with the American Heart Association, Edlich has always been dedicated to making a difference in peoples' lives. This passion continues with the launch of Get Radical: Secrets to Creating A Life you Love which comes out February 9,2016.
There are no posts in this category, please try again soon.