Founder and President of skyn ICELAND®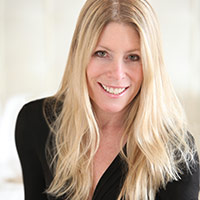 Like many of us, Sarah Kugelman has been trying to manage her stress for 25 years. In 1995 Sarah's doctor told her that if she didn't learn to de-compress, she would not live to see her fortieth birthday. Sarah took a leave of absence from corporate life and spent the next 18 months researching the impacts of stress on skin so she could create a line that would counteract them. While in the midst of the line's developmental stages, Sarah traveled to Iceland where she was struck by the country's purity, cleanliness, abundance of natural resources and inhabitants with flawless skin. And so skyn ICELAND®, the only skin care line designed to treat the effects of stress on skin, was born.
Sarah revolutionized the beauty industry in 1999 by creating gloss.com, a multimedia beauty brand for which she raised $25 million in venture capital and grew to over 100 employees with offices in New York and San Francisco. She has also held senior marketing positions at prominent companies such as L'Orèal and Bloomingdale's. She has made frequent television appearances and has been a guest speaker at leading universities and industry conferences. In 2000, Columbia Business School wrote a case study on gloss.com. In 2006, Sarah was a finalist in the FGI Rising Star Awards. In 2007, skyn ICELAND® won the CEW Indie Beauty Award and in 2013 Sarah won a SmartCEO Brava Award. Sarah has an M.B.A. in Marketing and International Business from Columbia University and a B.A. from Tufts University. Sarah sits on the Manhattan Leadership Board of the American Cancer Society and is on the luncheon committee for FARE's annual fundraiser. She lives in New York City with her husband and daughter.
There are no posts in this category, please try again soon.