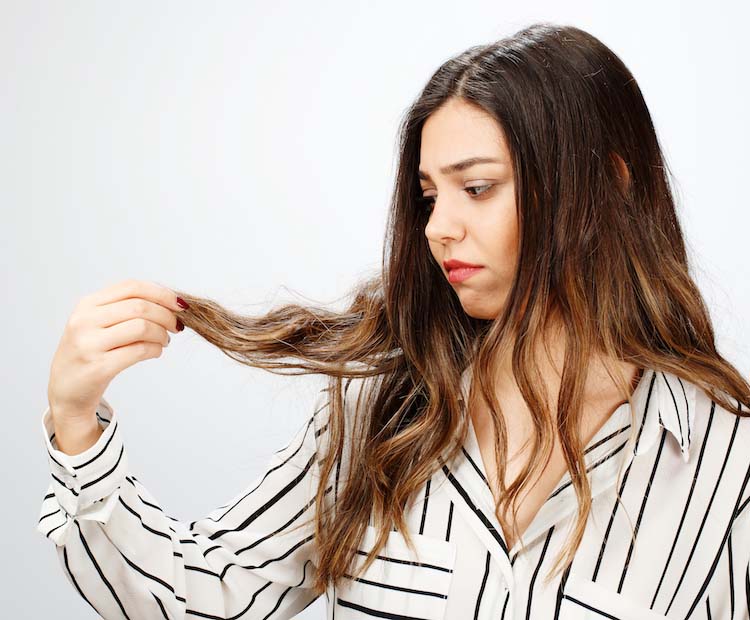 No matter the locks they've inherited, every girl has got a hair-related wish, and whether it's longer hair, stronger hair, more shine or less frizz, the goal that you seek is completely attainable. It's all about finding the right resources and committing to new routines to discover what works for you.
Tips for Every Hair Care Concern
With experience that spans feature films, television, print work and the red carpet, stylist Janet Moore has been a resource for some of the most visible women and men in the nation. Here, drawing from a résumé that includes Friends, Melrose Place and The Voice, she offers her camera-ready hair care tips to help you achieve your best look every day.
How to Add Volume to Flat Hair
"Only ask of the hair what it can do naturally," Moore says. So naturally, texture is the first classification she makes before working on a new client's hair. Heredity is the most common cause of flat or fine hair, but with the right everyday management and products, adding volume can be an easy part of your routine. Fine hair is sensitive to weight, Moore says. Keep your locks above shoulder length with a soft, wispy scissor cut and avoid heavy gels, waxes and silicone products. Use soft volumizers and sprays and be sure to apply them only to the roots so as not to weigh down the hair.
Thinning Hair Remedies
Thinning is among the leading hair care concerns due to aging, but it's often the result of other bodily changes like hormone fluctuations, thyroid issues or diet. "Some of the causes of thinning hair may be resolved through medical attention," Moore says. The good news? Even hereditary or regular thinning from aging can be delayed or avoided; gentle shampoos and spray-on leave-in conditioners are a winning combination for thinning hair. Look for something sulfate-free, as it will be kind to the scalp. You may also want to use vitamin-rich topical or internal treatments to rebalance your hair-growth cycle and encourage regeneration.
Read More: Best Hair Growth Products & Hair Loss Treatments
Getting Rid of Dandruff
"A dandruff problem is a sensitive scalp problem," Moore says. But this, too, can be combatted. Purchase a good scalp brush with natural boar bristles to help loosen flaky skin. After brushing, wet your hair and rinse it with a mixture of one part organic apple cider vinegar and eight parts warm water. Work it through your scalp and hair thoroughly, rinse and use a designed-for-dandruff or sulfate-free shampoo and conditioner. This vinegar rinse can be repeated as much as necessary.
How to Tame Frizzy Hair
Whether caused by dryness or the environment, frizz is one of the most common complaints Moore hears, but the treatments depend on each individual's natural hair texture. "Soft hair with frizz or, as I like to say, 'frothy hair' can be managed with the right shampoo, conditioner and leave-on moisturizing spray," she says. Styling is also key. Apply a light smoothing product before blow-drying with a round brush, then polish off the style with either a flat iron or large barrel iron. For thick and excessively frizzy hair, Moore recommends a quality keratin straightening treatment. "It's safe, even for bleached hair, and leaves it feeling like silk."
How to Fix Oily Hair
Oily hair is typically caused by an oily scalp, so focus on treating the scalp instead. Contrary to popular belief, stripping away oil with excessive washing is not an effective solution; in fact, this will likely cause overcompensation for dryness and even more oil production. Moore recommends products that normalize the scalp's pH levels. Regular apple cider vinegar rinses can also help keep the scalp healthy and the hair shiny and clean.
Shop Oil-Fighting Hair Products
Home Remedies for Dry Hair
Many women strip their hair of essential oils with harsh shampoos and then, counteractively, over-condition with heavy conditioners. Thus, even more important than conditioning is the use of a quality moisturizing shampoo. Keep in mind, the best hair care tips for you will come from your own stylist. "Your stylist knows exactly what they have done to your hair and they know exactly what you need to maintain it," Moore says.
Shop Moisturizing Hair Products
Treatments for Chemical or Color Damage
No chemicals made for hair are designed to damage the hair, so if your hair is chemical or color damaged, this is usually an indication of over-processing or leaving a treatment on too long. After chemical damage, the hair shaft is open and vulnerable, so Moore recommends protein-bonding and replenishing products. But, your immediate course of action should be to see a stylist for color correction. An experienced stylist will condition and repair the hair as much as possible during the process.
How to Stop Hair Breakage
Most women experience split ends regularly due to heat styling and styling in general, but according to Moore, breakage is easily avoided. Split ends and breakage are actually two different problems—split ends occur before the hair breaks—so if you start to see splitting, act preemptively and get a small trim before it becomes irreparable. Once hair is broken, little trims aren't going to solve the problem, Moore says. At this point, a significant haircut and a deep conditioning mask will get you back to square one.
Read More: How to Treat and Prevent Split Ends
How to Brighten Dull Hair
When hair is lacking moisture, dullness can occur, so the best route to livening up your strands is to invest in quality shampoos and conditioners that keep the hair moisturized. Also, while topical silicone products can add that extra shine, luster can often be achieved naturally by rebalancing the hair's natural oils. Try reducing the amount of shampooing in any given week. While hair will become oily at first, it often balances out so that one or two shampoos per week will do.