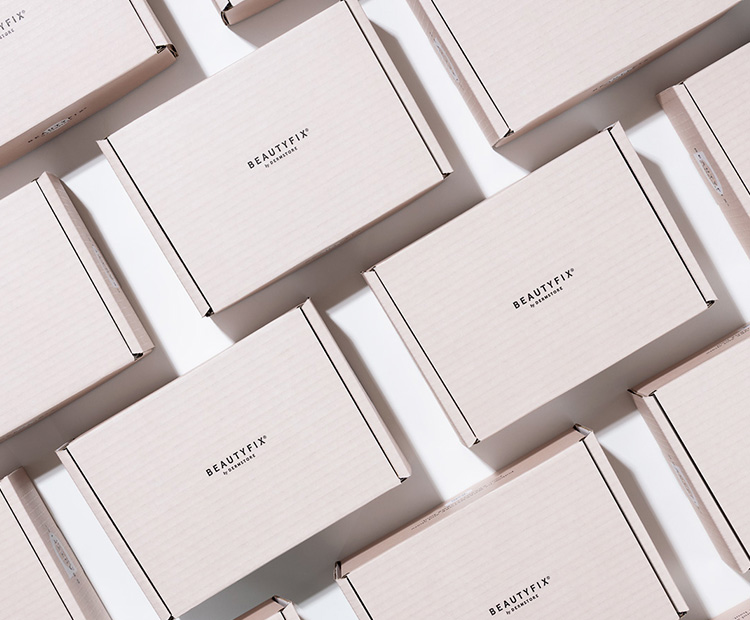 Subscription boxes have become one of the best ways to shop and discover new products in the last few years. Less than a decade ago, you had a few nice options to choose from, but now you can essentially do all of your shopping by just subscribing to boxes. No matter what your needs or interests are—from cake-decorating to doomsday prepping (yes, these exist)—you can find a box seemingly created just for you.
If you were one of the 21.4 million visitors to a subscription box site in 2016, you understand why the popularity has exploded by almost 3,000 percent in just a few years. And if you weren't, we might just have to make a believer out of you.
BeautyFIX is Dermstore's contribution to the skin care and beauty realm of subscription boxes. Curated by skin care experts, each monthly BeautyFIX includes five or more products adding up to a total value of $100+ (that's about four times what you'll pay for it!). In each box, you can expect to see a healthy mix of full-size and deluxe-travel-size products—including skin care, hair care and cosmetics. 
Curious to know why BeautyFIX remains a fan favorite? Read on.

What Makes BeautyFIX Unique?
There are more than 2,000 subscription boxes available right now, as listed on My Subscription Addiction. BeautyFIX is consistently among the top 20 most popular (the top one percent of all subscription boxes!). To maintain that kind of popularity in such a saturated market, we had to offer something to set us apart from the rest. Why limit ourselves to just one differentiator? We'll give you seven.
1. Skin Care Focus
Out of 200 beauty-focused subscription boxes, we're the only one dedicated to skin care. Beauty should never just be about makeup; it should be about transforming and protecting that precious skin of yours.
"I Love BeautyFIX box because it is a box that gives high-quality professional products at a price anyone can afford. I am not a huge makeup fan so the fact that the box has a lot of skin care products is perfect for me. I am a new subscriber but can't wait for my many new boxes to come!!!!"
–Krista, Facebook
2. Catered to All Age Groups
While many beauty boxes are marketed to millennials, BeautyFIX offers products for women of all ages. Our customers write to us all the time, thrilled to have finally found a box for someone in their age range!
"I subscribe to several beauty box types but this is my favorite subscription. I receive at least one and often two full-sized products in addition to many deluxe-sized samples. They are almost always appropriate for my skin care needs. Occasionally, I give one or two to my 40-year-old daughter."
–BeautyFIX Customer
3. Excellent Customer Care
Our award-winning customer-service team is here to assist, inform and support to help you get the most out of your subscription. We love hearing your feedback!
"The value of all BeautyFIX boxes are 4–5 times the cost of what we pay for and I am grateful for the wonderful curation and amazing customer service. For skin and hair care–BeautyFIX is my go-to box."
–Lia, My Subscription Addiction
4. Professional-Grade and Prestige Products
We carefully vet our brands to ensure that you're receiving the best of the best. You'll get to experience a sampling of some of our favorite brands and products in every box.
"Dermstore consistently delivers top-quality skin care products. Every box I have ever received has high value. I don't know of any other sub that ALWAYS includes one or two FULL-SIZE items. I buy almost all, if not all of my skin care products from Dermstore."
–Janet, My Subscription Addiction
5. Timely and Relevant Collections
Each month, we focus on a different theme. For example, past box themes have been organic and natural brands, sun care essentials and dermatologist-backed products.
"I got my very first BeautyFIX box two weeks ago & I'm hooked. I loved everything in this box! The Juice Beauty moisturizer is very nourishing & is organic. I LOVE all the Juice products. They are all organic, smell nice and treat my skin well. The box's value is $180 and I loved everything in the box."
–Rachel, Influenster  
6. Useful Devices
We tend to include a beauty tool in our boxes to give you more of a range of items. You might find a professional hairbrush, a beautyblender tool or a skin care device in one of your boxes.
"I can give you tons of reasons why BeautyFIX is a must! Great selection of full and deluxe sizes, variety of brands. BeautyFIX offers skin care, makeup, tools, hair. What's not to love! I have discovered products that wouldn't cross my mind otherwise. Keep it up!"
–Marija, Facebook
7. Exclusive Access to New Launches
When a covetable brand is launching a new product, BeautyFIX subscribers can be among the first to try it. Subscribe to get exclusive access before the rest of Dermstore shoppers!
"The quality is great, as is the value. I don't know if I can even use the amount of product I receive each month. It's a great mix of items I'd buy on their own along with luxury items I'm thankful for the chance to try."
–BeautyFIX Customer