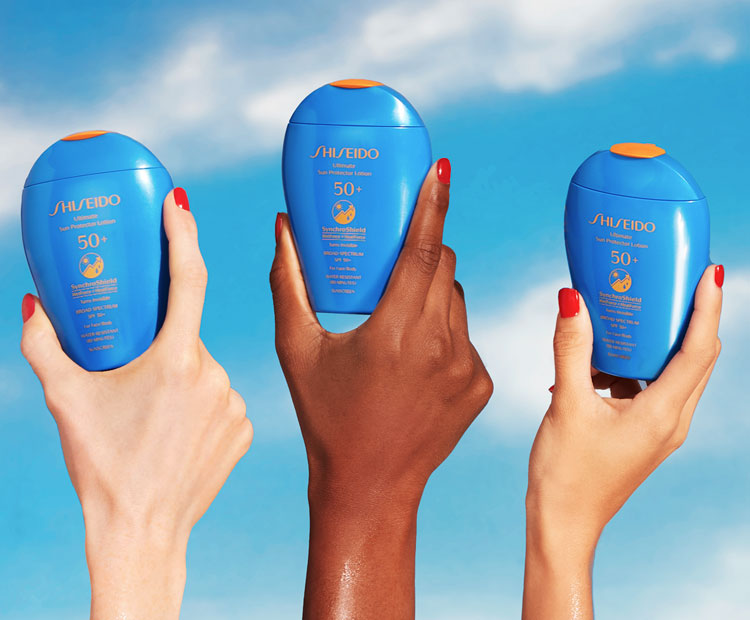 Shiseido's sunscreens have racked up an impressive array of beauty awards—no surprise for a brand that combines a 140-plus-year heritage with the some of the most groundbreaking advancements in recent skin care science. But with so many buzzworthy SPF formulas, which one is right for you? Let's take a closer look at Shiseido's best-selling sun protection products and what makes them stand out.
Smarter Sunscreen Technology
While many sunscreens boast high SPF values and broad-spectrum protection, not all formulas can keep up with a sweaty outdoor workout or a swim in rough surf. Shiseido's sunscreens designed for active use (a.k.a. beach days or other outdoor activities) feature the brand's own WetForce technology—which actually helps them become more effective on wet skin rather than rinsing off. This process works when negative ions in the formula combine with positive ions in perspiration or water to create an additional layer of invisible sun protection. Pretty genius, no?
The brand's latest discovery, HeatForce technology, works in a similar way: A heat-sensing essence in the sunscreen becomes activated by external heat (from the sun or your body), forming a stronger barrier.
Like all sunscreens, you still need to reapply Shiseido's high-tech formulas every two hours (or 80 minutes in the water) and after toweling off. But you can swim laps or work up a sweat without worrying your sunscreen is leaving you exposed.
How to Choose the Right Shiseido Sunscreen
Prefer mineral actives over chemical ingredients? Looking for a sunscreen that goes on sheer? Need an SPF that won't leave your skin greasy? There's a perfect formula for you here:
Buy now

with Dermstore

Why it's great: This sunscreen checks all the boxes: It goes on invisible, rubs in quickly and can be used for face and body. Its reef-safe formula (which meets Hawaii's guidelines for ocean-friendly sunscreen) is ideal for splashing in the waves—or lounging on your towel.
Active ingredients: Avobenzone 2.3%, homosalate 10.0%, octisalate 5.0%, octocrylene 5.0%
Key Ingredients: WetForce and HeatForce technologies create a protective veil that's strengthened by water and heat.
For face or body?: Both
SPF: 50+
Oil-Free?: No
Water-Resistant?: Yes; 80 minutes

Buy now with free delivery