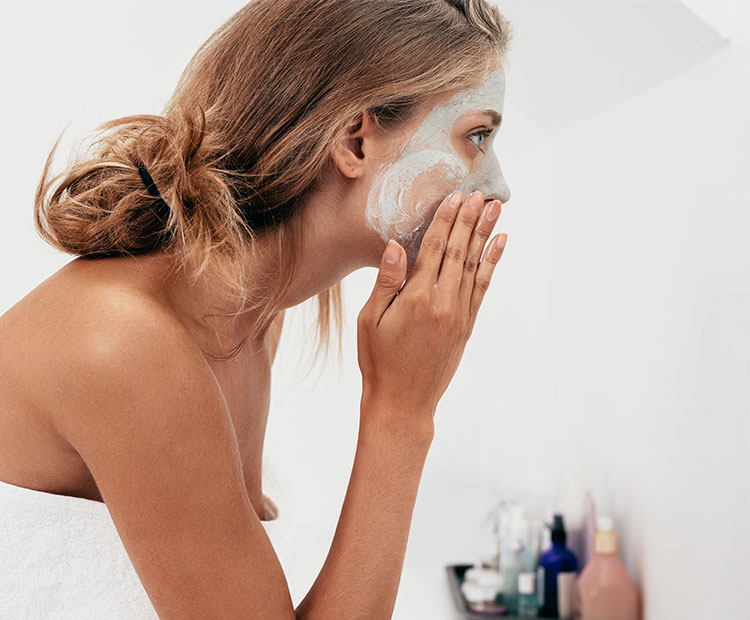 Between the thousands of skin care products and the billions of dollars spent advertising those products, it's daunting to decipher what you really need to do for your skin.
Life looks and feels different at every age—and so does your skin. Here's a glance at what a skin care regimen should include in your teens, 20s, 30s, 40s and beyond.
In Your Teens
1)  AM: Use sunscreen.
2) PM: Wash your face.
All skin care regimens must start with an excellent broad-spectrum sunscreen that should be worn year-round. Yes, you heard me, year-round. Protecting yourself from the sun decreases your risk of getting skin cancer and slows the signs of aging. Studies show that the sun's UV radiation causes 90% of skin aging. It's never too early to start protecting your skin and a great habit to start young.
Also non-negotiable: Washing your face before bed. You need to get the day's grime off, including makeup, oil, pollution and dirt to decrease the risk of skin irritation, clogged pores and acne. It is also the first step in helping your skin cells in their efforts to reverse the day's wear and tear.
Related Read: 10 Best Face Cleaners for Acne-Prone Skin
In Your 20s
1)  AM: Use sunscreen
2)  PM: Wash your face.
3)  PM: Apply moisturizer before bed.
Skin cells have a lot of work to do while we rest up—and they function better in a moist environment. Applying moisturizer before bed protects the skin from dehydration as you sleep, making it easier for them do the repairs they need do. Despite the common myth, moisturizers do NOT cause pimples. If you have oily skin and are worried, pick a product that is oil-free. If you have acne or redness, pick one with niacinamide (vitamin B3), to combat that redness.
By Your 30th Birthday
1)  AM: Use sunscreen
2)  PM: Wash your face.
3) PM:  Use retinoid.
4) PM: Apply moisturizer before bed.
We have 30+ years of data showing that topical retinoids (vitamin A) help with reducing fine lines by increasing collagen synthesis and decreasing collagen breakdown. They also correct sun damage and improve skin texture and discoloration.  Topical retinoids increase cell turnover, which is why some people experience irritation if they use too much or do not follow it with a moisturizer.
Many over-the-counter products contain retinol, the pre-drug of tretinoin. Tretinoin is a prescription drug you get from your dermatologist that can directly activate your skin, while retinol needs to be converted into tretinoin by the body before it can get to work. Studies show you need a strength of 0.25% retinol or 0.025% tretinoin for it to be strong enough to cause these positive changes in the skin. After washing your face, but before your face cream, apply a very small amount and start slow, using it just twice a week, only at night, and work up from there.
There is a lot of concern about sun sensitivity with retinoids. Because it increases cell turnover, the top layer of dead skin is less thick. This layer can provide an SPF of 2 to 4. Provided you are using a daily sunscreen, it is OK to use retinoids all year round. 
Related Read: 10 Retinol Creams That Are Worth Every Penny
40s and Beyond
1) AM: Apply an antioxidant serum.
2) AM: Use sunscreen.
3) PM: Wash your face.
4) PM: Use retinoid.
5) PM: Apply moisturizer before bed.
Multiple studies show that serums with vitamins C and vitamin E protect your skin against photoaging. They work because these vitamins function as antioxidants, neutralizing the damaging free radicals created by the sun and pollution before they activate the breakdown of collagen. It's important to know that the skin is very good at keeping things out, so these antioxidants need to be in a well-formulated vehicle that absorbs easily into the skin to ensure those important and expensive vitamins get deep enough into the skin to protect it.
Antioxidants and retinol serums are typically more expensive and not sought out until the first signs of aging begin, but they are safe to use at any age (unless you are pregnant). In fact, many teenagers are prescribed tretinoin in the form of retin-A for acne. If you have started using it for acne, I suggest that you keep using it even after your skin improves. Simply switch to a more moisturizing formula to make it more tolerable for less oily skin.
I hope this Dermstore blog post will help you make smart choices for you and your skin. Check back next week for another Straight Talk with Dr. Rogers post, where I will discuss my personal skin care regimen.