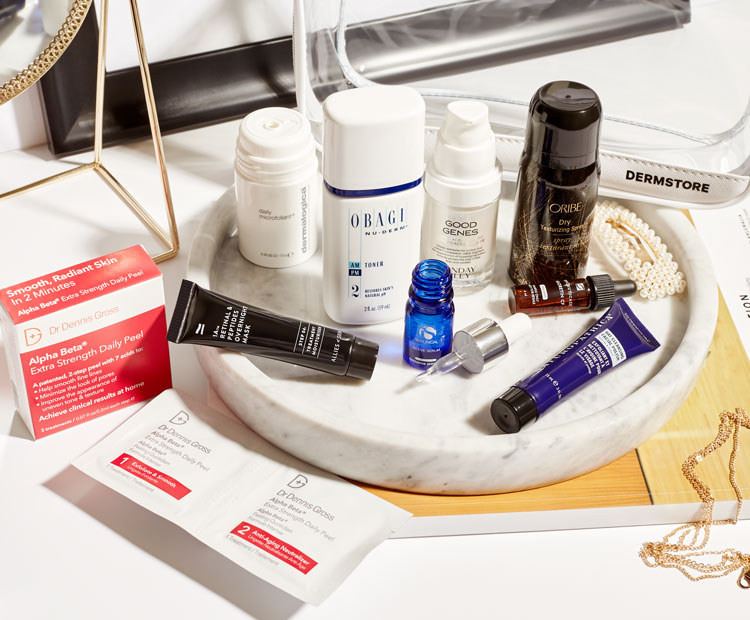 A confession, before we get started: since I lead the copywriters at Dermstore, I had a hand in naming The Essential Set. The lineup of brands in this baby, from industry-leading SkinCeuticals to cult-favorite Sunday Riley, make this the go-to collection for anyone looking to intro themselves to high-end skin care and hair care. Or for anyone who, like me, has tried lots of these brands but maybe not these specific products.
I couldn't wait to test it out and write about my experience.
Planning the Lineup
Since the set contains several exfoliants, both physical scrubs and AHA/BHA acid-based treatments, I knew I wanted to explore these products over the course of at least a couple days. (You shouldn't stack multiple exfoliants in the same morning or evening routine, and even doing one every day can be pushing it, unless it's really on the gentle side.)
I planned to use a couple products a day throughout four days (apologies to my dermatologist, I know you're right; that's too much switching up too fast, but a deadline's a deadline), and embarked on the exploration.
Day 1
Morning
I haven't yet embraced toners, mostly out of laziness, so the Obagi Nu-Derm Toner, the single toner in the set and a well-reviewed customer favorite, has a bit to prove to me. It goes on easily, definitely picking up more "stuff" on the cotton pad after my regular cleanse. I take that as a sign I should use it more often, and decide to continue using it each day of this experiment. As a mild toner, I know it will play nice with everything else in the set.
I brace myself for the two pumps of Sunday Riley's Good Genes All-in-One Lactic Acid Treatment. I've tried a chemical exfoliant serum or two and you never know if you're going to get a little sting. But not only does it go on completely sensation-free, it also smells like candy. The ingredient list says licorice, but fear not, anise-haters, it smells like non-licorice candy. I'm into it, and I can see myself using it daily easily.
Since I am mostly incapable of doing anything with my hair except washing and drying, if the Oribe Dry Texturizing Spray impresses, it's just the kind of easy addition I could actually get into my routine. This morning, it does impress. It gives just enough volume that I can pretend I didn't do anything to my hair and just #wokeuplikethis. And even though my hair usually slithers free of any curl or holding spray, it's still bouncy two hours later.
Night
I use a prescription retinoid for milia, so I'm covered when it comes to my vitamin A. But I've also tried handfuls of non-prescription retinols out of curiosity and this Allies of Skin 1A™ Retinal + Peptides Overnight Mask is up there—not oily or chalky like some can be, and it doubles as a moisturizer which is great because most are drying. I don't add my regular moisturizer on top before going to bed; this is so moisturizing it's not needed.
Day 2
Morning
While I tried four new products yesterday, today I'm only cycling in two, because, honestly, they're so multitasking and effective, there's no reason to keep reaching for more product.
The Obagi toner and Oribe texturizing spray do make reappearances, though, and my attachment grows.
I've been looking forward to using the Dr. Dennis Gross Alpha Beta Extra Strength Peel Pads because I've really enjoyed other glycolic acid pads but I've somehow never tried the offering from Dr. Gross, arguably the industry master of them. There's something deliciously springy and dewy that happens to skin after a glycolic exfoliant, and this peel delivers. I'm touching my face hours after my morning routine to soak up that feeling. (Don't do this at home—too much face-touching is always disruptive to what your pores and skin barrier are trying to accomplish for you, not to mention during a viral pandemic. I'm just saying you'll be tempted.)
Night
When the label of the iS Clinical Active Serum says apply sparingly and you may feel a tingling sensation, that is the absolute truth. I don't expect this serum to be watery so I put too much on my fingers, and boy do the lactic and salicylic acids activate! After scolding myself for the rookie mistake of not fully reading what "actives" are involved and how much to apply (read the ingredients and directions, you guys!) I'm happy to see that signature BHA/AHA dewiness, and my skin is only a little mad at me. I probably should not have used this the same day as the Dr. Dennis Gross, but I get away with it without any real irritation. If you're not into two-step pads for whatever reason, if you love products that kick butt immediately, this will be a set favorite.
Day 3
Morning
All the vitamin C serums out there can be really different in consistency, feel and scent, so I'm not sure what to expect from SkinCeuticals' Phloretin CF. Will it look and smell like orange juice, like Dermalogica's? Will it be ultra lightweight like the Paula's Choice one? Or more like SkinCeuticals' all-time bestseller, C E Ferulic? The answer is the last one—and since this formula is best for those with oily or acne-prone skin, it's the recommended dupe if you tried C E Ferulic but it didn't agree with your skin type. My skin swings both ways, and now that I've used both, I can say the application experience is right on par and both appear to work for me.
Night
I had planned on using Dermalogica's Daily Microfoliant this morning, but after using the Dr. Dennis Gross peel and iS Clinical serum back to back, I changed those plans and gave my skin a break in the morning. This rice-based powder has never seen a plastic microbead, so no worries there. Since it's a physical exfoliant, I let the texture do the work and don't rub, just apply it lightly. It's kinda fun to use, and my skin is smooth and clear afterward. A plus for whenever we're traveling by plane again: because it's in powder form, it doesn't take up space in your limited liquids allowance.
Day 4
Morning
No new products scheduled to try this morning, but I do reach for the Obagi toner and Phloretin CF; these could easily become everyday staples.
Night
I've tried other Naturopathica masks and so I know I'll get a spa-like luxurious texture and heavenly scent from the Oat Cleansing Facial Polish. Check and check. The exfoliating texture comes from biodegradable jojoba wax beads, so again just apply gently and let the polish do the work. With the oat and aloe vera ingredients, it's unique in its category in that it leaves my face feeling hydrated as well.
The Final Verdict
If you want to know what high-end professional skin care is all about, this is the set for you.
If you want to test out several exfoliants before you commit to one, this is the set for you.
If you love these brands and just want more of their greatest, this is the set for you.
Some of my biggest learnings:
Don't rush like I did; give your skin time to enjoy and see the benefits of recurring use of each product, and take your time figuring out what you like most.
Comparing the physical and chemical exfoliants in this set, I'd get a more matte finish with physical, more of a dewiness with chemical.
Of the chemical exfoliants, the Sunday Riley is one I could use every day given its gentleness. I'm excited to try the iS Clinical Active Serum again properly.
I can't believe I haven't been using toner.
If you've had false starts with a retinol due to dryness, give the Allies of Skin a try; it's time-released within a moisturizer and really beginner friendly.