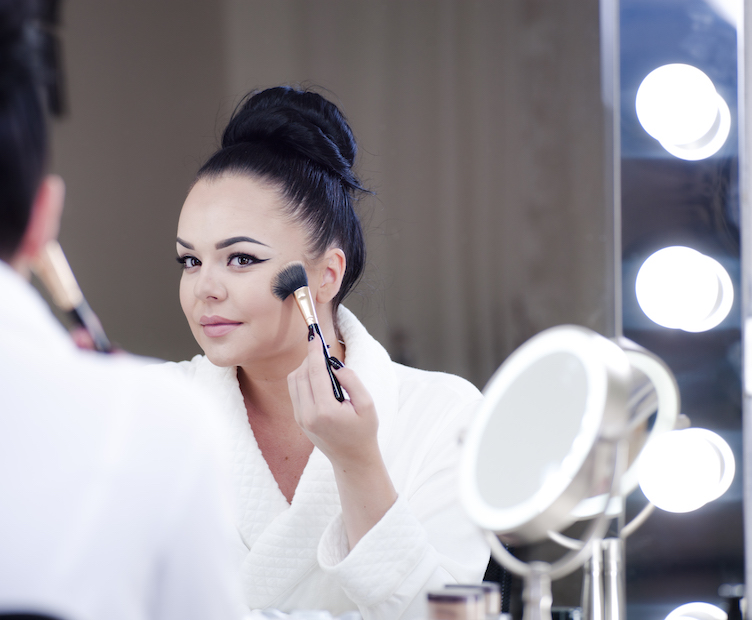 The cat eye is one of those classic makeup looks we hope never goes out of style. It's feminine, sexy and as intense or dramatic as you want it to be. Created with a signature winged eyeliner detail, we've been inspired by our feline friends since the days of Cleopatra. Still as popular as ever, this look can be a little tricky to get just right. Lifestyle and beauty blogger Hayley Paige helps us learn how to master the cat eye makeup look with these tips.
A Few Tips for Getting Started
Aim for products marked as waterproof in order to prevent smudges. When you've worked hard on those precise lines, you want them to stay looking sharp!

If you've made any mistakes while gluing on false lashes, a cat eye is the perfect cover up to hide any blunders.

Never go to sleep in your makeup—especially after a night out with an intense cat eye.

Use a liquid eye makeup remover or oil cleanser to remove your look at the end of the night with ease. (Watch how effectively an oil cleanser removes a cat eye look.)
How to Create a Cat Eye: Step by Step 
1. Prime Your Lids
Apply a thin layer of eye primer to create an even base and give your finished look more staying power. Blend in your eye primer with a small sponge or thin brush, being careful not to tug at your eyelids. 
2. Apply Eyeshadow
What level of drama are you going for with your makeup look? If you want your eyeliner to do most of the talking, opt for a neutral color palette. Nudes and a bit of subtle shimmer will make your liner stand out even more. Now, if you're hitting the town for a night out and want to really make a bold impression, blend a darker shade of eyeshadow in the outer corner of your eyes, toward where you'll be drawing your eyeliner.
3. Choose Your Liner
Hayley prefers using a liquid liner like the felt-tip Liquid Eyeliner Pen from blinc because its precise tip allows for more control when creating a really precise cat eye. However, if you prefer using gel eyeliner with an angled brush or are loyal to your favorite pencil, opt for what's most comfortable to you.
4. Draw a Fine Line Along Your Eyelid
Start with the inner corners of your eyes—saving the fancy wings for last. If you're going for a more subtle look, you can start the liner in the middle of your eyelid, which is what Hayley often does. This creates a softer look and really puts the focus on the defined, outer corners of your eyes. Draw a thin line across each eyelid, ensuring they are the same thickness before moving on to the cat eye corners. 
5. Wing It
While some of us like to use a piece of tape as a stencil for our wings, you might want to learn how to freehand a straight wing. Instead of worrying about trying to get a perfect wing in one sweep, try it Hayley's way (it's as easy as connecting the dots). "I'll connect a really fine line from the corner of my eye to the tail of my brow bone," she says. "Then, I'll take the end of the wing and connect it back to my eye."
6. Touch Up Any Imperfections
When your wings don't match or something doesn't look quiiiiite right, don't worry! It's not easy to get it perfect on the first try. "If you mess up and apply too much winged eyeliner, or if it looks sloppy, take an angled eye shadow brush, dip it in makeup remover and clean up the edges of your wing," says Hayley. "Using this technique, you can define your wing without removing all of your makeup."
7. Complete the Look With Lashes
The last step is to top it off with mascara or false eyelashes to add drama and balance out your cat eye. We love Lilly Lashes for glamorous volume and Kevyn Aucoin's Starlet lashes for a subtle elegance. Meow!