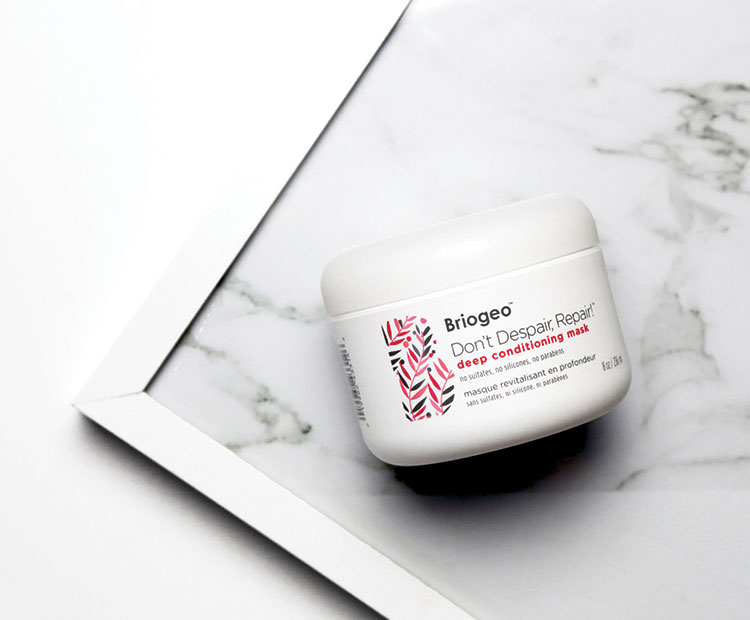 If you were to peek into the bathrooms of your favorite beauty gurus, editors and influencers, you'd probably see a veritable smorgasbord of lotions, potions, masks, and tools, but there's a few brands that make a repeat performance in the showers of both the pros and the beauty obsessed alike. Briogeo, known for its clean, nourishing and deeply repairing haircare formulas is one such brand.
We sat down with founder and CEO Nancy Twine to talk about the hows and whys behind her incredible brand, her tips and tricks for textured hair, and to learn more about her experiences as a Black entrepreneur in the beauty industry in honor of Black History Month.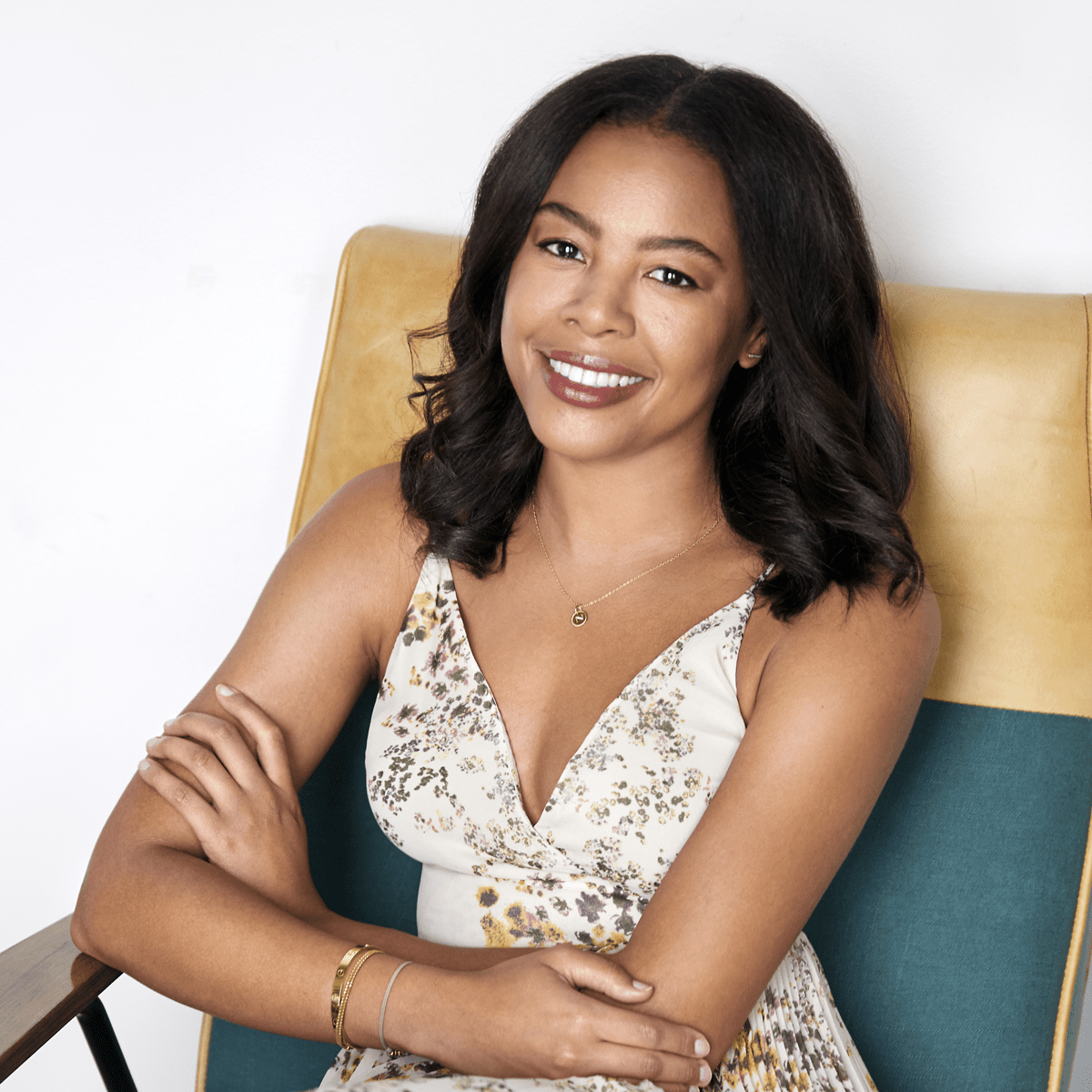 Question:

What is your mission with Briogeo? Has it evolved since you founded the brand?

Answer:

Since Briogeo's inception almost ten years ago, our mission has always been to offer clean, natural, and effective solutions for every hair type, hair texture, hair need, ethnicity, background, and person. Our goal is to provide all individuals with the products, tools, and resources to showcase their authentic selves with confidence and to thrive along their unique healthy hair journeys.

These aspects are ingrained in Briogeo's brand ethos—so much so, that it's right there in our name: brio is an Italian word meaning "vibrant and full of life," which honors individuality and diversity, while geo is a Latin word meaning "of earth and nature," which represents our naturally derived, nourishing formulas.

Question:

What inspired you to start the brand?

Answer:

While I actually began my professional career working at a large financial firm in New York City, I always had a passion for and connection to clean beauty and haircare. I struggled with my hair growing up because the products on the market were just not right for my hair texture. Instead, my mom (a doctor and chemist) and I would make homemade beauty products in our kitchen with natural ingredients from our local health food store, which was something she learned from her own mom. I discovered firsthand that it was possible to take simple, clean, ingredients and create formulas that effectively transform hair, skin, and body.

Almost halfway through my finance career, I experienced a tremendous personal loss that inspired me to find new passion and purpose in my life and work. Ultimately, I kept coming back to those childhood memories of concocting beauty treatments and realized I had a desire to make a larger impact on the natural beauty world.

Question:

How has your experience as a female entrepreneur, specifically as a woman of color, in the beauty industry shaped the brand and its products?

Answer:

When I was younger and shopping for haircare products, it wasn't typically an enjoyable experience—there weren't many product offerings for my curly hair on the market, and the few that did exist were located on a bottom, poorly-lit shelf. It made me feel like I was supposed to be ashamed of my hair type and texture.

Years later, I founded Briogeo, a brand that celebrates inclusivity at its core. Briogeo was always about more than just me—Briogeo is about everyone, honoring diversity, and making clean, healthy choices. One of the most rewarding things about creating this brand has been defying the norms of the beauty industry. Briogeo opens the door for people of all hair textures, hair types, and ethnicities to identify with one singular haircare brand as their own—this has rarely been seen before in history. It's an honor to be a first-mover towards acceptance and inclusivity in haircare.

On my own journey as an entrepreneur in the beauty and wellness space, I've also learned it's really important to keep an "abundance" mindset. I'm extremely grateful for my female beauty founder friends because we support each other, share advice and perspectives, and promote each other's products. There's a misconception that you need to be competitive in order to survive, but that's not true—every brand has its own unique story and products, and there is room for everyone!

Question:

Textured hair can require certain products or tools to support styling—what are your top tips for textured hair types?

Answer:

The structure of curly hair is unique and very different from straight hair. Curly hair is more susceptible to breakage; when curls become damaged, the hair cuticle lifts and makes the hair dry and brittle. When choosing products to care for curls, it's important to look for ingredients that seal down those lifted hair cuticles. Our Curl Charisma collection is powered by tomato fruit ferment, rice extract, and amino acids, which work to repair existing damage, prevent future breakage, and lock in vital moisture for healthy curls.

As a fellow curly girl, I like to comb my curls in the shower while I have a conditioner or a mask in. This allows for the wet comb to glide smoothly through the hair. Never, ever comb dry curls—it can lead to frizz and breakage. Additionally, drying hair with traditional towels can be too abrasive for curls and can cause more damage—try using a cotton T-shirt to soak up the excess water instead.

Question:

Is there one Briogeo product you're most proud of personally? If so, why?

Answer:

Creating our Scalp Revival™ Charcoal + Coconut Oil Micro-Exfoliating Shampoo was such a labor of love. Its unique format and creamy texture had never existed before, so articulating my vision, coming up with the right ingredients that blended well and we were stable together, plus ensuring the final formula delivered micro-exfoliating efficacy and scalp-soothing benefits, was all truly a life's work. There were so many iterations of the formula and tons of trial and error to get it perfect–but now, this naturally powerful scalp care formula is one of our best sellers.

Question:

Why do you think the Don't Despair, Repair! collection is such a fan favorite?

Answer:

When Briogeo first launched, I surveyed a large group of potential clients with all different hair types, textures, and concerns. There was one response that was consistent amongst this diverse group: the need for products that would help keep hair healthy and moisturized without weighing it down.

Our five-time, Allure award-winning Don't Despair, Repair!™ Deep Conditioning Mask was the first product we launched. It's a deeply nourishing weekly hair mask treatment and is a must-have healthy hair routine essential because it strengthens and repairs all hair textures and types—it's a universal product for all. So many of us are guilty of constant color-processing, straightening, curling, and blow drying on a daily basis—all of which can cause the hair to suffer from damage, dryness, breakage, and split ends over time. It's scientifically proven to reduce breakage after two uses without the use of harsh ingredients, which makes it truly unique in a saturated market of other hair repair products.

Question:

Can you tell us what inspired your new spring launches: Destined for Density™ and the Be Gentle, Be Kind™ Aloe + Oat 3-in-1 Cleansing Bar?

Answer:

Destined for Density™ is a new holistic scalp and hair care system that gives you thicker, stronger, and healthier-looking hair with consistent and continued use. When I was in my 20's, I experienced stress-related hair loss from working crazy hours at my finance job during the recession, plus poor sleep and eating habits. While I was eventually able to course correct my hair growth cycle, it made me aware that hair loss affects many people and has various causes. I'm especially excited about the collection's hero formula—the MegaStrength+ Caffeine + Biotin Peptide Density Serum—which is a lightweight yet powerful serum that helps encourage nutrient-rich scalp circulation, fights against hair loss, and is clinically shown to increase hair density (aka, the number of active hair follicles on the scalp) by up to 3x.*

Our new Aloe + Oat Milk Soothing 3-in-1 Cleansing Bar is your shower's ultimate multi-tasker that's specially formulated for those who struggle with skin or fragrance sensitivities. This is such a fun product because it's designed for use on your hair, face, body, and hands—and since it's hypoallergenic, fragrance-free, dermatologist-tested, gynecologist-tested, ocular-tested, soap-free, and pH-friendly, it won't strip or disrupt your skin, or irritate your eyes or other sensitive areas. This is your sustainable cleansing bar (it lasts 50 washes and saves the equivalent of two shampoo bottles!) and offers you the convenience of a three-in-one product without the harsh ingredients.

*Compared to baseline in a 16-week study of 35 participants.

Question:

How have you incorporated the movement of the "skinification" of hair into your own brand and products?

Answer:

The "skinification" of hair makes a great connection between the ingredients, treatments, and benefits of our skincare routine and how they also relate to haircare. For instance, we exfoliate our face to remove excess dry skin and debris, which allows our skin to better reap the benefits of other products—what many people don't realize is that we should also be doing this for our scalps!

Healthy hair is rooted in scalp care, which is why you should think of caring for your scalp and hair as a continuation of your skincare routine for your face. Clogged hair follicles can cause scalp itchiness and could ultimately lead to hair loss. A proper scalp care routine – including regular exfoliation and hydration treatments – can help those who suffer from dry, itchy scalps. Using products with essential vitamins and nutrients like biotin and panthenol, which you can find in our Scalp Revival™ products, help support strong, healthy hair growth.

Question:

What's your definition of beauty?

Answer:

Beauty is something different for everyone, but I believe that beauty is something that emanates from within—it's being confident, proud, and celebrating the nuances that make you uniquely "you!" I see beauty as an ongoing personal process. Every person is on their own path and timeline to discovering their own beauty.

Question:

What does "clean beauty" mean to you?

Answer:

Clean care for all people and the planet has always been an integral part of our brand DNA. When I set out to create Briogeo, I knew I wanted to continuously make beneficial ingredient choices that still gave all hair types healthy and vibrant results.

Our 6-free™ methodology means we always say "no" to unnecessary ingredients that may have side effects we aren't comfortable with, like harsh sulfates, silicones, parabens, phthalates, DEA, artificial dyes, and other questionable ingredients banned by the EU.

We're also thrilled to be ramping up our sustainability efforts and recycling programs. As of 2021, we've removed all plastic tray inserts from our haircare kits. Additionally, 99% of our secondary packaging and boxes are certified by the FSC (Forest Stewardship Council), which ensures our materials come from responsibly managed forests that respect the local environment. We also have an in-depth recycling guide on our website to take the guesswork out of giving our empties and componentry a second life.

Question:

It's Black History Month; in what ways can the beauty industry as a community show up for Black businesses?

Answer:

It's important for retailers to continue to put a positive, deeper level of focus on diversifying their product assortments while highlighting Black founders and their stories. Team Briogeo will continue to use our platforms to promote fellow Black-owned businesses. For example, we have kicked off a monthly spotlight series highlighting Black-owned beauty brands we love. In honor of Black History Month, we have an additional weekly series coming up, as well as roundtable discussions to further amplify the Black community and their voices.

In a better future, when people experience a brand and its marketing, everyone—no matter their skin color, hair texture, shape, size, ethnicity, and background—should feel understood and spoken to. I hope to see more beauty brands celebrating all types of people!

Question:

What are your top 5 favorite items available at Dermstore?

Answer:

My routine constantly changes depending on what my hair is craving at that moment, but these five Briogeo formulas are some of my go-to staples:

1. Don't Despair, Repair!™ Deep Conditioning Mask: I use this deeply nourishing hair mask treatment weekly to strengthen and repair dry, damaged hair (it's also one of the first products I formulated when I created Briogeo!).

2. Don't Despair, Repair!™ MegaStrength+ Rice Water Protein + Moisture Strengthening Treatment: To double the hair repair and deliver the perfect balance of protein and moisture, I'll apply our most intensive treatment prior to the Deep Conditioning Mask to make my hair stronger and healthier.

3. Scalp Revival™ Charcoal + Coconut Oil Micro-Exfoliating Shampoo: Healthy hair is rooted in scalp care, so I prep my scalp weekly using our sulfate-free scalp scrub to lift away product buildup and soothe irritation so it can best absorb the amazing benefits of the rest of my routine.

4. Destined for Density™ MegaStrength+ Caffeine + Biotin Peptide Density Serum: Once a day, I apply our new serum to my temples and hairline to help fill out and encourage growth in some sparse areas. It absorbs really quickly, so you can use it on wet or dry hair for a non-greasy finish.

5. Be Gentle, Be Kind™ Aloe + Oat 3-in-1 Cleansing Bar: I'm all about simplifying my daily beauty routine because I travel a lot for work. This cleansing bar is the perfect solution that makes it easy for me to nourish my hair and skin on the go.