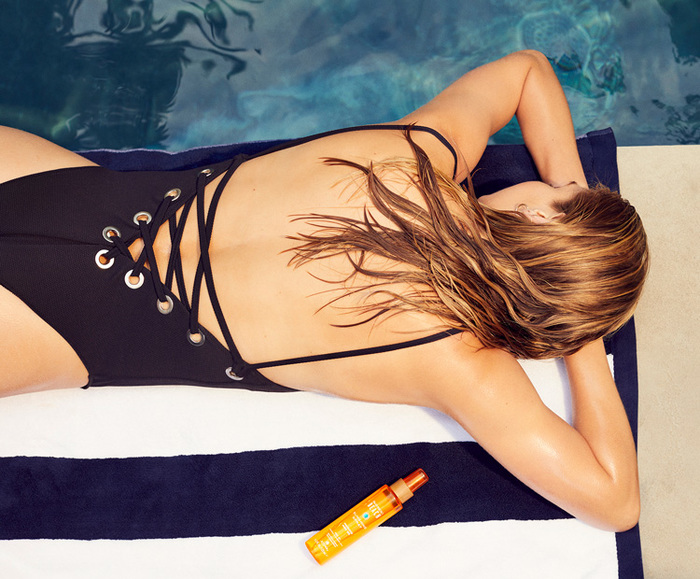 Summer is no longer "sunscreen season" to me—sunscreen season is year-round. I wear SPF 30 or 50 every single day on my face, neck, chest, hands and arms. But here's the truth: It wasn't always like this. I wasn't always concerned about skin cancer or adamant about daily sunscreen use. (Age-inducing UVA rays can penetrate the glass of windows and windshields? Who knew? I didn't).
I was a self-proclaimed tanning addict. For years I reveled in activities scientifically proven to lead me full-steam ahead directly into melanoma's path. To me, "sunscreen" meant SPF 8 at the most, and extra points if the formulation was infused with bronzer, glitter and other reflective substances that would allow the sun's rays to brown my skin more quickly. I thought I looked healthier, thinner and better with a tan. Summer on the East Coast only allowed me to achieve that look for a few short months, so I turned to indoor tanning.
The Bronzer the Better—Or So We Thought
It was the mid-2000s and being super tan was super hot. The bronzer your skin was the better. In college my tanning didn't just continue, it increased. For just $20 out of our small student savings, we could purchase a monthlong unlimited-tanning package. There was always a line of students waiting for a UV bed. The lobby of the salon was a social mecca, and tanning was a part of my ritual multiple times a week.
Fact: Using indoor tanning beds before age 35 can increase your risk of melanoma (the deadliest form of skin cancer) by 59%—and the risk increases with each use (AAD).
Fact: I kept going. I loved it. If I didn't tan consistently I got anxious and felt a strong pull to be back in the bed.
MDSolarSciences Chief Science Advisor Dr. Debra Price has seen cases like mine many times. "Young people are sometimes less concerned about skin cancer than appearance. They oftentimes think they are invincible and feel more attractive when their skin is tanned. Some frequent tanners are actually psychologically addicted to tanning," she said.
I always knew deep down that I was doing damage to my skin and that it would probably result in wrinkles or sun spots. According to the American Academy of Dermatology, women younger than 30 are six times more likely to develop melanoma if they tan indoors, and researchers estimate that indoor tanning may cause upward of 400,000 cases of skin cancer in the U.S. each year. I've always known that fact, but at that time, the threat of having skin cancer and melanoma didn't feel imminent.
Margaret Oliviero, M.S.N., ARNP-C, of the MDSolarSciences Scientific Advisory Council, acknowledges, "There is a disconnect between knowledge and behavior. [For example] the person knows the sun can cause cancer but does not believe he/she will get the cancer." I can certainly attest to that.
My draw to the tanning bed stayed me with me. I'm now in my late 20s, and I continued to tan sporadically until just a few months ago. People are becoming savvier and more health-conscious, and so are my favorite magazines' beauty columns. I started to see more images of the damage skin cancer can do, and I found myself reading more personal, heartfelt stories of the victims. It was harder to ignore the fact that I was putting myself in danger, and instead of feeling excited to tan, I felt guilty and was scared of the previous damage I'd done. It was time to stop tanning, face the facts and get my skin checked ASAP.
The Dreaded Skin Exam: What to Expect
As I sat waiting for the doctor in the exam room, my palms were clammy, my mind was racing. I tried to summon some of that blinding teenage invincibility. In my social-media browsing I had seen images of scars, disfigurements and worse—some victims were women even younger than I am. It was a terrifying proposition to find out if I was going to be one of skin cancer's victims, but it's more foolish to delay the exam and the results. I knew that making the appointment and showing up was the best choice for my health.
The exam was brief but thorough. My dermatologist is wonderful. She talked to me throughout, assuaging my fears along the way. She checked between my toes and asked if I noticed any dark spots underneath my toenails or fingernails (I never leave the house without a manicure!) The doctor checked my scalp, underneath my arms and every crevice—from head to toe. That's what I signed up for. My modesty was checked at the door, which was a small price to pay to get the all-important answers. I had a few moles that worried me, and she took special care in examining those areas.
The exam came to an end, and the doctor had good news. She told me that for someone who frequented tanning beds like I did, she was surprised at how few moles I had. I was relieved to know that everything looked normal and my moles were low risk, but because of my history I was categorized as high risk. Instead of the annual skin check recommended to most people, the doctor suggested I get a check every six months. She provided me with some literature on self-examinations so I can take note of any moles changing or new moles appearing in between exams.
My New Sun Care Routine
My doctor didn't let me go until I promised to continue using broad-spectrum sunscreen every day. Luckily, just as scary sun facts and skin cancer stats are easier to find today, so are luxurious easy-to-wear sun care and sun repair formulas. It was an easy transition to become a part of the 29.9 percent of women who reported that they regularly use sunscreen on both their face and other exposed skin. But that leaves a large percentage of American women (70 percent) who aren't protecting their skin.
"I do not think individuals are resistant to using sunscreen," Dr. Karen Burke says. "But rather they are too much 'in a hurry' to bother to apply sunscreen. Fewer people reapply sunscreen during the day, even though they drive in cars or work near windows through which UVA passes."
My advice: Slow down. The good news is that adding sun care to your routine is much easier than you think, especially if you're using the right products. If you have time to order a coffee before work, you have time to apply sunscreen. If you can choose a radio station before you start driving to work, you can apply sunscreen.
If you need a sun care guideline, here's how mine goes: I start my day with MDSolarSciences SPF 30 Daily Anti-Aging Moisturizer, which helps to repair and protect my skin without clogging my pores. (Big win!) Then I prime my face for makeup with MD Crème Mineral Beauty Balm SPF 50 in Medium/Dark: It helps perfect my skin tone and lessen the persistent redness I've always had on my "rosy" cheeks. Pro tip: Toss a Mineral Sunscreen Stick SPF 40 in your handbag for easy reapplication. I always have one with me to apply before my morning drive as I want to help prevent age spots from popping up on my hands. Commuting is frustrating enough without having to worry about extra wrinkles and sun spots!
In the evenings, I try to undo some of the damage from my time in the tanning beds by using Evening Facial Repair Serum and Daily Eye Repair Emulsion to help reduce the appearance of fine lines and banish puffiness around my eyes. Although this is the "palest" my friends have ever seen me, they also tell me it's the healthiest my skin has ever looked. And that's a much bigger compliment.
Get screened. Wear sunscreen. Take care of your skin. A tan isn't worth the risk.