With today's oversupply of self-proclaimed beauty gurus and life hackers, it's easy to get sucked into the DIY beauty trend. But are these homemade concoctions as good as their commercial counterparts? Most experts don't think so. Here are the five skin care products you should never DIY and why.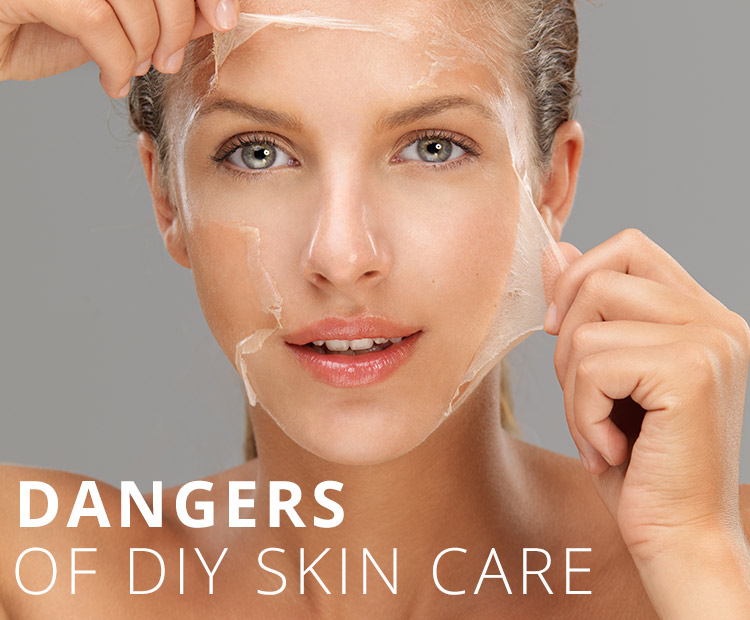 1. FACIAL SCRUBS – Using ground-up walnut shells and sugar scrubs as facial exfoliants.
DANGER: "Rubbing your skin raw—using scrubs that aren't designed for the face—will only result in disaster: scabs, scars, infection and discoloration," says aesthetician Breanna Thomas.
INSTEAD: If you're not into the traditional face scrubs, use sponges or cloths made of soft, natural fibers to avoid skin tears.
2. MASKS – Creating homemade masks using ingredients from your kitchen.
DANGER: "It's no secret that ingredients you find in your kitchen are similar to the types of ingredients you find in your skin care products," says aesthetician Haley Kulow. "The problem is when people try to make their own masks or products without fully understanding how they work together. This can result in a big mess with no major changes to your skin."
INSTEAD: Determine your skin issue, and then look for an all-natural mask that actually caters to your skin type and concern.
3. FIRMING CREAMS AND BRIGHTENING SERUMS –  Using raw eggs to tighten skin and bleach to treat brown spots.
DANGER: "This can only end in breakouts, blisters, scabs and scars," says Thomas. You can save a lot more money in the long run by just having one to two professional skin care treatments to address your concerns rather than 10 or more treatments to correct the damage done by what you did at home."
INSTEAD: See your doctor and choose products specifically designed to treat your particular skin concern.
4. PHYSICIAN-STRENGTH PEELS 
DANGER: "When used on darker skins, some acids can actually create hypo- or hyperpigmentation (loss of or addition of color to the skin)," explains aesthetician Kim Laudati. "The resulting discoloration and damage takes months of professional treatment to resolve. In extreme cases, the damage can be permanent."
INSTEAD: Reach for lighter peels for at-home exfoliation, and leave stronger doses of chemical peels to the experts. Remember, a licensed and experienced aesthetician has the expertise to decipher skin type, color and condition. Your health history, skin care habits and skin care goals are all factors in what type of chemical peel is used, what percentage of acid is best and if there is a need to blend a custom chemical peel for your specific needs.
5. ACNE TREATMENTS – Using nail clippers to pop your pimples or using toothpaste to treat acne.
DANGER: "We call this 'bathroom surgery.' The problem with conducting your own extractions lies in not properly sanitizing your hands and face, and thus spreading the bacteria from one area to another, resulting in pain and more outbreaks," says Kulow.
INSTEAD: If you need a faster way to treat acne, look for spot treatments with antibacterial and anti-inflammatory ingredients like sulfur, chamomile, tea tree and peppermint oils.
 Other Things to Consider:
Homemade products don't have preservatives in them, so bacteria can easily develop and lead to breakouts.
Masks made of raw ingredients, like eggs, can contain harmful bacteria (read: salmonella).
Unpolished scrubs can create microscopic cuts in the skin, leading to more bacteria entering it.
Lastly, watch out for food allergies!
READERS – Have you tried DIY-ing your skin care products? Which one worked and which one didn't? What advice can you give those who have never tried it before? Share your thoughts with us on the comment section below.