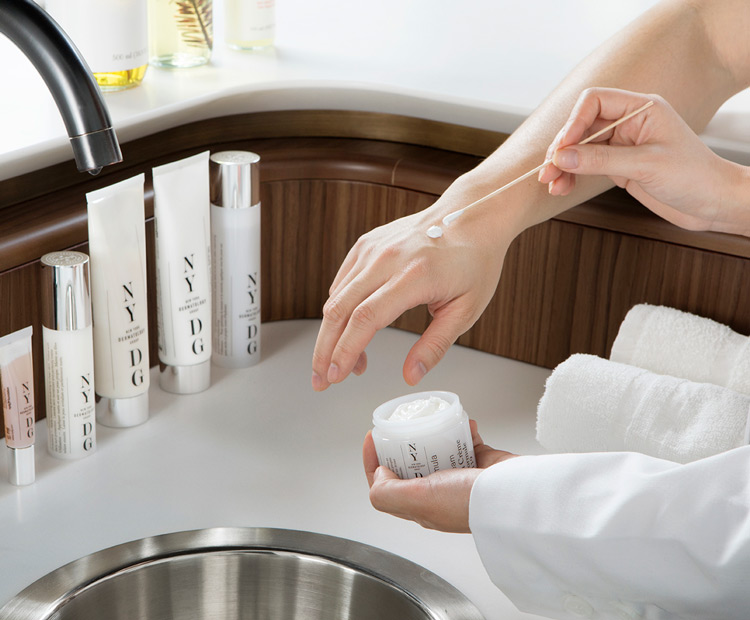 Imagine a place where you can go for a skin cancer screening on the fourth floor, a cryotherapy session on the second floor and then a quick facial on another floor. Interested in a little body contouring? How about a session of CoolSculpting, which is another cutting-edge aesthetic procedure you can pick from a five-page treatment menu? Sounds like a piece of heaven on earth? You bet it is—and it's right in the heart of Manhattan, in a 7,000-square-foot state-of-the-art space located in the Flatiron district in New York: the New York Dermatology Group (NYDG).
Founded by celebrity dermatologist Dr. David Colbert, NYDG is a one-stop shop where clients—which includes some of the most demanding, discerning and visible personalities in the world—can satisfy their health, wellness and skin care needs. "We are not a spa," says Dr. Colbert. "We are a wellness clinic staffed by board-certified physicians." What this means is that, whether you're in the market for some laser therapy or a nutritional consultation, you can have total confidence knowing that you are getting treatment and advice from a team of highly skilled medical experts: board-certified dermatologists, internal physicians and estheticians.
To hear more about this self-care oasis, we spoke to the man behind the clinic to get his take on wellness, the future of cosmetic dermatology and his newest line, NYDG Skincare (because let's face it: we all can't go to New York every month for these amazing treatments!). Here's what we uncovered:
1. Wellness is not a movement, but the way of the future. 
"Wellness" is a word that gets used a lot these days, but why does it matter so much, especially when getting a cosmetic procedure? According to Dr. Colbert, "Wellness isn't a movement; it is an essential component of healthy living that informs our core offerings." NYDG ties in the concept of wellness with all its aesthetic services by offering a holistic and custom approach. By knowing and understanding their clients, they are able to better understand desired outcomes, historical challenges and the degree of potential in achieving and sustaining results. "We believe wellness-centricity is the future of healthcare and cosmetic enhancement alike," adds Colbert.
2. Do not fear technology.
Wellness—or treating skin from the inside out—may be the core of Dr. Colbert's practice, but that doesn't mean he shies away from technological advances available to us today. "I tell all my patients not to fear technology," Dr. Colbert explains. "The future of cosmetic dermatology, anti-aging practices and overall wellness is dependent on advances in technology." Alongside Colbert, a hand-selected team of world-class physicians offer an inside-out approach to total wellness by merging cutting-edge technology and bespoke self-care practices to enable and empower clients to optimize their potential best selves.
3. You have the power to take care of your skin.
Since it's not possible to frequent a clinic like NYDG on a monthly basis, Dr. Colbert created a line of products designed to empower clients to take excellent care of their skin outside the doctor's office. Colbert MD and NYDG Skincare were created by accomplished dermatologists to develop effective at-home solutions to extend the results of their treatment. For instance, for post-procedure skin, Dr. Colbert recommends "the Ultra-Light Hydra Gel or Formula 119 Cream to keep skin hydrated and supple."
4. A great skin care routine doesn't need to be complicated. 
Let's face it: As amazing as a 10-step skin care routine sounds, who has the time (and patience) for it? This is why NYDG Skincare is designed to cater to people—of all ages and skin types—with busy, active lifestyles. "We are aware that the market is inundated with an overwhelming array of skin care products, so we wanted to create a clinically tested and simple-to-use line that delivers impactful results for all users, inclusive of those with an active lifestyle," explains Colbert.
Furthermore, with the rise of skin sensitivity, NYDG Skincare features high levels of potent antioxidants to help protect against pollution and environmental stressors. He goes on to add, "Perhaps most importantly, our expert team of dermatologists made sure to exclude harsh or problematic ingredients such as parabens, oxybenzone, octinoxate, mineral oil, sulfates and gluten."
5. Protection is the key to prevention.
Along with a healthy diet, exercise and a consistent skin care routine, Dr. Colbert urges patients to wear SPF on a daily basis. He explains, "Protection is key to the prevention of skin damage and cancer." Wearing SPF, especially a chemical-free physical SPF, maintains skin health and resilience for a youthful appearance at any age or stage in life.
If you're in the market for a great sunscreen, try Dr. Colbert's go-to sunscreen, Chem-Free Active Defense SPF 30, which does more than protect your skin from the sun. It boasts a slew of hydrating and anti-aging ingredients—squalane, argan, probiotics, jojoba, peptides and green tea, among others—to provide enhanced protection against environmental aggressors and improve skin tone and texture.