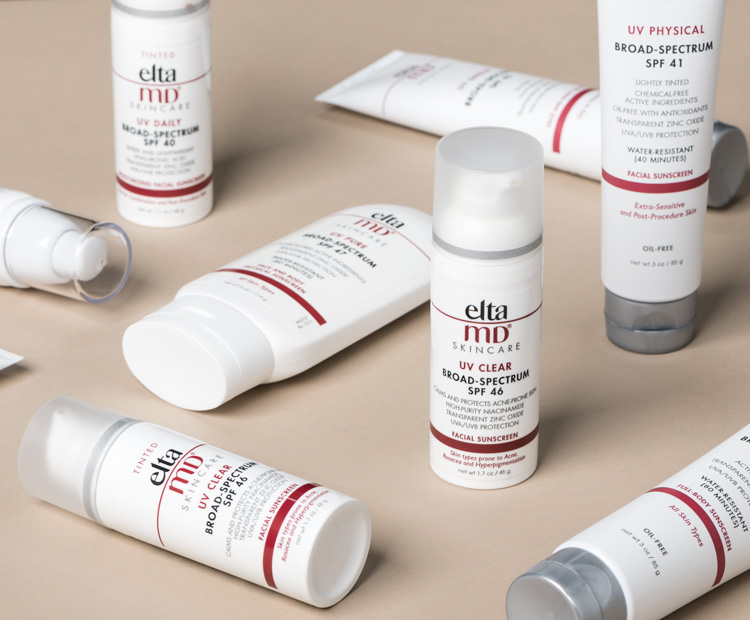 You know EltaMD as the brand that created the most highly rated sunscreen on Dermstore, but did you know that this brand actually started out as a physician-dispensed skin care line for use only in hospitals, burn centers and rehabilitation clinics? You read that right. For more than 25 years, EltaMD has channeled all its efforts and resources into catering to the needs of the most severe skin conditions. This is why it's imperative that the brand sets a high bar for itself, using only the most premium-grade ingredients that even the most sensitive skin can tolerate.
Now that that the brand is more widely available (on Dermstore, of course—you're welcome!), anyone—especially those with compromised and easily irritated skin—can reap the benefits of the extensive research and care that EltaMD pours into its formulas. But what does it really take to keep such a well-respected brand like EltaMD to remain competitive in the skin care space? And with everything we now know about sunscreen and its potential effects on the environment, how is EltaMD responding and continuing to evolve? Here to answer our burning questions is EltaMD's general manager, Larry MacPhee.
Dermstore: Tell us, how did EltaMD start? What was lacking in the industry that EltaMD wanted to fill?
Larry MacPhee: EltaMD began as an offshoot of a skin and wound care product line called Elta. We refer to it as Elta Medical to help clarify the distinction between Elta and EltaMD. Elta Medical line was sold into medical distribution and ultimately into hospitals, long-term care and burn centers. We saw an opportunity in the physician-dispensed channel, with what is commonly known as cosmeceuticals, to take some of this medical technology from our success in skin and wound care and apply it to the physician-dispensed channel. We felt most of the companies at that time overcharged physicians exorbitant amounts for their product and didn't provide samples or much physician-level support, so we felt our business model would be somewhat unique, which is to offer a high-quality medically oriented product at a very reasonable price sold to physicians.
EltaMD is known for its impressive line of sunscreens. What makes EltaMD different from all the other sunscreen brands out there?
Well, some of what makes us unique is our formulations. They all have a basis in zinc as the primary UV protectant. We believe very strongly in the use of zinc because it's a physical sunscreen blocker, so not being a chemical, the product won't erode due to exposure to UV light. Zinc, in many instances, is used for skin care treatments and is good for damaged or sensitive skin, unlike many chemical UV blockers that can be sensitizing to skin.
The other thing we learned from research is that it's very important for a sunscreen to be cosmetically elegant. Cosmetic elegance underscores our products so that they are relatively easy to rub in. Even when formulated with titanium or other UV ingredients, they are able to rub completely into virtually any skin type. This allows a protectant that is as powerful as zinc to be used by anyone. A physical basis to our product and a cosmetic elegance to its application were two of the core components we used in the construction of all of our sun care products.
Choosing a sunscreen is surely not a one-size-fits-all, that's why EltaMD offers so many options. What are the things one should consider when choosing a sunscreen?
We had EltaMD really configure sunscreens across three primary parameters:
The first one, of course, is skin type. Do you suffer from acne or do you have rosacea or eczema? Skin concerns and skin type are very important considerations.
A second one is lifestyle: if you're outside all day working or if you like to play sports, live by the ocean or just like to go swimming. These lifestyle choices direct the kind of sunscreen that you should be using.
Finally, it's geography. If you live in the mountains of Colorado, where your sun exposure is high because you're a mile up in the sky and the amount of sun you would receive there exceeds the amount of sun received in Florida, for example.
Using these three parameters is one way to select which sunscreen is right for you at different times. We always suggest that you consult your dermatologist and they will be able to steer you in the right direction as well. This may be the time to point out that we're in the business of making sunscreens to give people a choice that fits their environments and protect them from skin cancer that no one wants, and if someone chooses a different sunscreen to accomplish that, it's OK—just use one every day!
There is a new ruling in Hawaii that bans certain sunscreen ingredients (oxybenzone and octinoxate), what do we know about these ingredients and what is your take on this matter?
Two things: First is that the ingredient octinoxate is not just in sunscreens, it's in virtually 60 to 70% of cosmetics. It's not just used as a UV protectant. It's a wonderful ingredient to mix products with especially if you want to obtain any kind of a UV rating or UV protection out of the product you would build. We have looked high and low and found no clinical evidence that octinoxate does any damage to the coral reef. The most recent study, which was done by a PhD out of Australia, supports that as well.
Oxybenzone is a different matter, and while I've not seen specific research that proves that it damages the coral reef, it is a benzone, which is a fairly harsh chemical. We've never used and we don't use oxybenzone in our products. It can cause skin irritation so we've avoided it.
However, the fact is that this is the legislation now (and we follow the FDA's guidelines to the letter in terms of what we do with our testing and everything else). If the state of Hawaii has exempted these ingredients from sale in their state, then we abide by that. In our collection of sunscreens, we have four all-physical sunscreens that are just zinc- and titanium-based that are easily applicable for use in Hawaii. We're also in the process of reformulating a couple of sunscreens to give people options that don't include these ingredients and will allow users of our product to still feel safe while still respecting the legislative initiative passed by the state of Hawaii.
On top of the sunscreens, EltaMD also features a line of skin care products. What's so special about these products, what key ingredients do they have and who is this line for?
Once again I revert back to our core beliefs as a company that we apply the medical heritage of our skin care knowledge to the creation of our products. This is also true with the non-sun care EltaMD products that we produced, with the intent to produce something that's going to help skin. We know one of the best ways skin is kept healthy is hydration. We also deliver beneficial ingredients such as peptides, enzymes and ceramides through our topical skin care products. Sometimes these molecules can get too big to move through intact skin, so we designed these products so they have the right molecular size to actually provide benefit for the user. These are the kind of things we pay attention to. We are very intent on providing high-quality products that deliver solid hydration, good skin-supporting ingredients, but we don't get too outrageous with the things that we try to claim about what products can or cannot do for everyone.
As a brand expert, what's the one thing you wish everyone knew about skin care? 
Well, I guess the one thing I wish everybody knew about skin care was that the best possible way to defeat the effects of aging of the skin is with sun protection. It is hands down the one thing that creates the most damage to the skin. Anti-aging products are trying to help repair damage but the one thing that creates the most damage across the spectrum of all possible damages to skin is the sun. The one thing I wish everyone knew is that using broad-spectrum sun protection every day will prevent the negative effects of sun over time. It's the best anti-aging product you can buy.
UV Clear remains one of the top sunscreens bought on Dermstore, with over 1,000 glowing reviews. Why do you think this sunscreen continues to outperform other sunscreens?
[listimage brand_id=500300 prod_id=20567]
I think it's a combination of some of the things I've already spoken about with a cosmetically elegant product. UV Clear rubs in very easily and dries quickly so you can put it on, and it's not too white or heavy, and makeup can be put on over it almost instantaneously. The cosmetic elegance piece is clearly present. It's a physical-based sunscreen with primarily zinc as the protectant. It also contains niacinamide—which goes back to our medical heritage—a vitamin B component that helps skin that is either acneic or has rosacea.
In UV Clear, we find a combination of our core beliefs and have had clients purchase with an overwhelming response. It is clearly our number-one-selling product, which suggests that the effort we put into the product and the way we designed it achieved our objective and we're very happy that it has helped people keep their skin safe from exposure to UV.
Aside from the UV Clear, what other products would you recommend first-time EltaMD users try?
[listimage brand_id=500300 prod_id=11541]
I mentioned our top product is UV Clear; our second best-selling product is UV Physical, which is an all-physical sunscreen that's tinted. We also make UV Clear in a tinted version. We tint with iron oxides, not dyes or chemicals. This helps produce an appropriate skin-tone tint and it also produces enough iron oxides to help protect to some degree against infrared (IR) radiation. All of our sunscreens contain antioxidants to help reduce the free radicals that are produced by IR, so it's that kind of efficacious performance you'd want out of a sunscreen.
[listimage brand_id=500300 prod_id=32762]
Our top-selling skin care product is the Foaming Facial Cleanser. This is an enzyme- and amino acid–based cleanser that is a light gel, rubs on and is literally self-foaming. It doesn't require any scrubbing and will foam all by itself. The benefit of this product is that when you rub it in, because it's a gel, it will penetrate the pores of the skin, and then the foaming action lifts dirt and grease out of the pores of the skin without scrubbing or rubbing too harshly. Because it's a very mild cleanser, we have men who shave with it. It's great for sensitive or compromised skin.