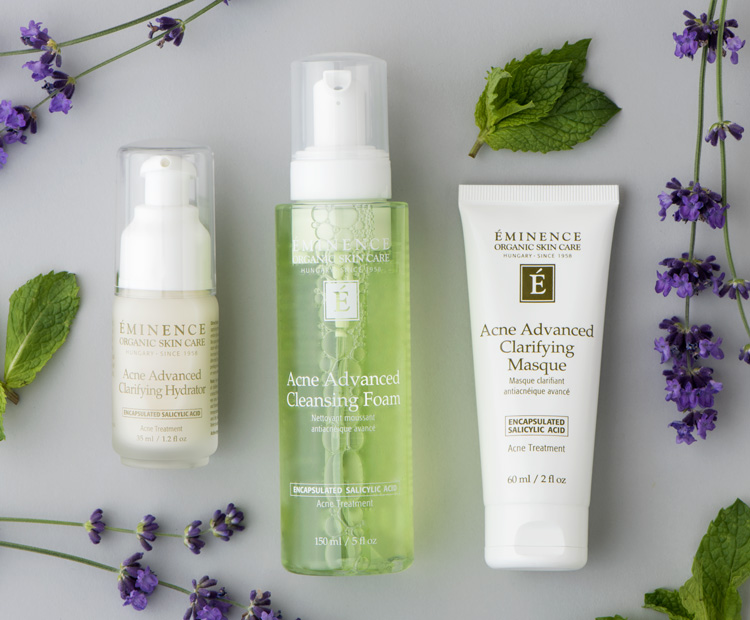 For those with acne, it feels like you never win with skin care. While there are tons of products on the market that work efficiently to clear your skin, some acne-prone folks are still left with other issues like redness and irritation. And among those acne-fighting products, very few are classified as "natural" or "organic"—which for some people matters.
Enter Eminence Organic Skin Care. The skin care company famously known for being natural before it was a trend has released their Acne Advanced Collection, a three-step system that not only targets and prevents moderate-to-severe acne but also addresses other skin issues associated with acne, such as excess oil and shine, inflammation, hyperpigmentation and scarring. These organic, non-irritating formulas offer a more natural approach to acne treatment, delivering a healthier, clearer complexion without exposing your skin to harsh chemicals and potential irritants.
The Secret Sauce: Encapsulated Time-Release Salicylic Acid
While each product in Eminence's Acne Advance Collection has its own unique formulas, they all include salicylic acid, a potent type of beta hydroxy acid (BHA), one of the most effective ingredients for treating and preventing acne. In addition to sloughing off dead skin cells from the surface of the skin, oil-soluble salicylic acid deeply penetrates pores to dissolve excess oil, makeup and dirt buildup, clearing out congestion and blackheads.
While it's been proven that salicylic acid is effective at treating acne, this BHA can also be potentially irritating to some skin types, causing dryness, redness and itchiness. This is why Eminence's version of salicylic acid—naturally sourced from willow bark extract—is encapsulated in plant-based lipids and time-released so it's evenly deposited on the deeper layer of the skin. By allowing the salicylic acid to slowly exfoliate the skin over time, irritation is minimized, making this an ideal treatment for any skin type, even for those with easily irritated skin.
Aside from salicylic acid, each product in the collection features a blend of botanical and natural actives to help cleanse, treat and moisturize acne-prone skin.
Get to Know Eminence's Acne Advanced Collection
This Acne Advanced collection features three at-home products—Cleansing Foam, Clarifying Masque and Clarifying Hydrator—that work together to combat existing acne and prevent future breakouts. Here's what else you need to know about the products in this collection:
[listimage brand_id=500221 prod_id=77849]
What it is: A unique liquid-to-foam cleanser that gently soothes and tones.
What else you need to know: As encapsulated salicylic acid works to unclog your pores, this unique liquid-to-foam formula also has a natural blend of herbs and caffeine to balance out uneven skin tones. In addition, panthenol (A provitamin b5) contains antimicrobial and anti-inflammatory properties to shield the skin from irritation. The result is clean, refreshed skin without having it feeling over-drying.
[listimage brand_id=500221 prod_id=77848]
What it is: A 2-in-1 mask and spot treatment.
What else you need to know: Used as a weekly mask for a daily spot treatment, this 2-in-1 product successfully treats active acne, while preventing future breakouts as well. It's formulated with three different types of purifying clay to absorb excess oil and other impurities, leaving your skin looking matte and refreshed. In addition, the anti-inflammatory properties found in basil oil and sulfur clean and exfoliate the skin to reduce any acne spots and enhance your complexion.
[listimage brand_id=500221 prod_id=77847]
What it is: An ultra-lightweight mattifying lotion.
What else you need to know: This moisturizer targets all issues that come with acne-prone skin including excessive shine, hyperpigmentation and scarring. Aside from the salicylic acid, three ingredients are at play:
Lotus oil: Made from a blend of sacred lotus and blue lotus extracts controls sebum production—removing any excess oil and imperfections.
Zinc Hyaluronate: A type of hyaluronic acid that deeply moisturizes your skin while working to heal any acne-related inflammation.
Arbutin: A plant-derived antioxidant that targets and prevents hyperpigmentation and scarring.