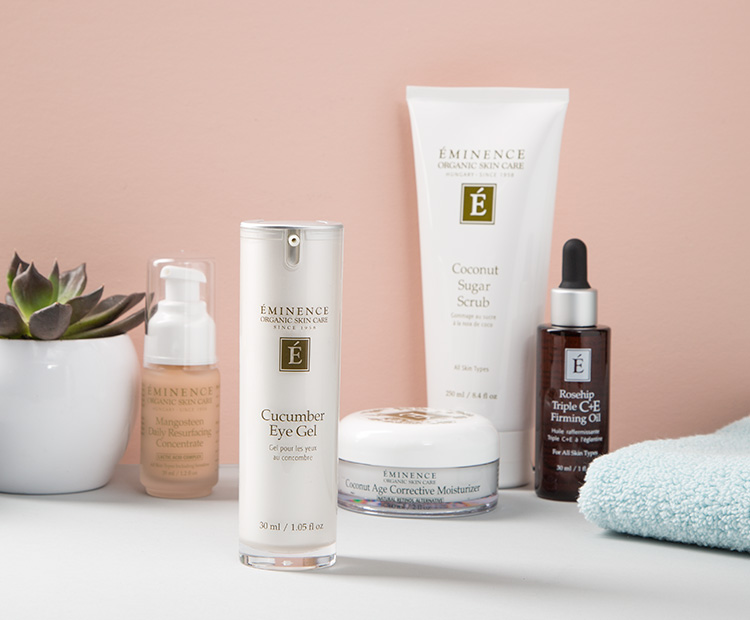 As superfoods and healthy-diet staples continue to permeate the beauty and skin care market, it's hard not talk about Eminence Organic Skin Care, the natural skin care brand owned by the Hungary-based Koronczcay brothers. Long before the small-batch beauty brand founders began whipping up facial masks and serums in their kitchens, before the potential side effects of preservatives and artificial colors and fragrances were openly discussed and before sustainable business and farming practices became a worldwide trend, Attila Koronczay and Boldijarre Koronczay had been using fresh, hand-picked ingredients in their skin care formulas and championing mother nature for decades—six to be exact. No wonder the brand continues to seduce a loyal following of skin care purists, some of them are public personalities and high-profile celebrities.
To get to know the brand a little bit more, we sat down with Attila, co-owner and general manager of Eminence Organic Skin Care. Here, he shared the brand's humble beginnings, the superfoods behind each of its products and the one skin care tip he absolutely swears by!
Dermstore: You've built a successful company with an amazing line of natural products. How did it all start? 
Attila Koronczay: The defining experience that led my brother, Boldijarre, and I into the skin care industry was an unlikely one. The story begins in Hungary, when we were children. When I was 10 and my brother was four, he was diagnosed with a very rare form of leukemia. Our mother and grandmother fed him only natural, organic and Biodynamic® foods to help his body heal itself through the treatment process.
The entire family was amazed at how Boldijarre recovered through this natural healing. We knew then that we would start a mission to share the passion we had for natural ingredients with the world. Coupled with the knowledge from our mother and grandmother, who at that time worked in aesthetics, we set a goal to bring organic skin care worldwide. Ultimately, our dream has always been to help enhance people's well-being through organic nutrition and skin care.
How did the company grow from a humble skin care company in Hungary to what it is now?
So, after high school, Boldijarre followed in our mother's footsteps and became an esthetician. I completed my engineering degree, and we decided to move from Budapest, Hungary to Vancouver, Canada so we could share the message of the power of natural healing with as many people as possible.
At first, Boldijarre began working at a local spa, using products created from old world knowledge. This planted the roots of Eminence in North America. Then, my brother had a client from the X-Files TV series which was filming nearby. The client was amazed and word of mouth spread quickly about his organic facials and Hungarian-style massage techniques. Not long after, Boldijarre had a waiting list of three to four months, including many celebrity clients who started asking for more and more products. Using my background in engineering and logistics, I began to oversee the business portion of Eminence, bringing products from Hungary to North America, while Boldijarre concentrated on our growing clientele and aesthetics education.
We were on a mission to educate others about the importance of living a healthy lifestyle not only internally, but externally, by using healthy products on their skin.—Attila Koronczay
What challenges did you encounter when you were creating the line? How did you overcome them?
We dealt with years of rejection while the market wasn't ready to understand the benefits of organic. Even the spa industry wasn't interested in organic products. Organic skin care was basically unheard of in the United States and Canada and the demand was for synthetic products. My brother and I were so broke, we lived in a rundown building and helped renovate the other apartments in exchange for rent. My brother and I shared a sofa bed for almost a decade. But, we shared the same dream and same dedication to our ideas and to each other. This taught me to never give up on my goals. We were on a mission to educate others about the importance of living a healthy lifestyle not only internally, but externally, by using healthy products on their skin.
What is Eminence's hero ingredient and what does it do?
One of our most recognizable hero ingredients we source for Eminence Organic Skin Care is stone crop, a type of succulent plant. Succulent plants store water in their leaves and are excellent for hydrating, calming, soothing, brightening and healing the skin.
The name "stone crop" literally means a "crop grown in stone." Stone crop and other succulents love to grow in rocky soils or even directly on rocks. (Fun fact: As far back as the 8th century, Hungarians planted stone crop on the roofs of their houses as a fire retardant to receive a tax deduction from the king!). Most succulents have a very shallow root system, relying on rainfall, mist or dew to provide all the water it needs to thrive. The shape of stone crop funnels water into the center of the plant, where it is stored until the plant needs to use the water to grow.
Aside from its ability to hold moisture, stone crop has a unique ability to brighten the skin, reducing the appearance of dark spots with regular use over time. Because of the neutral makeup of succulents, this plant family is also ideal for clients of any gender, age and skin type, including sensitive, combination, aging and acne-prone.

At Eminence Organics, our stone crop is handpicked and cut into quarters, then pressed into juice or otherwise processed by hand while still fresh to retain the natural hydrating properties of each plant. Succulents may also be dried and pulverized into a powder format, which is then incorporated into skin care products as well.
The stone crop plant, in particular, is sensitive to cold weather. Typically a shade of green, the stone crop turns red in times of cold weather! Hungary has a seasonal climate, so to combat this change in color and ensure our award-winning Stone Crop Collection of products remains green all year-round, we grow our stone crop in trays during the warm seasons. When the weather starts to chill in autumn, our farmers carry the trays indoors to hothouses, ensuring our stone crop remains a vibrant green.
According to studies, organically grown plants contain up to 30% more antioxidants, 56% more nutrients and up to 47% more vitamin C than their conventionally grown counterparts.—Attila Koronczay
What other key ingredients is Eminence known for?
We work with our formulators to develop naturally sourced alternatives to chemical ingredients. Three examples of these effective, results-oriented ingredients include:
Natural Retinol Alternative Complex: contains chicory root oligosaccharides and tara tree; smooths the appearance of wrinkles
Botanical Peptides Derived From Hibiscus: diminishes the look of wrinkles
Natural Hydroquinone Alternative: a natural brightening agent made with African potato and tara tree for a smooth, radiant complexion
What are some of the initiatives Eminence Organics is taking to help the environment? How important are these initiatives to your brand?
We believe there's a responsibility that every business has to protect and heal the earth. After all, we want future generations to enjoy our planet just as much as their ancestors. Eminence has dozens of green initiatives. For us, being 'green' has been a natural (pun intended) part of our company since inception. At our central office in Vancouver, we recycle and compost. We also have natural lighting; we're also a Certified B Corporation™. B Corp™ certification is to business what LEED certification is to a building. Evaluated by the nonprofit, B-Lab, we're held to meet the highest standards of environmental performance, transparency and accountability.
Lastly, our most popular green initiative is called Forests for the Future, which is our commitment to plant a tree for every retail product sold. We are so proud to announce that, this April, we became the first skin care company in the world to plant 10 million trees!
What advice can you give those who are a bit hesitant to go all-natural with their skin care products?
Some consumers have been misinformed that organic products aren't results-oriented. By incorporating the most innovative methods of harnessing the power of natural, organic and Biodynamic® ingredients, the results are very much real, proven with studies and can even be life-changing. According to studies, organically grown plants contain up to 30% more antioxidants, 56% more nutrients and up to 47% more vitamin C than their conventionally grown counterparts. Nature is one of the most powerful forces in the world. By utilizing generations of knowledge, Eminence Organics is able deliver the healthiest possible products with the best possible results.
What's your best skin care tip?
Exfoliate! Because freshly exfoliated skin responds even better to your skin care routine, wake up your complexion by following your morning cleanse with 15 to 20 seconds of gentle exfoliation. This will buff away dry skin cells at the surface of the skin. An exfoliant that contains lactic acid and rice extracts serves a dual purpose: removing dull skin while brightening the newly revealed skin. One of our top product picks worldwide is our Strawberry Rhubarb Dermafoliant, a unique powder exfoliant that brightens and evens the complexion. What makes this product so popular is the fact that each application is customizable to your skin type, based on how much (or how little) water you'd like to mix with the exfoliant. Try rinsing the exfoliant with alternating water temperatures (cool, warm, cool, warm) to revitalize the surface of the skin.
Tell us the top 3 must-try products from your brand and how to use them for best results.
Our top three most popular products are our Bamboo Firming Fluid, our Stone Crop Gel Wash and our Strawberry Rhubarb Dermafoliant.
The best way to use these is to combine them! Shake the Strawberry Rhubarb Dermafoliant into your Stone Crop Gel Wash for a cleanse that both hydrates, brightens, removes impurities and exfoliates. Rinse, then apply the Bamboo Firming Fluid. Because you just exfoliated, the absorption of the Bamboo Firming Fluid will increase and you'll have even better results.