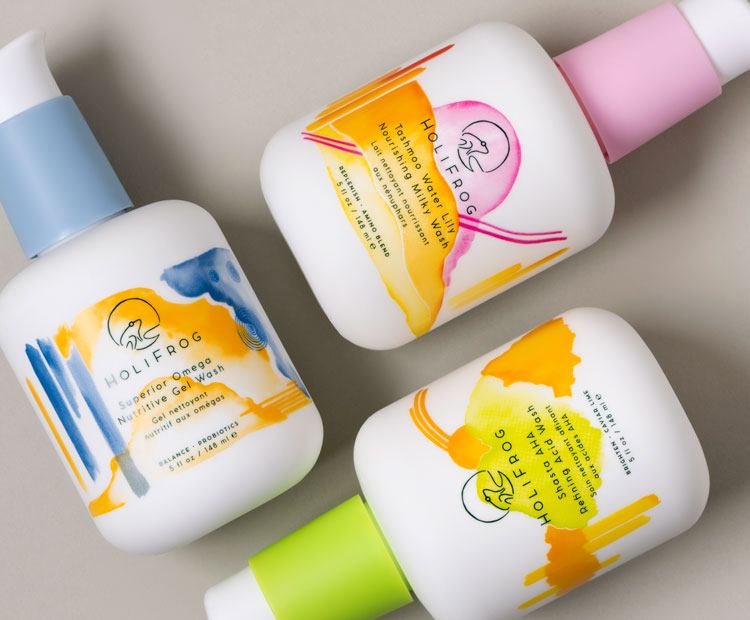 Your cleanser may be the first step in your skin care routine, but it's probably the last one you think about. While serums, masks and moisturizers get all the credit, face wash tends to be forgotten as soon as it's washed down the drain.
HoliFrog wants to change that. The new brand, founded by two beauty industry veterans, has just launched with a collection of face washes designed to make the most of your regimen's most underrated step. According to co-founder Emily Parr, face wash is actually more important than most of us realize. "When you're washing your face, your pores are open and at their most permeable," Parr says. Washing your face, she explains, is "an opportunity to not only cleanse and detoxify the skin, but to flood it with vital nutrients, antioxidants, oils and enzymes."
As far as those treatment products that get all the glory? "All of the expensive serums and creams can't give you the glowing skin they promise if you're not working on a properly cleansed, fresh canvas," Parr points out. "Cleanser counts, big time!"
Read on for all you need to know about this buzzy new brand.
What's with the name?
The "holi" in HoliFrog comes from "holistic"—a nod to the idea that every part of day-to-day life, from sleep to stress to screen time, affects the look of our skin. And the frog? It's part mascot, part metaphor. A frog's skin is semi-permeable, which means it absorbs water and oxygen from its environment. When our skin is wet (i.e. when it's being cleansed), our pores are better able to absorb moisture and nutrients—similar to the way frogs soak up their surroundings.
Why focus on face wash?
"Cleansers felt like the 'forgotten' category," Parr says, even though most of us wash our faces multiple times a day. "Cleanser is a truly non-negotiable step, so we are looking at that as an opportunity to prove how a quality cleanser can actually simplify the rest of your routine." Formulas with antioxidants, vitamins, non-fragrant plant oils and extracts, and cell-communicating ingredients make cleansing a step toward healthier skin, not just a chore.
Which products should you try?
HoliFrog offers formulas that speak to a range of skin's moods, from dry and sensitized, to oily and acne-prone, to somewhere in between. Parr swears by using a different wash as skin's needs change throughout the day (a gentle wash first thing in the morning, for example; or an exfoliating wash after a sweaty workout). No matter which wash you choose, she recommends spending one to two minutes cleansing your face in order to let the ingredients sink in: "It takes 60 seconds to emulsify and whisk off surface grime and makeup, 30 seconds to dislodge dirt and break up sebum, then another 30 seconds for the ingredients to penetrate." Here's a guide to the brand's all-star lineup of face washes: