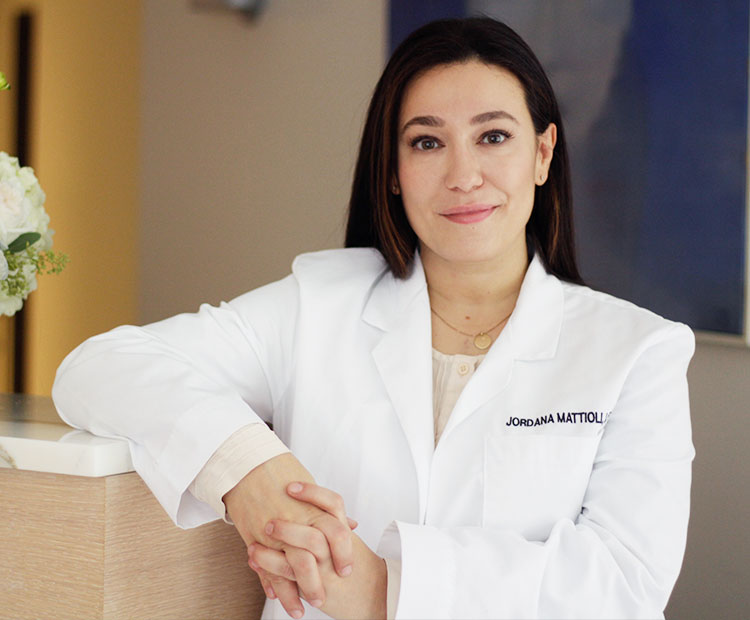 Just as Memorial Day marked the beginning of summer's sun-kissed skin promises, Labor Day marks the beginning of fall. While we say goodbye to our favorite pair of crisp white jeans, we also say hello to more hydrating skin care products designed to help repair the damage our skin endured from that one day (or three) of laying out on the beach. To understand how our skin changes around this time of the year, as well as get season-specific tips on how to take care of it, we chatted with Jordana Mattioli, renowned medical esthetician and one of the most sought-after beauty experts in New York.
Dermstore: What are some of the challenges our skin faces during this transitional time of the year?
JM: Just like the seasons, our skin changes and goes through different phases and transitions. It's very sensitive to the change in climate and fluctuating temperatures. During the warmer weather we are dealing with heat, increased sun exposure and extreme dryness or extreme humidity depending on where you live. Excessive sweating can lead to dehydration, extra oily skin or breakouts. Unprotected skin is prone to sun spots, blotchiness and uneven skin tone. The heat can cause the dreaded heat rash, rosacea flare-ups and bring out melasma. As the temperature starts to cool down in the beginning of fall, most of these issues subside—and that is the perfect time to really repair any summer damage and get the skin back into a perfect balance.
How should these challenges affect our normal skin care routine?
Take advantage of the calmer climate, and repair summer damage! This is the time of year I encourage my clients to add in regular exfoliation and a retinoid, and to get a peel or some laser.
What are some key ingredients to help our skin recover from summer and transition to fall?
Exfoliating, brightening and repairing is the focus for summer skin recovery. I recommend exfoliating every day! Alternate a superficial exfoliant scrub with gentle particles like rice-based powders with an enzyme or acids a few times a week. For acids, look for glycolic, lactic and salicylic acids. Brightening ingredients should definitely include vitamin C and niacinamide. For repairing and nourishing, I look for humectants like glycerin and hyaluronic acid, peptides and antioxidants.
What are the ingredients we should avoid/go easy with?
Even though you are ramping up your exfoliation, you still want to include a vitamin A–like retinol a few nights a week, but start out on low percentages and infrequent use (twice a week max.) Then in the winter, you can transition into every other night.
What are your top-5 must-have fall products?
Dermalogica has a good range of products that would be great for fall. Here are the Dermalogica products I use and recommend:
1. A Gentle Exfoliant
A gentle exfoliant is one of the easiest ways to instantly achieve super-soft skin. It buffs away dead cells that make your skin look dull and gives your skin a fresh clean slate so your other products can work even better. If you like physical exfoliants, Dermalogica's Daily Microfoliant is gentle for any skin type and can be used in place of a cleanser a few times a week. The scrub particles are made from a superfine rice-based powder that won't scratch the skin like harsh scrubs.
2. An At-Home Peel
Another way to exfoliate is through at-home peels. Dermalogica's new Rapid Reveal Peel is an amazing weekly at-home peel, but for summer damage, you can even use it twice a week for a month to really repair the skin. Three acids (lactic, citric, phytic) work to exfoliate, plus the skin gets a dose of added soothing hydration. This combo makes it safe for all skin types.
3. An Antioxidant Serum
An antioxidant serum not only neutralizes free radical damage that accelerates aging, it also brightens your skin. Use a brightening antioxidant serum every morning before your moisturizer and SPF. I recommend something like Dermalogica's BioLumin-C Serum, which uses vitamin C, peptides and brightening botanicals to fade brown spots and summer freckles.
4. An Eye Cream
Antioxidants like vitamins A, C and E are also an excellent combo for softening and smoothing fine lines around the eyes, so try to look for an eye cream with these ingredients, like Dermalogica's Intensive Eye Repair Cream. Eye creams should be used morning and night.
5. A Hydrating Mask
During the summer, you'll probably grab your oil-absorbing clay masks often, but since we tend to be a lot less oily come fall, try a hydrating mask treatment instead. Dermalogica's Multivitamin Power Recovery Masque is more than just hydrating, it gives the skin a dose of powerful repairing vitamins. Stash your hydrating masks in the fridge for extra cooling. You can use weekly, but if you have the time, try twice a week!
Any tips on how to continue my summer glow as long into fall as possible?
If you increase your exfoliation, your skin should stay luminous—but never underestimate the power of a good bronzer or blush too! For a natural look, I like strategically pressing on face oils to help light bounce off the high points of the face for a glowy look. Dab on the upper cheekbones and on the Cupid's bow right in the center of the upper lip, and don't forget to slick on a good lip balm.
More About Jordana Mattioli
Licensed medical esthetician and sought-after beauty expert, Jordana Mattioli, has been tending to faces since 2001. Her high-tech facials use the latest anti-aging technologies, techniques and innovative products to create results-oriented treatments for each client. These customized bespoke facials and treatments are tailored to the needs of each individual to deliver beautiful skin. She strongly believes youthful radiant skin is a collaborative effort and works closely with her clients, and often their dermatologists, for the best regimen to maintain optimal results.
With an extensive knowledge and passion for skin care, Jordana has been highly acclaimed in the beauty industry and featured multiple times in media and international publications. She has been profiled as a Top Esthetician numerous times in Allure, W, Vogue and Glamour. Her equally impressive client list includes celebrities and models who entrust their skin to Jordana. Throughout her career, she has trained with more than 75 brands and continues to provide consulting services in the industry.
She performs a wide range of skin care treatments by private appointment in Manhattan within the dermatology practice of Complete Skin MD with Dr. Julie Karen and Dr. Elizabeth Hale.