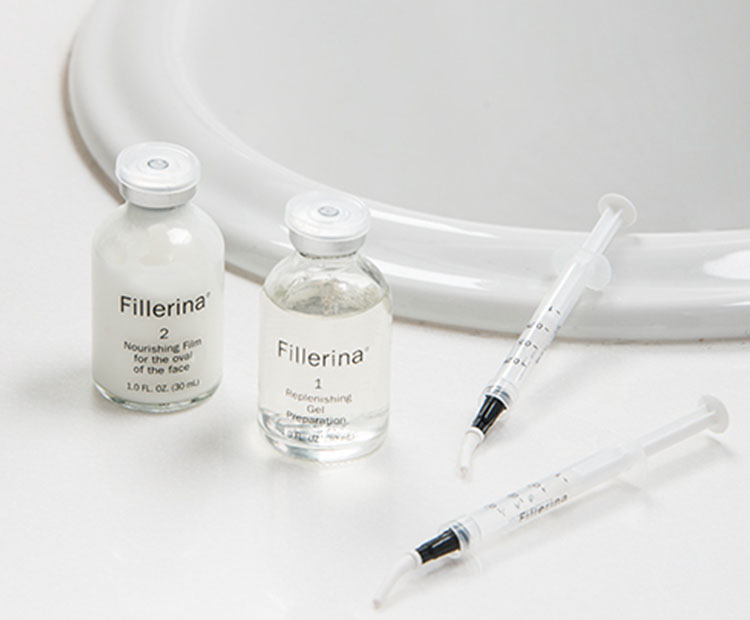 Call it the Instagram filter effect. According to the recent data released by the American Society of Plastic Surgeons, last year saw more people opting for cosmetic treatments that promise immediate, selfie-ready results. Among the most popular treatments done in 2016? Dermal fillers, which are injected to plump thin lips, soften deep lines and wrinkles, fill recessed scars and improve facial contour. Data showed that in 2016, there were 2.6 million procedures performed—all in the name of pillowy lips and a smoother complexion!
But for those of us who aren't huge fans of the needle—or can't afford a procedure that costs $600 a pop—our options have always been limited to topical products that promise the same plumping effect, like hyaluronic acid serums. And though great at boosting our skin's moisture levels and easing our dehydration lines, these serums aren't designed for quick, more dramatic results. So if you're looking for a happy medium—one that offers more visible results than your typical topicals but doesn't cost as much as in-office treatments— here's a product you might want to consider: Fillerina. This brand features hyaluronic acid fillers in varying "levels" that you can administer at home—no esthetician experience required! And just for the record, that scary-looking syringe in the photo (included in the product package) is merely an applicator, not an actual needle!
Want to know if this 14-day, at-home cosmetic treatment is right for you? We reached out to the experts at Fillerina to learn more.
1. How is Fillerina different from hyaluronic acid fillers we get from our dermatologist's office?
Fillerina features the same ingredient as Restylane and Juvederm, which is hyaluronic acid (HA). The difference is that, while Restylane and Juverderm use very large molecules of HA, Fillerina's formula contains varying sizes of HA, from very small to the same large size, which penetrate all layers of the skin. Office fillers are large and injected, which creates an instant plump and can be overdone. Fillerina penetrates all layers and takes 14 to 21 days to plump the skin and bring it back to the level it was 5 to 10 years ago.  Fillerina will not ever over plump.
2. How is it different from over-the-counter hyaluronic acid serums?
Over-the-counter (OTC) serums do not have six molecules, nor do they have the small size that Fillerina has. OTC serums only penetrate the top layers of the skin; Fillerina is able to penetrate all layers and work from the bottom out. 
3. Is Fillerina meant to replace the in-office procedure or the serum? Or should you use it on top of them?
Fillerina will maintain in-office injections and make them last longer. Regarding serums, there is no need for them if one uses Fillerina.
4. Is Fillerina for everyone? Who will benefit the most from Fillerina?
Fillerina has five grades and therefore will work on people of all ages. Grade 1 is for a younger person, who just wants to add volume to her lips and cheeks and perhaps fill in fine lines. If this person doesn't want to use the full treatment, the Day, Night and Eye/Lip Creams are a perfect starter regimen for this person. G2 is for the average-age skin with moderate wrinkles and lines. G3 and higher is for the older skin with deeper wrinkles and signs of sagging.
Fillerina works on all ethnicities and sells in 34 countries worldwide. It also works on all skin types.
5. How long does it take to see results?  
Results will start showing in the first week, full results in 21 to 30 days.
6. How long do results last?  
About three to four months. It is recommended to repeat the treatment before this, however, when the product is still in the skin instead of starting all over again. The more you use Fillerina, the better and more results will continue to show.
7. Do you need to see a dermatologist before trying Fillerina?  
No, Fillerina is for at-home use. The precise applicator allows you to take control of where you want filling, plumping and lifting. Remember, the applicator is NOT A NEEDLE! It allows you to put the filler gel only where you need it.
8. What else should one consider before deciding to try Fillerina?  
Fillerina is a 14-day treatment and must be used for 14 consecutive days, so you need to make sure you have the time to do so. Otherwise, it really is for everyone.  
9. Any known side effects from using Fillerina

?  
No, HA is an existing natural ingredient already in our skin and body. We are simply replacing what we have lost from aging.
10. What are the common mistakes of people using this product? What should they do instead?  
HA absorbs 1000 times its weight in water. In order to get best results from Fillerina, you must remember to drink two glasses of water each night prior to treatment and after treatment to stay hydrated. Many do not drink water. Also, Step 2 of the Treatment, the Nourishing Film, is very important. Some do not do this step. The Film acts as a tightening mask while sleeping and locks in the molecule so it can penetrate all levels of the skin. This step should not be skipped.
11. Any other tips or advice on how to use Fillerina for best results?   
The Fillerina Creams will enhance the Treatment during the 14 days and maintain the results for a longer period if used after the treatment. 30% of the ingredients in all creams are the 6 HA molecule formula, therefore they do the same as the treatment, just not as intensely.
We Tried Fillerina, Here's What Happened
Curious to see how Fillerina works, we asked two of Dermstore's in-house estheticians to try Fillerina for 14 days. Here's what they have to say, as well as before and after pictures:
First Impressions:
"My first impression was the packaging was beautiful and unique. I have never tried a product before that had a syringe applicator. The feature that stood out to me is the key ingredient in the product (hyaluronic acid), hoping that it would benefit my concerns, which was deep wrinkles around my upper lip and smile lines."—C.R., late 50s
"I like the sterile bottle that did not have access to open air! I had never used anything with a 'syringe' but the precision was attractive. I am starting to develop fine lines and surface dehydration. I wasn't sure what to expect, but I was open to anything that would help."—R.J., 37
On Ease of Use:
"I found it easy to apply, I did not need any help applying. The instructions are easy to follow. I watched the video just out of curiosity."—C.R., late 50s
"So the serum went on relatively easy. The nourishment cream, however, did not suck into the syringe very well and I ended up breaking the syringe and lid on accident. The instructions in the kit were simple, but almost too simple. There was a lot of room for interpretation, which led to some guessing."—R.J., 37
Results:
"The treatment felt a little sticky and did come out a bit thick until I learned how to dispense it more gently. It smells great, I love the smell of the moisturizer and the feel of it as well. No tingling at all, but I did feel my face has softened."—C.R., late 50s
"When I first applied the product, my skin immediately felt 'full.' I was definitely surprised. It felt plump immediately, but the feeling dissipated quickly. Overall, the hydration did improve. The biggest benefit I noticed was improved hydration and feel after applying the products. I noticed an improvement in the hydration and supple feel on my skin within a couple days."—R.J., 37
C.R., Late 50s, 14 Days After Using Fillerina PLUS Dermo-cosmetic Filler Treatment Grade 5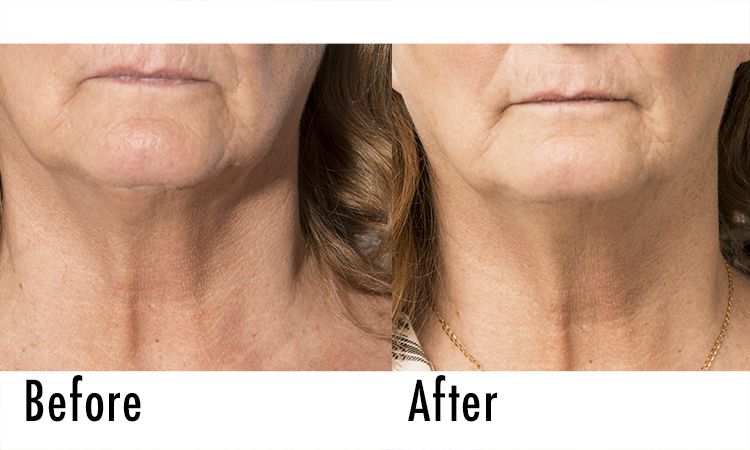 R.J., 37, 14 Days After Using Fillerina Dermo-cosmetic Filler Treatment Grade 1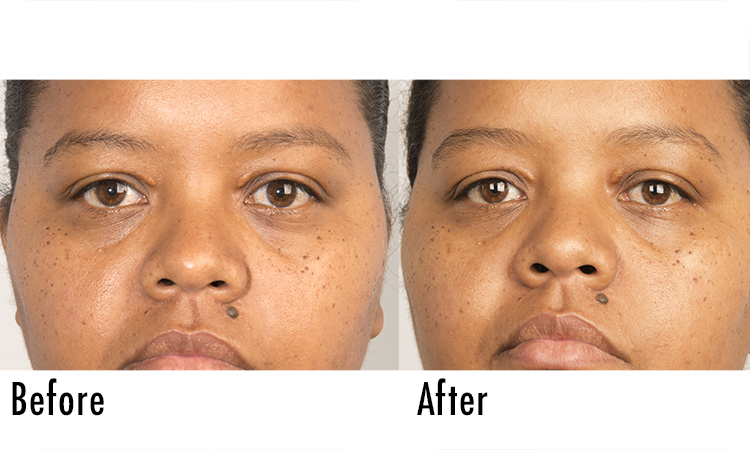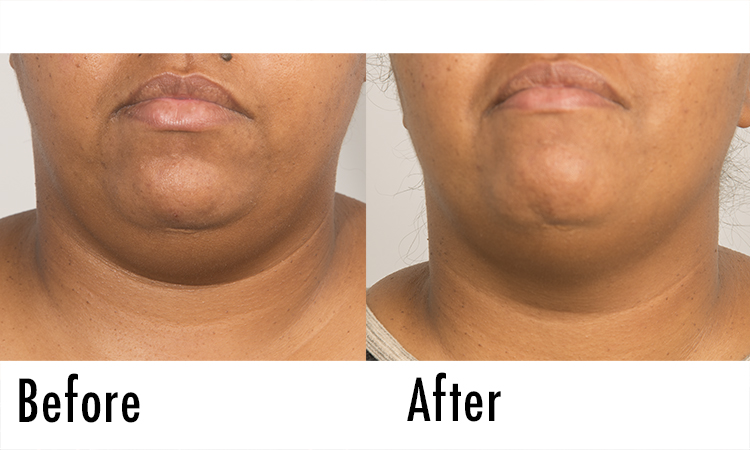 Tips for Best Results:
"Make sure you use it every day, I have found that if I keep the first solution on a bit longer before the moisturizer, that seemed to help."—C.R., late 50s
"I would recommend adding it to an anti-aging routine as a booster or in lieu of a "special occasion" in-office filler. Use this product before a moisturizer or a sleeping cream! It really locks in the moisture that plumps and smooths the skin."—R.J., 37