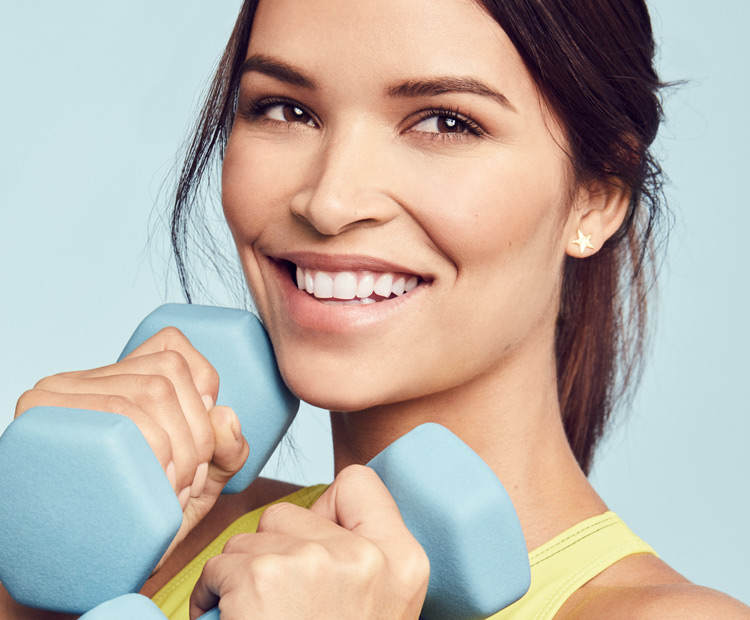 There's nothing worse than walking out of a workout class at that trendy studio feeling totally proud of yourself, incredibly sweaty and glancing at the time…and going into instant panic mode. Why? You have a hot second to change out of your leggings and tank into your work attire so you can make your first meeting of the morning. Balancing a jam-packed professional and personal life with a quest after health and fitness is no easy task—and sometimes it requires cutting corners. While fitness professionals are definitely experts on how to build muscle, burn calories and see results, it's beauty influencers who know a thing or two about getting ready quickly and beautifully. Though you do want to look your best, you also want to give your pores the TLC they need—and demand—after an intense routine.
From the best beauty products to use to gym tips you definitely have never thought of, steal a page out of these playbooks the next time you need to work out and skedaddle.
[listimage brand_id=504818 prod_id=72260]
1. Always wash your face.
Have you ever forgotten to wash your face after a run and allowed the sweat to dry? Notice how hours later, if you go to wipe your cheek, you'll see how perspiration cakes onto your skin. This can cause breakouts and irritation. That's why beauty writer and content creator Matt Woodcox says it's important to wash your face ASAP post-workout, even when you're in a rush.
Because doing your entire face-cleansing regimen isn't always possible at the gym, he carries Bioderma Sensibio H20 and Bioderma Sensibio H20 Wipes in his gym bag to ensure he never has to skip this all-too-important step. "I like to use the wipe first, then go in with the liquid on a cotton round just to make sure I get as much of the sweat off my face as possible before I am able to wash my face. The reason I find this effective is because it's almost like a mini post-workout double cleanse," he explains.
[listimage brand_id=505407 prod_id=76079]
2. Use a toner to get rid of redness.
When you grin-and-bear-it through a workout, your face becomes living proof of your effort. In other words, your face turns mighty red. This can be annoying when you're trying to put on makeup and head into the office. Luckily, beauty influencer Jeni Steinkopf has a solution. While her face is red and hot, she likes spraying a hydrating and cooling toner on her skin to calm it down.
"Something as simple as Caudalie's Grape Water spray feels amazingly refreshing after a good workout," she says. "After cleansing, I will mist it all over my face a couple of times because it feels so good. The grape water is nourishing and moisturizing. Since it's only one ingredient, it's suitable for even sensitive skin."
[listimage brand_id=505475 prod_id=77266]
3. Prepare your hair before working out.
Though plenty of people have strategies for fixing their hair after a killer spin class, hair expert and entrepreneur Crystal Frehner says it's more important to game-plan before you head into the studio. To prepare for your workout—and keep your hair crisp afterward—she recommends using a texturizing spray and putting your hair in a braid. Not only does this save time, since you don't have time to wash your hair after, but it can also be, well, super-pretty, depending on your hair type.
"The texturizing spray will give your hair volume and work with the sweat to set your hair in the braid, resulting in loose, messy waves, which is super on-trend and stylish," she explains. For best results, consider adding Oribe Dry Texturizing Spray to your gym bag to try it yourself.
[listimage brand_id=504214 prod_id=77091]
4. Use oil drops to maintain that post-gym glow.
You know what we're talking about: that post-workout glow. Your skin is flushed but it's radiant, with a dewy complexion and subtle shine. To keep this natural rosy glow throughout the day, makeup artist and podcast host Cassandra McClure suggests using Herbivore Prism Exfoliating Glow Potion before you head out of the gym.
"We need to keep hydrated when we work out. Our skin needs the same hydration, and a few drops on skin not only hydrates, it exfoliates and won't clog my pores," she raves. "This clean beauty serum contains herbal extracts, vitamin C and aloe vera to soothe my skin, so I walk out of the gym with that fresh glow."
[listimage brand_id=500262 prod_id=76013]
5. Use baby wipes for cleaning on the go.
By "baby," we actually do mean for babies. At least, that's makeup artist Jules Annen's solution to wipe away sweat in a hurry. If you don't have time to shower right away and need to be somewhere in about 20 minutes, Mustela Stelatopia Wipes can help get rid of sweat and debris without drying your skin. "Because these are designed for babies, they are extra absorbent, extra nourishing and great for sensitive skin," she explains.