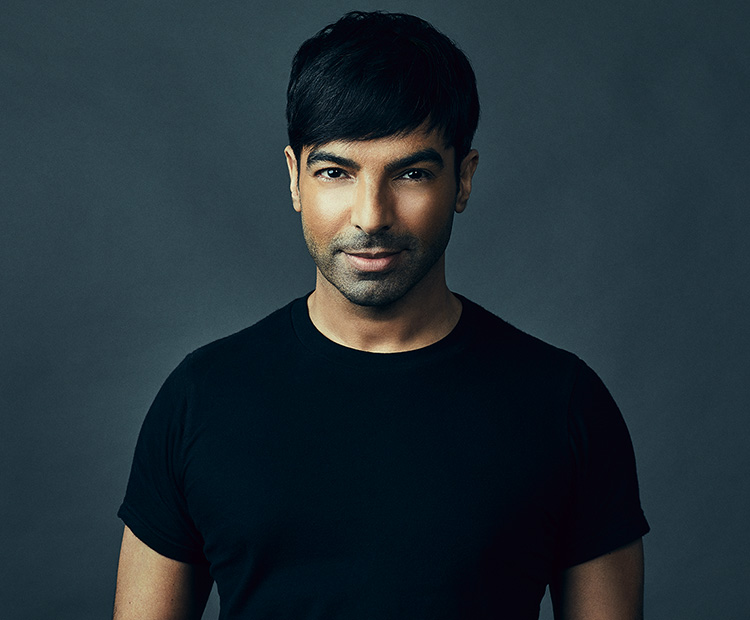 We've all got some hair concerns. And while our friends can give us a litany of helpful tips and pieces of advice for every hair situation possible, what worked for them may not necessarily work for us—for the simplest reason that every head of hair is just different. That's why we always turn to our favorite hairstylists for answers to our most pressing hair questions.
And who else knows hair better than Harry Josh, celebrity hairstylist and the man behind some of the most famous manes on the runway and the red carpet (think Rose Byrne, Gisele Bundchen, Karlie Kloss and a slew of Victoria's Secret models—some of them also happen to be his closest friends!) From how to blow-dry your hair to the best products to tame frizz and split ends, we've compiled all your frequently asked hair questions and sent them to Harry. Here are his sage pieces of advice:
On the Right Way to Wash and Dry Your Hair
1. How often should I wash my hair during winter?
Harry Josh: It all depends on your hair to begin with and less so on climate. If you have finer hair, it should be washed more frequently, like every other day. If you have thick hair, it can be washed as little as once a week.
2. I have a friend who washes her hair every single day because she thinks this way she doesn't lose as much hair. Is that true?
Everybody's hair is different. We all typically lose a hundred strands a day, it may be more obvious to some because of the length of their hair. It could be someone's personal preference who wants to wash her hair every day.
3. I have long hair. What are some helpful tips for drying my hair in record time?
I would A: recommend a powerful dryer like one of my dryers. B: If you don't have frizzy hair, wear it in a towel to absorb as much moisture as possible before drying.
4. How do you blow-dry thick, curly and frizzy hair? 
Always use the best tools possible to set yourself up for success! A tip would be to use tension with a round natural-bristle brush and always point the nozzle down the hair shaft to ensure it is smooth.
5. What about coily hair? What's the best technique in blow-drying my hair straight?
I would make sure you use a heat protectant, smoothing balm, lots of tension, a great blow dryer and always finish with the Harry Josh® Pro Tools Ceramic Styling Iron 1.25 Inch.
6. What are the best hairbrushes to use with my dryer?
If you have fine, straight hair, use the Premium Oval Brush for a smooth blowout. For wavy hair, a round brush. And for curly or coily hair, use a wet or detangling brush first and then round brush to smooth the hair if the goal is sleek hair.
7. Is there a better style or a better way to blow out your hair to keep the volume longer for thin hair?
I recommend velcro rollers, setting your hair with both cold and hot temps on your dryer, and just using the right products.
8. What is the best technique to dry your hair without causing damage?
First, make sure you're using the best tools possible (like the Harry Josh dryers!) and then always use a heat protectant before blow-drying. Insider tip: never put the blow dryer directly on the hair. Another tip: try to get as many days out of your blowout by using dry shampoo so you're not overdoing it!
9. I have dry and frizzy hair. How should I dry my hair?
Make sure that you use a great hair dryer, a 2.5-inch round natural bristle brush and an anti-frizz serum. Always use tension and point the nozzle down the hair shaft.
10. How important is using not just any hairdryer when drying the hair?
Craftsmanship of Harry Josh dryers speak for high quality and performance (cheaper dryers don't have that). Cheaper dryers do not last long, don't have an ion setting switch and separate heat and speed settings (less heat should be applied to already damaged hair). Cheaper dryers also take much longer to blow-dry hair (the less time you need to blow-dry hair, the less heat you apply, the less heat damage for your hair).
11. Why is it important to use a diffuser? What does it really do?
Normal nozzles provide targeted air flow, a diffuser provides a wider range of airflow. If you have a curly hair type, a diffuser will hold the shape of the curl much better and looser. Diffusers can also be used not only for drying but also for styling, especially a tousled look.
Harry Josh Pro Tools® Diffuser has a nice shape and it picks up the hair nicely. It clicks on the dryer and stays on. A lot of diffusers fall off because they are universal. Our diffusers are specially made for each dryer, that's why we have one for the Pro Dryer 2000 and one for the Ultra Light.
12. Do you have any tips on preventing arm fatigue while blow-drying long hair?
I would recommend using my Harry Josh® Pro Tools Ultra light Pro Dryer as it has more power and is incredibly lightweight—just under a pound! If you don't have frizzy hair, wearing it in a turban will help absorb the moisture, making the blowout take less time. However, if your hair is frizzy, you need to attack and blow-dry right away to avoid frizz. Best way to get crown volume: velcro rollers!
On Volumizing Flat Hair
13. What is the best way to get volume for long, fine hair? Do I have to use a ton of products? 
I recommend using volumizing products like a volumizing mousse. Plus, a good round brush (like our 2.5-inch one). Just blow-dry and set with velcro rollers, this will keep your hair full and last for days. Often, we use clip-in extensions to pump up hair—that's an insider tip—they will be your new best friend!
14. Do you have any tips on how to volumize hair while keeping it looking sleek and not too crazy and big?
Concentrate your volume on the Mohawk of your hair. You can also set the top with velcro rollers. Blow-dry the rest smooth.
15. I have thin, wavy hair. Are there any tips to help with volume?
I would recommend using­­ a mousse and using the Harry Josh dryer with diffuser attachment on medium speed and high heat. Dry your hair upside down.
On Combatting Split Ends, Flyaway, Frizz and Other Hair Woes
16. How do I make my flyaway lie flat without feeling like I'm wearing a helmet?
HJ: For starters, tapping with a damp finger can help tame the flyaway. If you're looking for a product, a brow gel can be used to tame the flyaway without looking like a helmet.
17. I have frizzy, dry hair with split ends. What are the best products or tools to make hair shiny and straight?
Make sure you're using the best quality tools like the flat iron. This way you're not putting repeat heat on each section. Add silicones and straightening balms to help hide all flaws but truly a trim will do wonders. A Keratin treatment might serve you well too.
18. One word: cowlicks. How does one with longer hair cover multiple pesky swirls found at the back of the head near the crown?
The only way to fight the cowlick is to manipulate it from wet to dry. Once it dries, it makes it very difficult to do anything. Use a premium oval brush and a Harry Josh dryer. Brush the hair side to side on your scalp to make the hair lie neutral.
On Rejuvenating Damaged Hair
19.What are the best products and tools for shoulder-length hair that is colored, thin (especially on the crown area) and damaged? I'm super embarrassed and self-conscious about this issue. 
Always make sure you're using good-quality shampoo and conditioner; follow up with heat protectant and hair oils. Use lower-heat settings on all your hot tools. One insider tip: I highly recommend using Toppik on your crown to camouflage your fine hair.
20. Is it true you should cut hair to make it grow healthy?
I recommend doing treatments and hair masks. Trims always make the hair feel healthier.
21. How do I get the best hair health possible?
I would make sure to use good quality products and take hair supplements like Viviscal, Keranique, HUM, etc. These hair supplements balance out your hormones to promote best possible hair growth.
22. Are there any differences between winter and summer hair care routine? 
During the summer, I like to swim so I find myself using a clarifying shampoo more often. In the winter, if my hair is dry, I tend to use more heavy conditioners. So it really depends on where you live and your lifestyle.
23. For people who are extremely busy, or don't have time to go to their hairstylists regularly, what at-home hair care regimen would you recommend?
Make sure that you use really good-quality products and don't wash it too frequently (at least every other day so you don't over-dry your hair). If you do a hair mask once a week, you'll definitely keep your hair in better condition.
On Hairstyling on the Go
24. I have long straight hair that doesn't hold curls and isn't used to styling products. What hairstyle would you recommend?
I think a top knot or messy bun always looks cool. Don't forget about hair accessories.
25. What size of curling-iron barrel would you recommend for slightly wavy hair to get nice beach waves?
I would recommend the 2-in-1 Ceramic Marcel Curling Iron 1 Inch as you can always take bigger sections if you desire a looser look. If your hair tends to hold a curl really well, I recommend the 1.25  inch. The good thing about these tools is that the clip is detachable, so you can use them as a wand as well.
26. As a mom of young kids, my time is limited. What's the #1 thing you'd recommend for my hair that will be manageable and trendy for 2018?
Top knots and the right hair accessories are always chic.
27. What do you recommend using to make curls last all day?
Whether you have natural curls or curling-ironed curls, products are the answer—from products that prep your hair, to curl creams, to good old-fashioned hairspray.
On Hair Trends for 2018
28. Which haircut do you think defined 2017?
The use of wigs and hair extensions, and switching your hair into extremes. No one was worried about shocking the public.
29. What do you think will be next go-to haircut in 2018?
There's a movement of people lobbing their hair off, sort of an anti-long hair trend of 2017.
30. Is this trend for everyone? Who should rock this trend? Any tips on how to pull this off?
It's really important your stylist understands your face shape and who you are as an individual. Don't just get a haircut just because it's trendy, make sure it fits your hair type. You want to make sure that your hair is going to make you look your best. There's no one haircut that will fit everyone.
If you want the lob, you would want the length to hit at the right spot and have the same length, not dramatically shorter in the back. You also don't want your ends to feel too heavy, but you don't want it to look layered as well. It's the art of hidden layers!
31. Any other haircut/styles that you think will dominate in 2018?
In the political climate of today, people are more focused on activism and empowerment, so people may be putting less focus on glamorous styles and reference the '90s more—simple, smooth and more natural.
32. We've seen a lot of people taking bolder steps in terms of hair color in 2017, do you see this trend continuing in 2018?
Shocking hair color is becoming more mainstream. It's an old trend but it's still going to be there. It's not going anywhere. It's an individual thing. If you've been doing anything for too long, it's time to switch it up.
33. Do you think going platinum or going ultra violet will be more of a trend this year?
We've seen a ton of violet hair, I feel that this trend is getting old now. Blonde is always in style.