Mother's Day is all about showing the mom in your life how much you appreciate all she does. We're celebrating Mother's Day by honoring some of our mother-founded brands. Learn more about their mom-must-haves and how they navigate entrepreneurship as parents.
Dr. Loretta—Founder, Loretta Ciraldo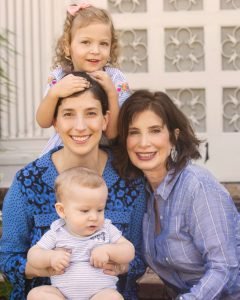 What are your routine must-haves as a mom?
Speaking to and getting together with my children and grandchildren on a regular basis are total must-haves for me as a mom. I am very grateful to have all four of our adult children living within several miles of us. I feel that constantly being exposed to a youthful approach to life helps me to age in a healthier, happier, and more youthful way myself.
I speak to each of my four children at least four times a week, and since I work together with our daughters Gina and Liza at Dr. Loretta, I am in constant communication with them. They keep me smiling and passionate about everything we do at Dr. Loretta skincare.
What's one product you can't live without?
Our Dr. Loretta Anti-Aging Repair Serum! The deeply penetrating Vitamin C not only boosts sun protection, but supports collagen. Clinical testing results on this product are really remarkable. In testers from their 30s to 70s, 100% had improvement in appearance of lines and wrinkles, skin texture, and brightening. And what amazes me most about its efficacy is that after just 4 weeks there was a 54% increase in skin's elasticity. Since my whole perspective is to use skincare over procedures, I love how much improvement one topical formulation can give to our skin without downtime, discomfort, or great expense.
How has being a mother shaped your business?
Because I am doing this with two of my daughters, it has made the Dr. Loretta skincare brand into a passion much more than a business. My daughters grew up with me practicing dermatology and being emphatic about making people feel more confident about their appearance and aging, I take tremendous pride in all we have accomplished as a team!