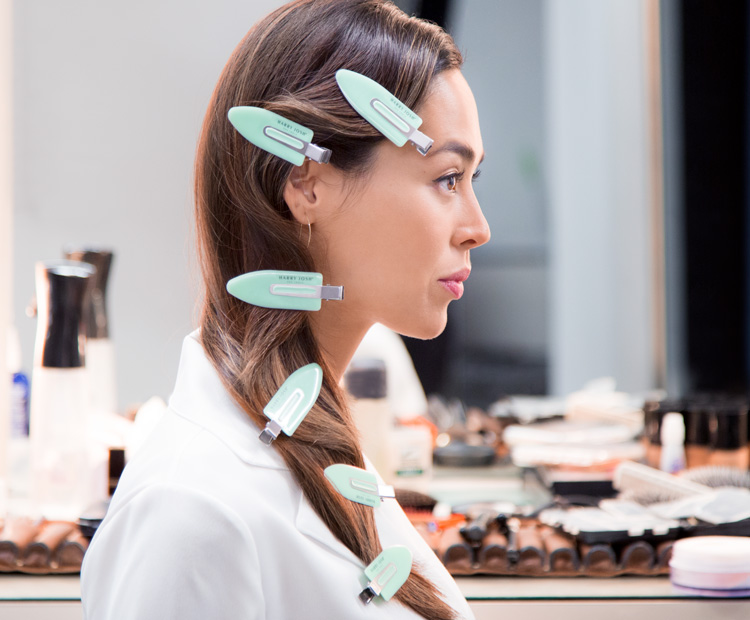 I am so excited to introduce the newest addition to the Harry Josh Pro Tools collection: Pro Makeup & Wave Setting Clips! If you're a fan of my line, I'm sure you're familiar with the Pro Dryers and hopefully you've tried some of our other heatstyling tools and brushes (if you haven't, you should!). Every item that we create is something that I feel will truly help the professional stylist and everyday woman alike—and these clips are no exception. You may be thinking: Do I really need clips? Are they that amazing?  I assure you—they ARE amazing and there are a myriad of ways that you can use them to take ordinary hair and make it extraordinary.
What Are Wave Setting Clips?
You've probably seen these everywhere but never paid much attention, but what are these clips exactly? Wave setting clips have a variety of uses—from sectioning your hair to setting your waves to taming pesky flyaway to holding your style securely in place. Unlike traditional hair clips, they slip through your hair without pulling or tugging—and they don't leave a dent! They're a must-have for makeup artists and often seen backstage at fashion shows, behind the scenes for red carpet prep and usually in the kit of your stylist at your salon. They are an amazing asset for all different hair types and for creating different hairstyles.
What Makes Pro Makeup & Wave Setting Clips Special
So what makes my clips the best ones out there? They're the biggest and the strongest. At almost three inches long, they can grab more hair and hold onto it without popping off. And even though they're big and strong, they're super lightweight, ensuring each application leaves crease-free results. Plus, the clips come in a set of six with their own bag, ensuring you won't misplace them over time.
If you use my line, you probably know that one of the most important parts of the collection is the amazing craftsmanship. It is so important to me that every product is ethically made. We work with a team in Korea to craft our clips and ensure our workers are paid fairly and are provided a clean, safe work environment. Harry Josh Pro Tools will never compromise this for a cheaper, faster factory—each of our items is made with pride.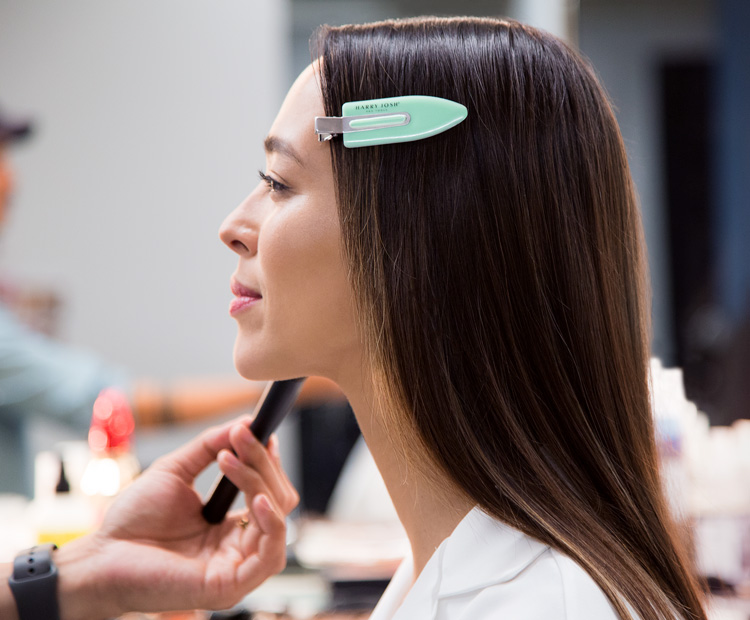 How to Use Wave Setting Clips
If this is your first time using wave setting clips, not to worry. Here are just some of the ways these clips can help you with your hairstyling routine, plus some tips on how to use them right.
1. To Tame Flyaway and Pesky Baby Hairs
Say goodbye to flyaway and pesky baby hairs—or at least the appearance of them. Dampen your wild pieces, comb them in the direction you want and pin them down with the Pro Makeup & Wave Setting Clips. They'll dry flattened to the rest of your hair, solving your unruly hairline.
2. To Add Texture to Straight, Fine Hair
Looking to create texture? Apply a sea salt spray throughout damp hair. Take one-inch sections and twist them into mini-buns all over your head, securing with the Pro Makeup & Wave Setting Clips. Dry with a diffuser and then brush hair out for tousled, sexy beach waves.
3. To Define Waves
You're probably already defining your waves by using a curling iron. Your go-to, piece-y, beachy wave is amazing for every day, but if you're looking to go glam for a special occasion, the Pro Makeup & Wave Setting Clips can quickly turn your waves super upscale in a few steps.
First, wave your hair as usual but brush it out after you're done. Spritz with hairspray and then brush it out one more time. Take a clip and secure at the wave lines throughout the hair. When the hairspray as dried, you'll have shiny, soft, glamourous brushed out waves like an old Hollywood star—no crease!
4. To Create Bouncy Curls
Lots of women with curly hair find that their hair dries wide but with no height, resulting in a triangular shape. These clips can help you get lift at the root for beautiful, bouncy curls and a voluminous shape.
Here's how to do it: First, wash hair and apply your usually styling product. Pull one-inch sections of hair tight and up off the head, securing into your desired curl shape with the Pro Makeup & Wave Setting Clips. Dry with a diffuser. By pinning hair pulling upward and the root, curls will be magically transformed to have great lift for an all-over bold, bouncy look.
5. To Pin Back Hair Without Leaving a Crease
These are a MUST HAVE when you're doing your makeup, or doing someone else's makeup. The Pro Makeup & Wave Setting Clips provide a crease-free hold, meaning you can pin back a blowout off of the face without ruining styled hair.
I really hope you try our new Pro Makeup & Wave Setting Clips! If you have any questions, you can always find me on Instagram at @harryjoshprotools.
xx
Harry