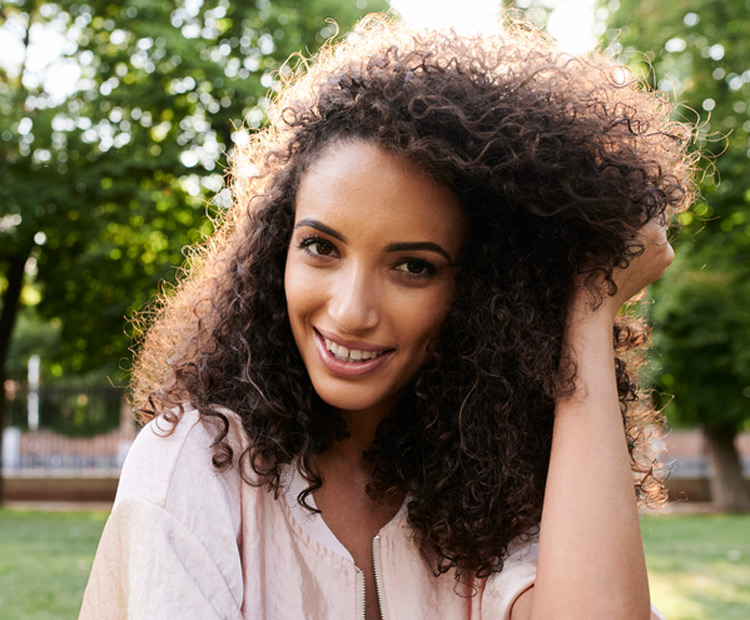 Believe it or not, roughly 65% of the U.S. population has textured hair. And, just like we all have individual skin types (think dry, combination, oily, etc.), curly hair also falls into various categories and requires customized care. Yep, there's no one-size-fits-all solution here. Yet, all types of textured hair have one major thing in common—they're more fragile than straight strands. Here's why: According to a L'Oreal study, the curlier the hair, the smaller the curve diameter and, given that very curly hair stretches less under stress, it is more likely to break.
Which is why moisture is imperative across the board, regardless of where your hair falls on the texture scale. (A simple breakdown: Type 1s are straight, Type 2s are wavy, Type 3s are curly and Type 4s are coily.) To help you understand and enhance your unique texture, we've crafted a quick explainer (plus product recommendations) for wavy, curly and coily hair.
Wavy Hair
"Wavy hair is pretty easy to straighten and has a looser and sometimes softer texture," says celebrity hairstylist Nelson Vercher (who works with stars including Kelly Rowland, Carmen Ejogo, Tamia, Sylvia Rhone and Naomi Campbell). "Typically, the texture is flatter at the crown."
Common concerns for wavy hair include lack of volume (this hair type can be on the finer side), frizz, flyaways from damage and maintaining definition. "Wavy hair should stay away from very heavy products as they can make the hair too greasy," emphasizes Vercher. "Look for ingredients containing rice protein, since it won't weigh the hair down."
In terms of stylers, those with wavy hair should opt for lightweight products including leave-in conditioners or curl creams. "Lighter products like gels, light creams or mousse work great with loose, wavy hair. My favorite product for wavy hair is Oribe Curl Shaping Mousse," says celebrity hairstylist Cheryl T Bergamy, who works with Ashleigh Murray, Ruth Carter, Essence Atkins, Kat Barrell, John Legend and Leslie Odom Jr. "It's featherlight and will add moisture. It is also excellent for keeping both waves and curls in place."
One ingredient to watch out for? Silicones. Bergamy says, "Silicone is not water-soluble, which is what causes buildup that will weigh your curls down, leaving your hair lifeless." Thankfully, there are a lot of silicone-free products on the market. "Living Proof has a great no-frizz system that works perfectly for wavy to curly hair. Their No Frizz Shampoo is silicone-free, removes impurities from your hair and tames frizz and flyaways," she adds. Another product she loves is their Humidity Shield. "It gets rid of frizz and is super lightweight, so it won't weigh the hair down—it's also great for chemically treated hair."
Curly Hair
Visually, curls can be described as spiral- or spring-like. It's important to note that the texture (and size) aren't always uniform—curly hair types can be a mixture of "true" curls and/or waves ranging from the circumference of your finger to as tight as a pencil.
Common concerns for curly hair include reactivity to dry or humid weather, dryness, breakage and frizz. With curly hair, "the main objective is frizz control," says Bergamy. "You want to find the right product that will keep your curls defined all day. I love using products that won't weigh hair down, so I often use light curl creams and mousse. I tend to search for products that contain shea butter, as it is formulated to be water-soluble and is great for anti-frizz and moisture retention," she adds.
Vercher is also a fan of hydrolyzed protein (to give both waves and curls good elasticity) and keratin protein (which humans naturally produce). "Our skin, hair and nails are made up of keratin, so using it as a hair treatment will seal, smooth and repair hair strands, making them stronger and thicker," he adds. "When applied to the hair, it coats and penetrates the cuticle layer of hair, making it healthier and more manageable."
Additionally, Bergamy recommends looking for ingredients like coconut oil, jojoba extract and avocado oil. "These are incredible to add to your routine for extra moisture and shine." She suggests trying Oribe Styling Butter Curl Enhancing Créme to leave your curls loaded with shine and moisture and to eliminate frizz. You can also leverage hair oils—Vercher calls out these are great for both the follicle and scalp, too. Try picks like Olaplex Bonding Oil or Oribe Gold Lust Nourishing Oil.
Coily Hair
Although they may seem similar, there are differences between curly and coily hair. "Curly hair usually retains more moisture, leaving the curl more silky in texture," explains Bergamy. "Coily hair is likely to have more defined ringlets." And some types of coily hair "can be identified with a zig-zag formation which is prone to shrinkage. Coily hair or Afro-textured/kinky hair is naturally dry and spongy in texture."
To build on Bergamy's definition, coils are typically super small, tightly curled and spring-like. Like curls, coils aren't always uniform and can have zig-zag patterned curls that don't form ringlets. Because coily hair has fewer cuticle layers than other hair types, it is often the most delicate, which makes it more susceptible to breakage. "Coily hair needs moisture at all times," emphasizes Bergamy. She suggests using a sulfate-free cleanser to wash your hair, followed by a hydrating conditioning treatment to lock in moisture. "Using a leave-in detangling conditioner (like Living Proof Leave-In Conditioner) after treatment will work wonders!" she adds. "Protective styling techniques (like braids, twists and bantu knots) are another great way to prevent the hair from shedding."
In terms of ingredients, top picks for moisture and shine include shea butter, almond oil, olive oil and coconut oil. "Butters are also a great way to manage dry hair, as it will allow you to separate your hair with your fingers, so you can style however you like," Vercher says.
You can also up the ante on frizz control with flake-free gels. "Oribe's Curl Gelée for Shine & Definition is great for frizz and dryness and gives a definition to curls without stiffness that other gels have," explains Bergamy. Other faves include Briogeo Curl Gel and Ouidad Curl Quencher Moisturizing Styling Gel. No matter your type, well-cared-for curls are always in style.