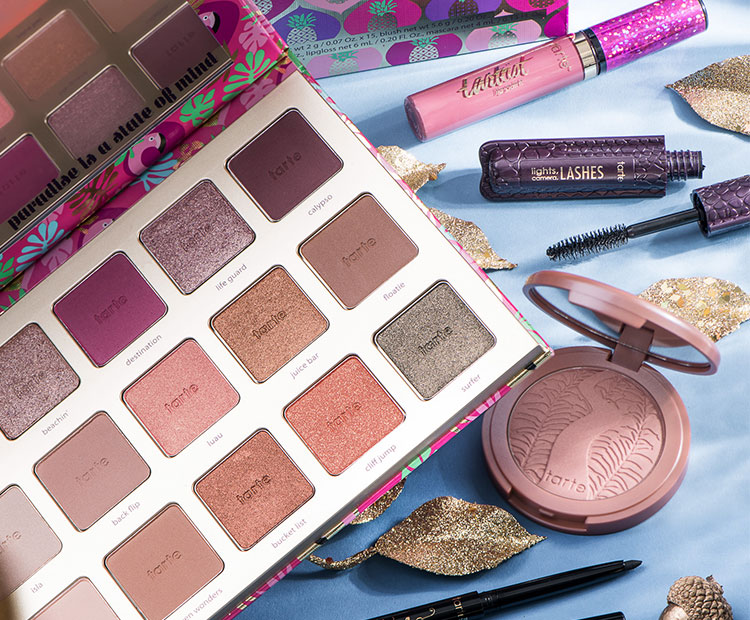 When your holiday calendar is frightful, but you're going for a polished look that's delightful, you'll need to cut some corners to pull it off. Between the endless parade of holiday invites to shopping for the best gift for everyone on your "nice-enough" list, finding time for self-care is difficult as the end of the year draws near. Even so, the key to having a holly, jolly time is feeling put together—and okay, glam!—for every celebration. The good news is you can still pull off sparkly eyes that dazzle and a bright, seasonally appropriate red lip even with very limited prep time. The key is following a few tips and tricks from makeup artists and beauty experts that would make the whole process easier. Try one of these solutions the next time you have a frantic minute between your holiday bash at work and your Secret Santa gift exchange with the girls!
[listimage brand_id=500738 prod_id=48462]
Hack #1: Use lipstick to fix chipped nail polish.
You somehow managed to sneak past your manager just in time to make it for the last round of half-off hot toddies with your pals. But as you are unlocking your car or swiping your ticket for the train, you notice a chip in your nail. Drat! You probably don't carry around nail polish in your work bag, but do you have a red lipstick? According to beauty planner Katelyn McCullough, using your trusted lip formula to fill in the missing color is an effective hack. Simply apply a swipe of it, let it dry and then ask for some cooking spray from the kitchen once you arrive. It'll seal it together, making your mani appear salon-fresh.
Ask Santa for: Stila Cosmetics Stay All Day Liquid Lipstick
[listimage brand_id=500664 prod_id=12544]
Hack #2: To add instant glam to your look, use bronzer as eyeshadow.
Thanks to freezing temperatures and a continuous forecast of snow, you probably packed away your bronzer months ago. It's time to pull it back out and give it a whirl during the winter months, according to beauty and fashion influencer Mehreen Zaman. The consistency of bronzer is light and subtle, making it ideal for a pop of color and glitz…on your eyes! Not only does it save on space in your party bag, but it provides a more natural look than certain glitter-filled picks. "With the holidays coming up, I like to apply the bronzer on my eyelids for a warm, sparkly look. It's my favorite thing to take on the go when I have to apply a full face of makeup in such a short time," she says.
Ask Santa for: Tarte Amazonian Clay Waterproof Bronzer—Park Ave Princess
[listimage brand_id=501998 prod_id=39882]
Hack #3: Use liquid eyeshadow as highlighter to freshen up a dull complexion.
After one too many mulled wines around the fire with your beau last night, Monday morning has arrived with little sleep—and a slight hangover. Freshen up your dull complexion by using a liquid eyeshadow, like RMS Beauty's Eye Polish in Champagne, to add dimension to your eyes and cheeks. Zaman says that a dab on your cheekbones, upper lip, above and underneath your eyebrows and down the bridge of your nose is a perfect, easy hack. "What I love about [RMS' Eye Polish] is that it has a subtle, glossy quality with a light reflective finish," she says. "Due to its soft silky texture, it blends really easily and hydrates the skin." 
Ask Santa for: RMS Beauty's Eye Polish in Champagne
[listimage brand_id=500738 prod_id=71317]
Hack 4: If you're using face glitter, use your fingers to apply…or opt for a sparkly eyeshadow.
When applying glitter to your eyes, you'd want to go for a sultry Santa Baby-esque vibe—not a ho-ho-hot mess. Makeup artist Mary Lafferty says you're not the only one struggling to keep these sparkly dots from running down your cheeks. Her solution? Skip the makeup brush and use your finger instead. Not only will it be easier to manage, but you can pat softly until it sticks to your lids. If you're not a fan of using your hands on your face, she suggests dipping your brush into the shimmer shadow and then giving it a spritz of setting spray. "It will help stop fallout, make the shadow more dramatic and help it last a little bit longer," she adds. 
If all else fails, opt for a glittery eyeshadow, like Stila Glitter & Glow Liquid Eye Shadow.
[listimage_fh brand_id=504843 prod_id=73002]
Hack 5: Apply loose powder on lips to make lipstick last.
In a perfect world, your holiday lips will be bold, bright and will stay perfectly intact all through the night. Problem: when you channel your inner Marilyn Monroe, red lipstick ends up everywhere. Your teeth. Your cheek. All around your lips. Sigh. Steal this trick from professional makeup and hair artist, Zee Gustafson: use powder to hold the stain in place. Between the layers of your lipstick, hold a single-ply tissue to your lips and tap loose powder over the tissue after blotting. "The tissue will act as a diffusing barrier and only allow an evenly distributed amount of powder to adhere to the freshly applied color," she explains. "This will cause the lipstick to mattify immediately, prolonging the life of the lipstick."
Ask Santa for: Glo Skin Beauty Loose Matte Finishing Powder