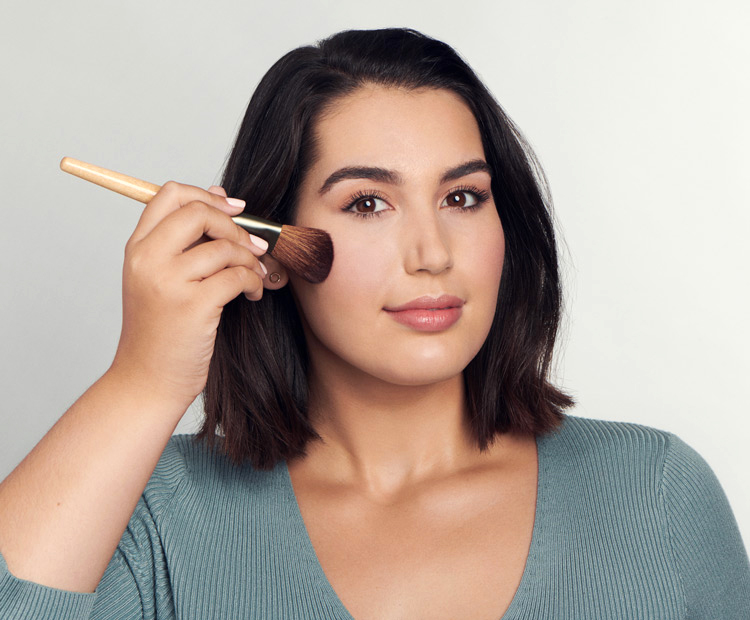 Irritated or inflamed skin is one of the most common skin concerns we encounter. It also happens to be one of the trickiest to address, especially if you're unsure as to what is causing your skin to sting, itch or feel raw. Fortunately, a quick visit to your dermatologist will help you find the right treatment that will restore your skin's clear and radiant glory. That said, the healing process often requires time—something that's not always on your side. And while applying makeup to hide redness and dry patches seems like a no-brainer, using the wrong products or technique can actually make the problem worse.
Needless to say, it's important to choose makeup and skin care products that can work hand-in-hand in keeping your blemishes at bay while still allowing your skin to heal and restore itself. But if that sounds like a lot of work to you, fret not. We asked Nicole Akers, Assistant Vice President for Education and Development at SkinCeuticals and Rachel Short, Assistant Vice President for Education and Training at Dermablend—alongside top dermatologists and skin care experts—to break things down for us and share their best tips on how to soothe and apply makeup on inflamed skin.
What Is Inflamed Skin
Redness, swelling, tenderness and warmth are the tell-tale signs of inflamed skin, says New York City board-certified dermatologist Hadley King. While genetics and certain chronic conditions make some people more susceptible to various inflammatory conditions, Dr. King also cites a number of factors that can cause irritations or trigger flare-ups. "Diet and hormone levels, for example, can affect acne, while everything from the weather to your skin care regimen can impact eczema and rosacea. Illnesses or stress can trigger psoriasis and environmental exposure can lead to allergic or irritant contact dermatitis. All of the above are accompanied by inflammation," Dr. King explains.
The appearance of inflamed skin can also differ according to the cause of the inflammation, adds Dr. King. Acne is characterized by red and tender bumps, which may also be cystic, while rosacea flare-ups "will often present with redness, sometimes accompanied by bumps, swelling and a burning or warm sensation," she explains. On the other hand, inflammation due to eczema or seborrhea are typically more chronic and come with dryness and flaking. "In allergic contact dermatitis, like poison ivy, for example, the acute inflammation may present with juicy, fluid-filled bumps, itching and stinging," Dr. King adds.
How Does Makeup Affect Inflamed Skin 
As a general rule, inflamed skin should be left makeup-free "to allow the skin to breathe and heal from the source of inflammation," says board-certified dermatologist Debra Jaliman, assistant professor of dermatology at Icahn School of Medicine at Mount Sinai. Akers echoes this, adding that, "Applying makeup on top of skin that is inflamed can give the appearance of makeup disappearance due to the skin looking to be quenched of the needed item to balance itself." It can also lead to congestion, which leaves the skin feeling more sensitive, tight or uncomfortable, she adds. This is why using the right beauty products is key, says Short. "Depending on the formula, makeup can either exacerbate or comfort the skin," she explains.
What Ingredients to Seek Out and Avoid 
"If your skin is inflamed, avoid products containing benzoyl peroxide, salicylic acid and retinoids as in Retin-A or tretinoin," says board-certified dermatologist Janet Prystowsky, as these ingredients can further aggravate your skin. Instead, Akers suggests keeping an eye out for calming botanicals such as cucumber, thyme and peppermint, which are known to comfort inflamed skin and ease swelling and soreness.
Anti-inflammatory ingredients like aloe vera and green tea can also help with redness, irritation and sensitivity, adds Dr. Jaliman. "Aloe is cooling and soothes the skin, while green tea helps with inflammation and has powerful antioxidants that can help fade blemishes and scars," she notes.
How to Prep Inflamed Skin for Makeup 
Prepping your skin before putting on a full face of makeup is a must even when your skin is in top form, but it's even more important when you're dealing with inflammation. Akers suggests starting with "a five-minute express masking ritual" to soothe and calm the skin. Below is a step-by-step guide.
Step 1: Create the Perfect Masking Mix
Dispense four pumps of Resveratrol B E and a quarter size of Hydrating B5 Masque in a bowl and mix evenly, then apply onto inflamed skin. The combination of potent antioxidants and hydrating ingredients delivers protection and nourishment to stressed skin while replenishing and sealing in moisture.
Step 2: Add Another Layer of Defense
Apply Biocellulose Restorative Masque for at least five minutes. This mask features bio-fibers with heat-reducing water that cool and soothe irritation in sensitive or inflamed skin. Then, apply four to six drops of C E Ferulic to boost your skin's defenses and prevent further damage from pollutants, UV radiation and free radicals.
Step 3: Soothe and Correct
Calm sensitivity and irritation further by applying four to six drops of Phyto Corrective Gel, featuring anti-inflammatory and antiseptic botanicals that soothe signs of inflammation while minimizing dark spots and hyperpigmentation.
Step 4: Protect
No matter your skin type, sun protection is a must. The Sheer Physical UV Defense SPF 50 provides broad-spectrum defense against UVA and UVB rays without leaving a white cast or greasy residue. Its matte finish and weightless formula make it ideal to wear under makeup.
Choosing the Right Makeup for Inflamed Skin 
The type of ingredients used should be your top consideration when it comes to picking out beauty products to conceal irritated skin. "You want to look out for ingredients like silicone and dimethicone because they sit on the epidermis and can inhibit further transepidermal water loss or dehydration," says Short. "Avoid ingredients like fragrance, lanolin and isopropyl myristate, which can inflame delicate skin," she adds.
Ingredient quality and shade-matching are also key factors if you want to get the most out of your makeup products. "Because Dermablend uses high-performance pigments, you get great coverage without using a lot of product," explains Short. "I suggest shade-matching to the areas that are not inflamed, such as your jawline or forehead. You may want to choose a neutral shade to ensure it doesn't appear too cool on the skin once you apply," she recommends.
Furthermore, if you want to stay on the safe side, opt for products that are formulated for sensitive skin and are dermatologist- and allergy-tested. "Usage of Dermablend is the perfect cover solution as it is the number-one dermatologist-recommended makeup," adds Akers.
How to Cover Inflammation With Makeup 
Applying your products with a blending sponge allows for a more seamless and natural-looking finish, says Short. Below, she lists some do's and don'ts when it comes to using makeup to conceal discoloration and other signs of inflammation.
The Right Way to Remove Makeup on Inflamed Skin 
Removal of makeup should be done carefully using a mild cleanser like the Gentle Cleanser, says Akers. Formulated for hypersensitive and stressed skin, it gently removes makeup, oil, dirt and debris in one swipe while soothing and comforting your skin. Akers recommends following this step with a nighttime skin care regimen. See her steps below.
Step 1: Reduce Discomfort 
Step 2: Calm Signs of Redness 
Step 3: Replenish Moisture