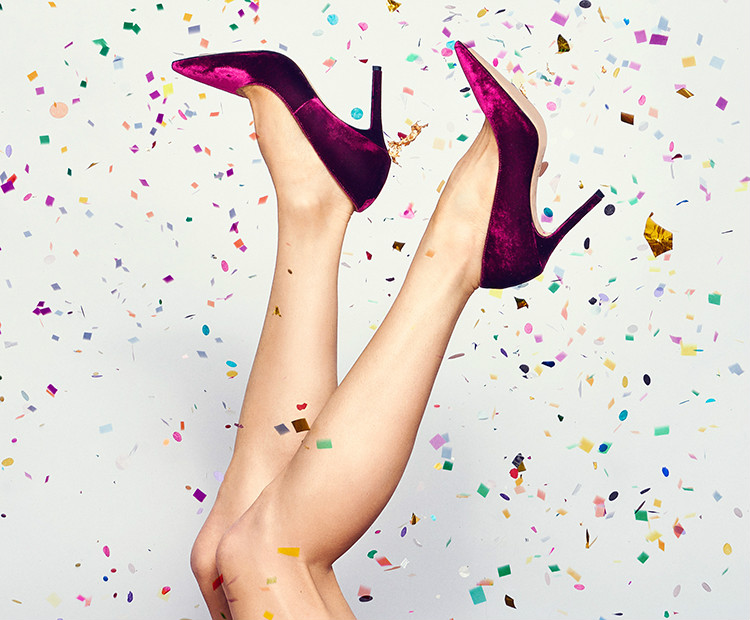 Party season is officially underway, which means you're probably equal parts anxious and excited about the back-to-back shindigs, family get-togethers and that office year-ender you're sure everyone will still be talking about well into 2019! But with every holiday party comes great stress and responsibility—we're talking about gift-shopping, getting everyone on board with the holiday potluck and poring over details to make sure everything goes on without a hitch. It's no wonder you're often left stumped on how you can get everything done and still have time to get a more festive mani-pedi.
To help you make sure you look your holiday best in every photo (yes, even in the ones your friends tag you in), we talked to the experts and asked what hair, skin and beauty prep you need to do and when you need to do them. So, without further ado—cue drumroll—let your beauty countdown begin!
1 MONTH BEFORE
1. Treat Major Skin Concerns
If you've been slacking off in the exercise department, now is the best time to start a lifestyle change—eat healthy, work out, skip the alcohol, sleep better—and establish a good skin care regimen, especially if you have concerns that need addressing. Dermatologist Janet Prystowsky says preparing a month before an event gives you a lot of wiggle room for procedures you can do, so you should make that appointment pronto. Likewise, you can look into skin care tools that you can easily incorporate into your skin care routine. Skin care devices are even more effective when used regularly and consistently, making better skin literally at your fingertips.
For major skin concerns, here are what the experts recommend:
TWO WEEKS BEFORE
2. Brighten Your Teeth – There's no better way to light up any room (or party) than with a smile, so schedule a professional cleaning service to get rid of stains, plaque and traces of all the seasonal lattes you've been having. If an appointment isn't possible, get yourself a GLO Brilliant Personal Teeth Whitening Device—an all-in-one brightening kit that uses LED light to clean and whiten teeth and improve mouth health.
3. Prep Your Feet – Whether you're rocking vampy stilettos or classic and comfy ballet flats, we can all agree that rough and dry feet don't go well with any kind of look. Use a sugar scrub once or twice a week to remove dead skin on hands and feet, says Birnbaum, and don't forget to moisturize after you shower. Then slip on a pair of the Baby Foot Easy Pack – Original Deep Skin Exfoliation for Feet before calling it a night.
ONE WEEK BEFORE
4. Have Time for Hair – Party or not, a good hair care regimen is a must, but if you've been skipping conditioning to beat the morning rush, it's time to get serious with your hair game. Joel Moses, dry-cut specialist and master colorist at Dallas-based Fusion Specialty Salon, recommends an ultra-repairing hair mask and depending on the condition of your hair, a repairing serum. If you've scheduled a salon appointment, stylist and board-certified master colorist Micky Kibbe of Swoon in East Austin suggests getting a demineralizing treatment, deep conditioning and gloss or toner refresh to spruce up colored hair and remove buildup.
Try: Briogeo Don't Despair, Repair! Deep Conditioning Mask
A week out is also the time to put your planned look for the event on a test run, says Supercuts consultant Doria Sessions. "It's the best time to see if your hairstyle, makeup and outfit all work together to give you time to make changes and reduce stress the day of the event," she adds.
5. Exfoliate Your Body – We know that the first step to radiant-looking skin is exfoliation, but Dr. Prystowsky warns that it could be "a double-edged sword" if done wrong or too often, so once just a week before your event is enough. When exfoliating the face, lips or body, make sure you keep the ingredients light and gentle. What you want is bright and youthful skin—not redness and irritation.
Try: Herbivore Botanicals Coco Rose Coconut Oil Body Polish
6. Tan the Right Way – Subtly golden skin is in no matter the time of year, so use this time to find a product that works best in giving you a natural-looking, sun-kissed glow. Creams are the safest way to self-tan, says Dr. Prystowsky, but when using the spray kind, make sure to keep your eyes, mouth and nose protected to avoid irritation.
Try: South Seas Skincare Tahitian Tan Mist
THREE DAYS BEFORE
7. Take Care of Unwanted Hair – Waxing may be the best way to achieve smooth skin, but if you're not a waxing pro, Birnbaum says it's best to hold off as "chemical hair removal creams can be quite toxic." Your best bet—especially if you're not a fan of shaving—is the LumaRx Full Body Hair Removal System, an at-home hair-removal device that permanently reduces hair in large and small areas such as your chin, underarms, bikini line, legs and arms with the use of Intense Pulsed Light (IPL) Technology. 
8. Keep Body Moisturized – Long nights of partying, alcohol and unhealthy diet are the bane of your skin's existence, so make sure it's well-equipped to withstand all those stressors by keeping it moisturized and hydrated. Drink plenty of water during the day and have another glass just before bed, says Birnbaum, and always apply a moisturizing lotion before stepping out.
Try: Sol de Janeiro Brazilian Bum Bum Cream
THE DAY/NIGHT BEFORE
9. Prep Your Hands, Feet, Nails – There's going to be plenty of hand-shaking and shoe-complimenting, so it goes without saying that your feet, hands and nails need to be in tip-top condition. Schedule your mani-pedi a day or two before your event to make sure your nails are pristine and chip-free. For your elbows and heels, apply Glytone's Ultra Softening Heel and Elbow Cream to keep dryness and flakiness at bay.
10. Prep Your Hair for Easier Styling – To make sure you get the desired texture and volume for your hair, Patty Mocarski of Little Space Salon in New York suggests washing your hair the evening before instead. "It saves you time, cuts down on static and is an awesome base to start with rollers, curling irons, braids and updos," she adds.
11. Calm Your Skin (and Your Nerves) – It's the day before your long-awaited event and you're a bundle of nerves. Take a moment to breathe and remember that all that stress will show on your skin! So what's a girl to do? Get serious with relaxation, that's what! Transform your bath into a restful oasis with lavender candles, calming bath salts and your go-to spa playlist, then apply a sleeping facial cream, like Herbivore Botanicals Moon Fruit Superfruit Night Treatment, after your nighttime regimen to make sure you wake up with softer, more radiant-looking skin.
DAY OF
12. Last-Minute Acne – Waking up with a pimple on the day of an important event is the stuff of nightmares, and while you may be tempted to pop it away, Dr. Prystowsky says that's only going to make things worse. But don't hit the panic button just yet. Keep your makeup kit stocked with spot-treatment patches to reduce redness and inflammation, apply concealer and you're good to go.
13. Boost Complexion and Keep Shine at Bay – Speaking of makeup kits, don't forget to stash a facial mist to maintain your skin's healthy glow throughout the day and blotting paper to keep oil and shine at bay (you want dewy skin, not greasy). For added boost, apply a gentle green clay mask the morning of your event, shares Birnbaum.
14. Boost Your Hair – To make sure your hairstyle lasts the entire day, licensed beauty pro and hair expert Stephanie Johnson suggests reaching for products that give your hair foundation (like leave-ins and heat-protectants) and "lend assistance to the style you're trying to create."
"Dry shampoo and shine sprays will be your hair heroes," adds Mocarski. "Keep a travel spray in your clutch and rescue your hair when you powder your nose!"