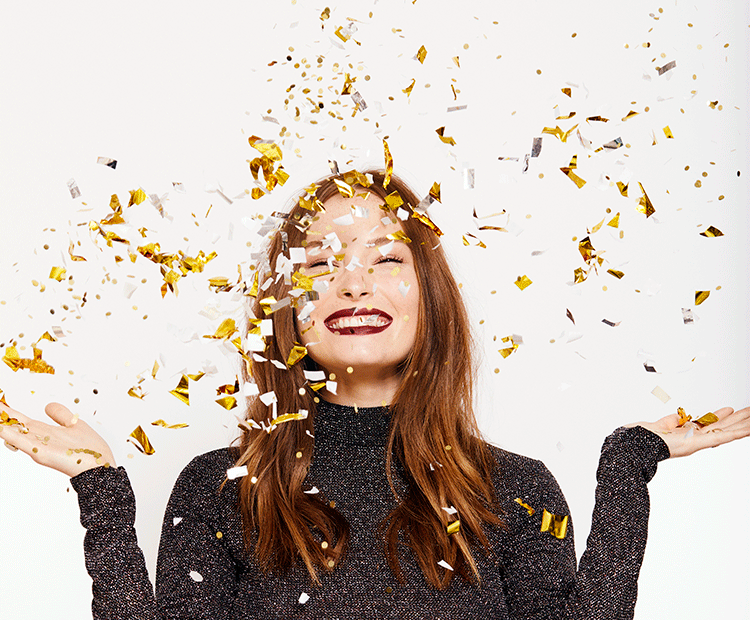 You are smack in the middle of the most wonderful time of the year, which means your calendar situation is starting to get out of hand (if it hasn't already). We're talking back-to-back office parties, family get-togethers and all-day shopping dates with the girls. But between checking off each item on your gift list and whipping up your signature casserole for holiday potlucks, you're often left with no time to get that much-deserved primping and pampering before joining the rest of the world in spreading holiday cheer. And if by some miracle you do manage to squeeze in some me-time, finding a salon to accommodate your last-minute appointment is another story.
But don't press the panic button just yet—that festive glow can be achieved right from the comfort of your own home. How? With these quick and easy tips from beauty pros that are sure to save you from a makeover meltdown and leave you looking your best this holiday season!
1. Light up any room with a brighter smile
Your smile is your best accessory, and Jacqueline Parks, esthetician at Bella Santé Spa, says, "With all of the festive lattes and specialty beverages during the holidays, it's important to keep your smile from getting stained." Her DIY teeth-whitening trick? Brushing with baking soda and water. Stocking up on whitening strips is also a good idea since they tend to be more effective than whitening toothpastes, says dentist anesthesiologist Louis Siegelman, DDS. To keep your pearly whites pristine and stain-free, Dr. Siegelman suggests going easy on holiday libations, particularly whiskey and red wine, which are notorious for leaving their mark on your teeth. You will also want to avoid "abrasive products that may remove stain better but cause excessive wear on the tooth surface," adds Siegelman.
2. Hydrate your hair and skin 
The combination of icy cold weather, alcohol-fueled parties, irregular sleeping habits and greasy holiday food can lead to skin that's either too dry or too oily. To make sure your skin stays in fighting form, opt for a rich cream to boost hydration and lock in moisture. "The best rehydrating products contain hyaluronic acid and vitamins E and K. They act as emollient moisturizers, trapping the body's natural moisture in place rather than causing greasy, oily skin," says plastic and reconstructive surgeon Lara Devgan, M.D.
Hydration is also key in maintaining your crowning glory's luster and shine, especially when you consider the beating it takes all through winter and the constant exposure to heat and styling tools. A weekly deep-conditioning mask will keep your mane from looking dull and lifeless, says Nashville Supercuts stylist Ashley Valadez. "Look for a deep conditioner that contains fatty acids and humectants like soy protein and panthenol. These ingredients help attract and retain moisture," adds Valadez.
Try: Briogeo Don't Despair, Repair! Deep Conditioning Mask
3. Up your hair game 
Updating your hairstyle often requires you to sit for hours in the salon, but that doesn't mean you can't switch up your 'do at home. Want to channel effortless glam with beachy waves? "Curl your hair in large segments while leaving the bottom part straight. Make sure to alternate the direction of your curls to get even more texture," shares Valadez. If you'd rather skip the heat, Valadez suggests, "French braid wet hair at night before you go to bed and undo with your fingers upon waking up to get tousled tresses," suggests Valadez.
If sleek and straight is more up your alley, prepping your hair starts in the shower, says Valadez. "Wash your hair with cool water to keep the cuticles closed, helping prevent frizz. Use a sulfate-free shampoo to prevent drying out your hair. Instead of using a styling serum, use a cream to give your hair some added moisture. After straightening your hair with a flat iron, use a silkening shine spray," she shares.
Try: Harry Josh® Pro Tools Ceramic Styling Iron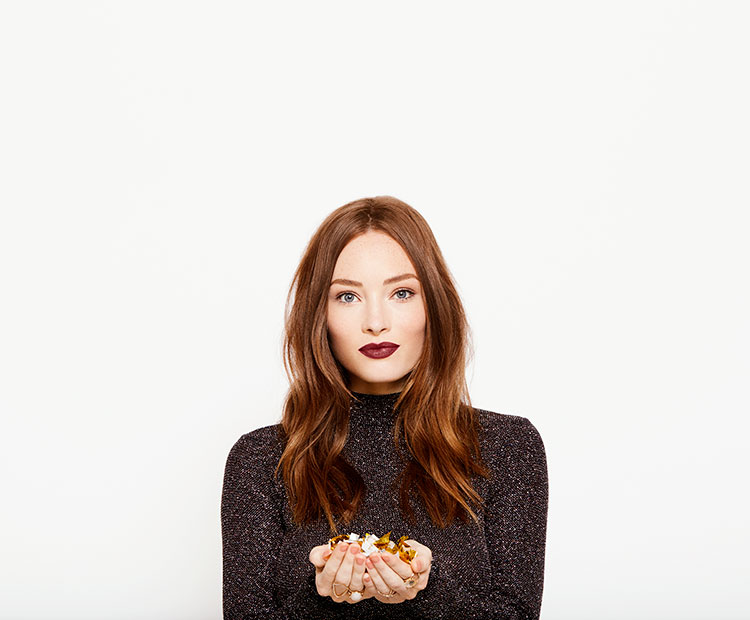 4. Turn up the color factor
Switching up your hair color is something you can do hours before heading to a party, says Sandy Taylor, editor at Foundation Fairy, adding that staying within two shades of your natural hair color will help make maintenance a breeze.
If you're dealing with dullness, brassiness and breakage, add a hair mask formulated for color-treated hair to your shower routine to bring your mane back to life, suggests Robyn Michel, stylist at Supercuts in Providence. Aside from helping to prolong color vibrancy, hair masks also aid in replenishing the moisture your hair lost during the treatment process, she adds.
A quick gloss session in the shower can also help refresh and spruce up your hair color. dpHUE's Color Boosting GLOSS+ Deep Conditioning + Treatment features a double-acting formula that enhances color and shine while conditioning and revitalizing each strand.
5. Add a little sparkle to your eyes
You may be an adult now, but let's face it: Does our love for glitter really go away? The good news is, a little shimmer is one of those things that never goes out of style and there's no better time to rock some sparkles than the holiday season. If you want to play up your eyes—and if you're up for trying something new—then Amy Nicole, the founder of Chic Studios School of Makeup, suggests getting your hands on a liquid eyeshadow. "Liquid eyeshadows are all the rage. A favorite of mine is a glittery lightweight formula from Stila Cosmetics in the shade Kitten, a vibrant nude pink. The best way to apply it is directly over the lid with the applicator." For best results, make sure you prep your lids and under-eye area before applying any eye makeup.
6. Keep a brow profile 
There's a reason beauty girls spend a considerable amount of time making sure their eyebrows are #onfleek. According to science, it's the most important feature on your face, so make sure to keep them (and your lashes) fuller and longer with a strengthening serum like Rapid Lash Eyelash and Eyebrow Enhancing Serum, which helps hydrate and protect delicate strands from all that tugging, brushing and curling.
If you're going for a subtler, more natural-looking brow, Nicole says, "Always remember to mimic the natural hairs by keeping your strokes short and precise with a pencil. Powders and very thin brow pencils are the best for achieving natural brows." Makeup artist and licensed cosmetologist Mindy Green echoes this and adds that the shade of your pencil or powder can make or break your brow game. "Beware of using black even if you have black hair as it can be too harsh. Stick to dark brown or brownish black if your hair is black or brunette," she adds.
For an instant eye lift, licensed esthetician and eyebrow designer Pamela Jeschonek suggests "tracing the arch a little higher on the top of the brow instead of tweezing from underneath." For a more glammed-up look, "Use concealer under and above your brow to give it more definition. You can also add some pencil to the base of your brows to provide a sharper, more defined look," adds Green.
Try: Kevyn Aucoin The Precision Brow Pencil
7. Rock a red lip 
You can never go wrong with a red pout—that is, if you're wearing the right shade for your skin tone and undertone. "If you look better in shades like yellow, orange or red, you have a warm undertone. If you look best in pink, blue or violet, your undertone is cool. If you are neutral, you can wear all shades equally well," explains Green.
As a general rule, blue-toned reds will flatter those with cool undertones while those with warm undertones look best in brick and brown- or orange-tinged reds. For best results, prep your pout with a gentle exfoliating scrub to smooth the surface of your lips and remove flakes and dry patches, says Green. "Then apply lip balm to hydrate your lips. You can follow with foundation over the lips if you have uneven lip tone," she adds.
To apply your lipstick, "Start with a lip liner and line the entire upper and lower lips. Starting from the middle of the top lip, fill in and move to do the same on the bottom. Apply lipstick all over with small, gentle strokes," shares Nicole.