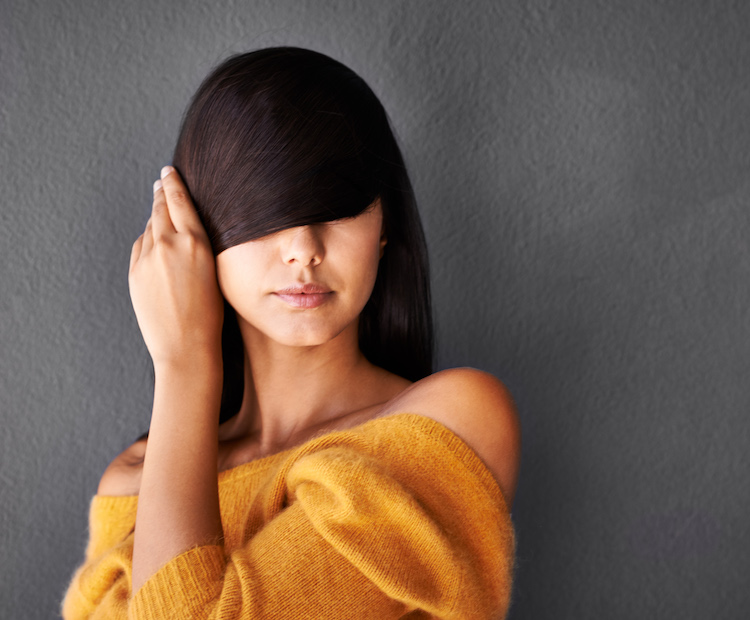 Some of us are born to play certain roles, but it usually takes a few auditions to find the right fit. When it comes to our hair, we can audition for one of three leading parts: middle, side or zig-zag. Playing with your part can be fun and flattering, if you know how to do it right. Who knows? The most flattering part for your face could be the one you've been overlooking!
We talked to Brooklyn-based hairstylist and color specialist Kristen Bretz to get the style scoop on parting your hair and, if you're looking to change things up, she's got tips on how to train your hair to part a different way.
Just like with fashion trends, parts change with the times. As Bretz sees it, "In the past 10 years, more people are rocking a center part." The middle comes with its challenges as it "can reveal any differences in the shape of your face from side to side," but that's not stopping the style savvy among us. Bretz says the middle part's resurgence is due in large part to "a more natural and beach-wave aesthetic that has come onto the scene."
How to Train Your Hair to Part: 3 Tools You'll Need & How to Use Them
1. Carbon Tail Comb 
Loved by professional hairstylists and amateurs, a carbon tail comb makes it easy to section your hair at the scalp to create your desired part.
2. Non-Crease Clips
If your part is being stubborn, Bretz suggests using "non-crease clips to pin hair in the new direction and let sit while getting ready. This will help to encourage it to stay in the new direction."
3. Dry Texture Spray
Also use a dry texture spray or dry shampoo texture paste, which will help to "support the hair in the direction that you want it to go, but not have it get greasy."
Change Is Good
Bretz believes "it's a good idea to be versatile in whatever cut you have" and assures us that "if you change your part regularly your hair will learn/be trained to do what you want it to more easily." Changing your part can quickly help you to achieve a different look. It can also help with the slower transitions between styles, as when you're trying to grow your hair out.
Flatter Your Face
Finding your hairstyle soulmate takes patience and persistence. The goal is a look that flatters—one that considers your face shape and your bone structure and highlights your features. Your hair part plays a big role in how a style suits your face. "Let's say you are becoming self-conscious about your forehead," Bretz posits. "If you do a deep side part and leave a swoop in front it hides your forehead perfectly, without having to commit to having bangs."
Check out our guide on the best hairstyles for your face shape.
Heal Your Hair With a New Style 
Changing your part and using the proper hair care can have health benefits for stressed hair. Bretz says, "If you have breakage from a chemical process, heat stress or just breakage in your normal parting area, by changing the part, you will stop putting as much stress on that area of your hair and allow it to heal somewhat."
Play Hard and Often 
Whether you want to change your look from day to night or try something new tomorrow (and the next day), Kristen says to do it. "Try every part, not just once, but live with it for a day or two. Change is hard, how you view yourself is way different than others who see you, but change is also good, so embrace it."