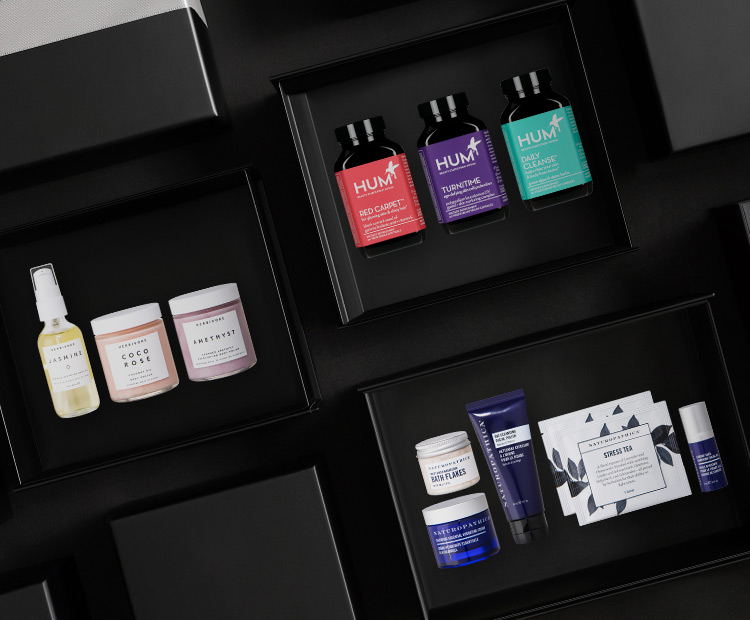 While we all look forward to decking the halls and spreading cheer every holiday season, it's the giving part that truly makes it special. Unfortunately, it's also a time when your stress levels reach an all-year high, given all the presents that need to be picked out and wrapped, dinner recipes that need to be perfected and holiday parties that need to be attended. And while you give so much of yourself this season, there is one person you often overlook and is forced to take a back seat: You.
Needless to say, there is no better time to think about self-care than during the holidays. And knowing that your friends and loved ones are also dealing with the same challenges of the season, the perfect gift to give them—and yourself—may just be one that invites much-deserved pampering and relaxation.
Want to treat yourself and your nearest and dearest with a gift that keeps on giving? Here are our top picks for best self-care gifts.
There is nothing more relaxing than a warm shower after a long day and the Self Love Body Ritual Kit is all you need to turn your usual nighttime routine into the ultimate pampering session. This kit includes a gentle exfoliator that combines crushed amethyst with magnesium-rich salt, virgin coconut oil and jasmine sambac oil; an ultra-moisturizing body polish that blends Moroccan rose and virgin coconut oil; and a rich blend of pure botanical oils that leaves your skin radiant, supple and hydrated.

Buy now with free delivery

Real beauty comes from within, and the same is true when it comes to achieving healthy and radiant skin. But with the holiday festivities often interfering with your sleep and diet, it's easy for your skin to show signs of stress and fatigue. Needless to say, now is the time to give your skin all the help it can get. Luckily, the Winter Skin Delights set, which includes bestsellers like Daily Cleanse, Red Carpet and Turn Back Time, is packed with vitamins and minerals that arm your skin, hair and body to fight the good fight against acne, toxins and damage from UV rays and pollution.

Buy now with free delivery

Buy now

with Dermstore

If you're looking for head-to-toe relaxation and indulgence for your skin, then look no further than the Winter Wonders Set. Featuring five of Naturopathica's most-loved products, this set has your self-care routine covered—from giving your skin a healthier glow and soothing dryness and irritation to relieving sore muscles and easing frazzled nerves. It's the perfect way to prevent holiday stress from taking a toll on your skin, body and state of mind.

Buy now with free delivery

Buy now

with Dermstore

Sleep is the ultimate beauty secret, but given the rush and stress that come with the holiday season, a good night's rest is almost a luxury. Not to mention, using the wrong kind of pillowcases and sheets can be one of the things that's keeping you from achieving the skin of your dreams. And that's where slip comes in. Made with 100 percent mulberry silk, the Beauty Sleep Collection features anti-aging, crease-resistant products that make sure you always wake up on the right side of the bed.


Buy now with free delivery

Healthy hair never goes out of style and the Exclusive ACV Regimen Kit makes sure you only wake up to good hair days during the holidays and all year round. Infused with apple cider vinegar, this kit features mane and scalp essentials—Apple Cider Vinegar Hair Rinse, Apple Cider Vinegar Scalp Scrub and Apple Cider Vinegar Hair Masque Packette—that cleanse, rebalance pH levels and replenish moisture. The result? A healthier scalp and more lustrous hair that will make heads turn all season long.

Buy now with free delivery

As if the stress, greasy bites and overflowing holiday libations are not enough to batter your skin, there is also cold winter weather to worry about. And if you haven't taken steps to beef up your skin care routine to protect it against the elements, then this Exclusive Hydration Kit is the perfect way to do just that. Featuring BeautyPrep™ Hyaluronic Serum, POMMISST Hydration Spray Mini and LipDrink® Lip Balm – Flirt, this kit is an absolute keeper if you want to make sure your skin and lips stay supple, smooth and hydrated.

Buy now with free delivery

If your never-ending holiday errands have pushed your daily skin care routine to the bottom of your list, then this Renewing Ritual Collection Set is all you need to get back on track. True to its name, this set will give your skin that much-needed rejuvenation by brightening, tightening and firming your skin for a healthier, more youthful-looking appearance. Using only the most powerful ingredients and luxurious formulas, this set is bound to become your skin's new favorite when it comes to delaying signs of aging, preventing dullness and sagging, calming irritation and brightening dark spots and discoloration.

Late nights, open bars and sugary treats can all add up and lead to breakouts, dullness and tired-looking skin, so it only makes sense to set time aside to give your skin some TLC. This boscia x Dermstore Exclusive holiday bundle features a tried-and-tested trio that detoxifies, soothes and nourishes your skin using only the gentlest yet most potent ingredients like activated charcoal, matcha green tea extract, Japanese green tea and retinol-alternative bakuchiol.

Buy now with free delivery