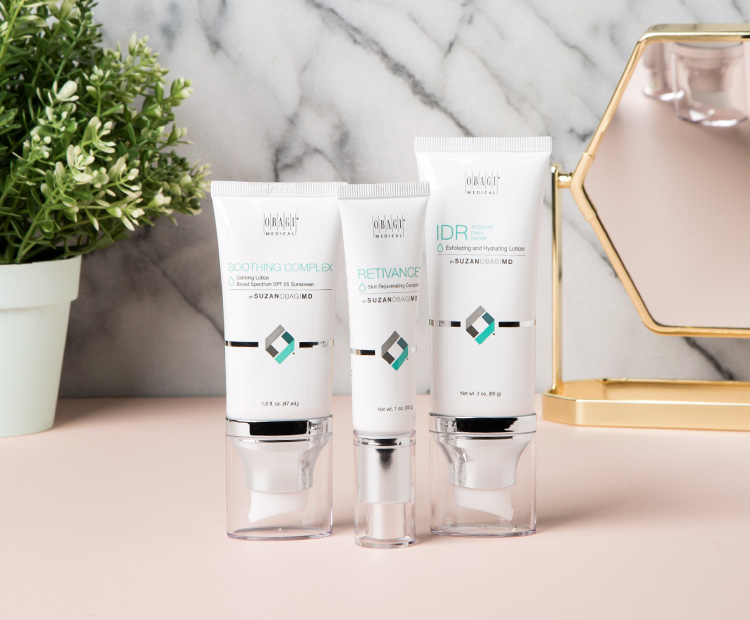 Obagi Medical needs no introduction. If you frequent your dermatologist's office or any medispa, chances are you've seen this brand prominently displayed on its immaculately groomed glass shelves and marble walls. Famous for its professional-grade skin care systems (Nu-Derm, CLENZIderm M.D. and Obagi360) and targeted treatments (ELASTIderm and Professional-C), Obagi has now come up with a new line designed to marry time-honored, medical-grade formulas with naturally sourced ingredients: the SUZANOBAGIMD line.
Curious? Here are five important things you need to know before trying this line.
1. It is developed by a world-renowned dermatologist.
SUZANOBAGIMD is developed in partnership with an internationally renowned expert in cosmetic dermatology and surgery, Dr. Suzan Obagi. Aside from being Obagi's medical consultant, she is also an associate professor of dermatology and plastic surgery at the University of Pittsburgh, director of the state-of-the-art UPMC Cosmetic Surgery & Skin Health Center and president of the American Academy of Cosmetic Surgery.
Throughout her career, her work in skin health and restoration has been the subject of multiple peer-reviewed journal articles and chapters in premier textbooks on dermatology and cosmetic surgery. She has also been quoted extensively in print publications (USA Today, Elle and CNN.com, to name a few) and appeared on TV shows multiple times as a guest expert. And if that's not enough, she was also cited by the New York Times Style Magazine as one of the top cosmetic surgeons in the United States. Any questions?
2. Every product is dermatologist-tested, hypoallergenic, non-sensitizing and free of parabens and synthetic fragrances and dyes.
Obagi is known for its clinical-strength formulas, which makes it a staple in most medispas and dermatologists' offices all over the world. But with more and more people opting for skin care products that are hypoallergenic, non-sensitizing and free of traditional skin care ingredients like parabens, synthetic fragrances and dyes, Obagi set out to create this line to address this demand. "The goal of this line is to address the growing trends in the marketplace and the growing consumer base that are more ingredient-savvy and are looking for safe yet effective products," explains Jennifer Riad, Global Brand Manager for Obagi.
3. Anyone can use it, especially those with sensitive skin or who prefer natural alternatives.
While this line is an ideal standalone line for patients with any skin type with early signs of skin aging, Riad also notes that it's particularly great for:
Younger patients with oily or acne-prone skin who can't handle more intense therapies.
Older patients with delicate skin or those with sensitizing conditions.
Patients who are sensitive to certain common skin care ingredients (dyes, fragrances and preservatives) or who express an interest in more naturally derived, plant-based compounds that are free of synthetic ingredients.
Patients who are between cycles of other regimens such as Obagi Nu-Derm or Obagi-C Rx who want maintenance options that will continue to deliver skin improvement without skin irritation or skin drying.
4. It combines clinically proven ingredients with naturally derived antioxidants to delay signs of age.
According to Riad, this new line features a combination of clinically proven ingredients and naturally derived antioxidants to reveal healthier-looking, more radiant skin. "The line's core technology is a specific antioxidant blend that marries the free radical fighting power of sulphoraphane from brassica oleracea (a plant species that includes many common foods as cultivars, including cabbage, broccoli and kale), citrus bioflavonoids (another type of antioxidant) and the soothing effect of aloe. This new cocktail packs a punch and aims to rejuvenate skin by scavenging free radicals that may inflict damage."
5. There are seven products in this line—and they can be customized according to your skin's needs.       
The SUZANOBAGIMD products are scientifically formulated to cleanse dirt and other impurities while defending against UV rays and rejuvenating the skin. You can use this line by itself, or integrate some of the products into the Obagi system you're currently using. Want to know which products to try first? Here are five of the seven products to help get you started:
Buy now

with Dermstore

Gently wash the day away from your face with Cleansing Wipes from Obagi. Infused with aloe and witch hazel, these makeup removal wipes eliminate excess oil, dirt and other impurities to give you a healthier-looking complexion.Key Ingredients: * Aloe: helps to moisturize and soothe the skin. * Brassica Oleracea Italica (broccoli) Extract: contains sulforaphane, a compound that helps to scavenge free radicals. * Citrus Bioflavonoids: have antioxidant properties that help defend against free radicals. * Witch Hazel: removes excess oil and impurities to minimize the look of pores.Key Benefits: *

Buy now with free delivery