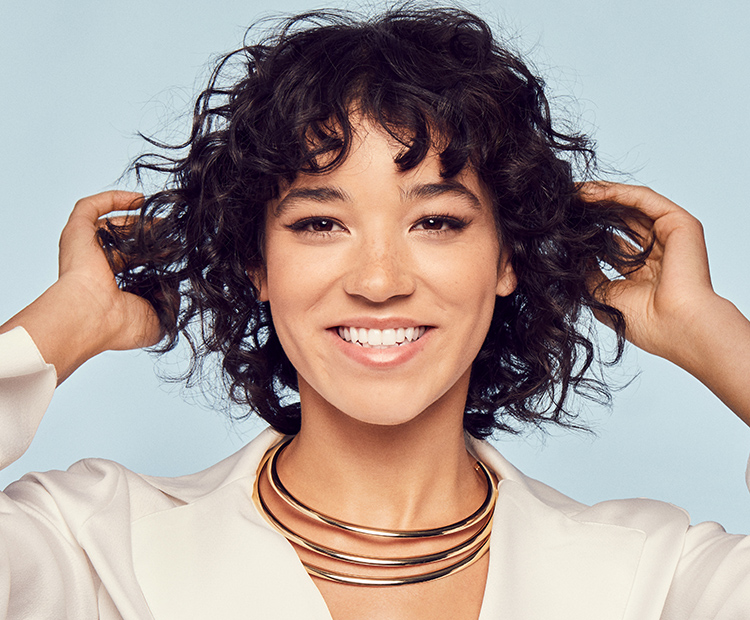 With summer right around the corner, it's the perfect time to retire your hot tools and go au naturale. Sound easy enough? Not if you have curly hair! Aside from frizz, those with curly hair also struggle with dry and damaged strands, split ends and tangles. But don't worry, according to Marie Claire beauty editor Chloe Metzger, being naturally curly—though challenging at times—also has its perks.
"Curls really never behave the same way twice—which, yes, can be annoying, but it also means I'm never bored with it," explains Metzger."It looks a little different every single time I wash it and style it. I have automatic texture at all times, which is awesome. I don't need to blast roots with texturizing spray before I do a topknot, and my braids never look thin or wimpy."
As far as go-to hairstyles are concerned, Metzger has a few alternating favorites. "The majority of the time, you'll see me with a high topknot or two messy Dutch braids. If I wear it down in all of its curly glory, I'll side-part it and spritz the roots with dry shampoo to get extra volume."
Want more curly hair tips? From how she gets rid of product buildup to her favorite brush for curly hair to the only way she'll dry her hair, Metzger dishes her top tips for caring for curly hair, ahead.
Buy now

with Dermstore

For ultra-clean hair between washes, reach for NATURIA Dry Shampoo made by Rene Furterer. Suitable for all hair types, this dry shampoo is a great addition to your hair care arsenal.Key Benefits: * Cleanses hair naturally, without water, perfect for a quick fix * Prolongs the need for a full shampoo leaving hair lightly scented with essential oils * Cleanses the scalp by absorbing natural oils * Creates texture and volumeTip: Use as often as needed for great

Buy now with free delivery

Buy now

with Dermstore

Simplify your hair care routine with the nourishing Apple Cider Vinegar Hair Rinse from dpHUE. A scalp cleanser and conditioner in one, this hair rinse is formulated with strand smoothing aloe vera and moisturizing argan oil for beautiful, silky-looking locks. Apple cider vinegar gently removes dirt from your hair and scalp, while color locking technology and proteins increase the strength of each

Buy now with free delivery

Buy now

with Dermstore

Because your wavy tresses need a cleanser that's first and foremost sensitive on your strands, DevaCurl Low-Poo lends a gentle yet thorough wash. Offering a special mild-lather formula to help ensure your locks stay light and bouncy, it delivers a moisturizing blend of ingredients to clarify and hydrate without adding excess weight. Made to stimulate the scalp and promote healthy hair growth while protecting the color of your locks, this daily cleanser not only quenches your hair with necessary moisture but helps impart a brilliantly glossy, bouncy set of curls.Key Ingredients: * Hydrogenated

Buy now with free delivery

Buy now

with Dermstore

Give curls the moisture and softness they crave with TWISTER Curl Primer from R+Co. Designed to act as the first step in your hair styling regimen, this moisturizing hair balm is crafted with aloe, hydrolyzed quinoa protein, shea butter and argan oil to boost manageability and shine while strengthening each strand. Its concentrated formula is complete with bright notes of blood orange, juniper and violet to keep your mane smelling fresh throughout the day.Key Ingredients: * Aloe Leaf Extract: sourced from Japan, contains vitamins, amino acids and minerals that help moisturize, condition and

Buy now with free delivery