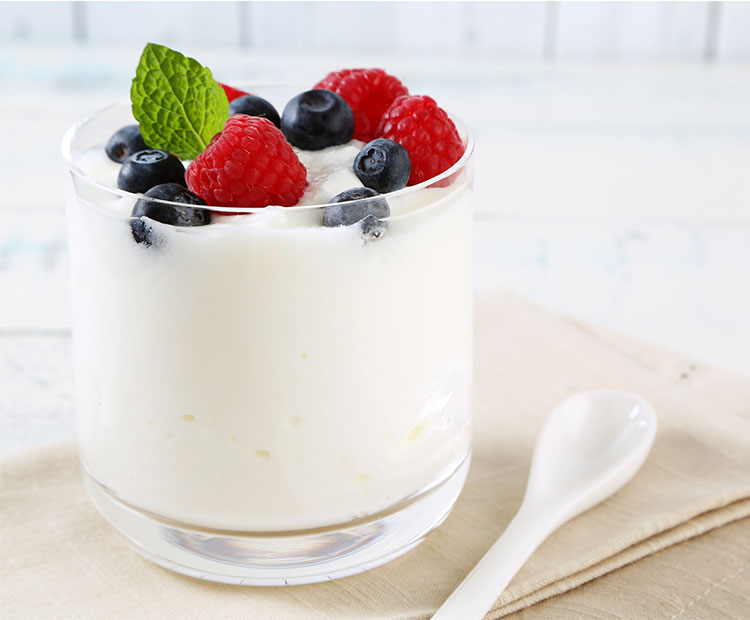 Greeks have long been in search of the fountain of youth, and it comes as no surprise that for centuries now, they have been boosting their skin care routine with the very same item that we have in our refrigerators: Greek yogurt.
Regarded the world over as a superfood, Greek yogurt boasts two and a half times the amount of protein in regular yogurt. Protein, whether in the skin products we use or in our diet, helps in repairing skin tissues, making it more radiant and young-looking.  "By boosting your skin care routine with protein-rich Greek yogurt, you deliver the same benefits to your skin that protein delivers to your body—helping to nourish, strengthen and repair," says Lena Korres, co-founder of Athens-based natural brand, Korres.
Yogurt, whether the Greek or regular kind, also contains lactic acid, an organic compound that aids in diminishing the appearance of wrinkles and fine lines by tightening and shrinking pores. It also has exfoliating properties that transform your skin from being dry and dull to lighter and softer. Rich in vitamin B, yogurt comes packed with 20 to 30 % of the daily-recommended value of riboflavin that keeps skin glowing and hydrated and aids in cell-growth and regeneration.
Stayed too long under the sun? Use plain yogurt to help soothe inflamed skin. The probiotics in yogurt calm the skin by promoting cell-renewal repairing the lipid barrier in dehydrated skin. While essentially good for all skin types, a yogurt-infused skin care routine is particularly beneficial for those with oily skin or those prone to breakouts because its zinc content regulates oil production and works as a mild astringent. It also carries anti-bacterial and anti-fungal properties.
As the old saying goes, "you are what you eat," and including yogurt in your diet improves your metabolism and balances the good bacteria in your system, preventing breakouts even for those with skin conditions like rosacea and eczema. Meanwhile, adding yogurt to your skin care regimen helps moisturize your skin and delay the signs of aging.
Ready to start on an even more delicious skin care routine? Here are the top yogurt-infused products that Dermstore loves!
Buy now

with Dermstore

Greek skincare brand Korres is known for its beautifully natural formulas and the Greek Yoghurt Foaming Cream Cleanser is no exception. An intensely nourishing cream-to-foam, soap-free cleanser that's formulated with naturally soothing Greek yoghurt, this is a cleanser crafted for even the most sensitive skin types. Gently removing makeup, pollutants and impurities, each application is a potent blend of proteins, minerals and vitamins to cleanse and restore balance to skin – leaving your face soft and supple. Key Ingredients: *Amaranth Seed Extract and Honeysuckle provide soothing, calming comfort to the skin *Greek Yoghurt: delivering a soothing super dose of pre and probiotics to nourish skin

Buy now with free delivery