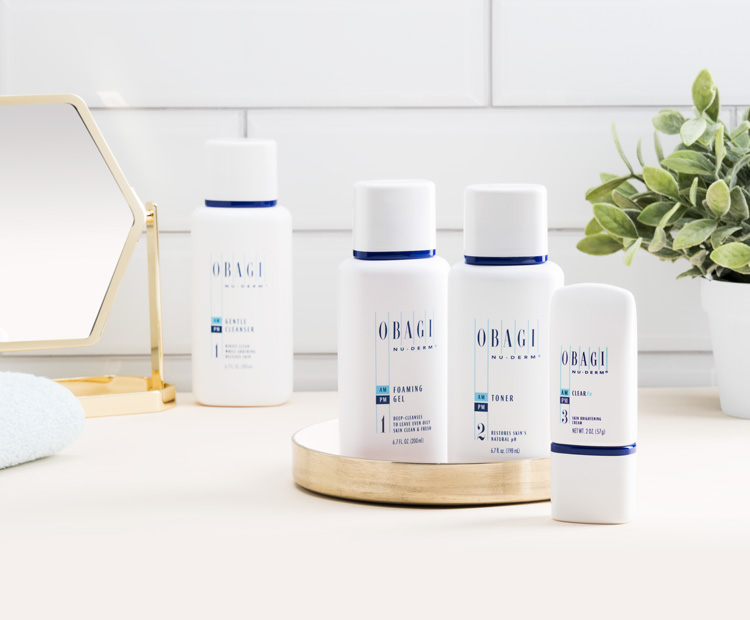 Building a skin care regimen based on your skin type and concern can be tricky, especially without the thorough knowledge and guidance only a dermatologist or esthetician can provide. This is why clinical- and professional-grade skin care brands like Obagi have created skin care systems—or skin care lines composed of highly targeted treatments that work synergistically to address a specific area of concern—to take the guesswork out of picking and combining products that deliver the exact results that your skin needs. 
Obagi, world-renowned for its range of medical-grade treatments (all of which can only be bought from dermatologist offices, medi-spas and, of course, Dermstore), boasts some of the most trusted skin care systems in the market. Obagi is also the first professional skin care brand to design its clinical research protocols to cover all six Fitzpatrick spectrum skin tones. (Harvard dermatologist Dr. Thomas B. Fitzpatrick developed this spectrum in 1975 to categorize skin into six different types based on its response to sun exposure, with deeply pigmented brown skin at one end and fair, freckled skin at the other end.) While some brands only test on a small range of skin tones, Obagi prioritizes inclusivity—which means you can trust that these products will work for your skin.
Obagi's hero system, the Nu-Derm Fx™ system, is only one of the most highly recommended anti-aging skin care systems by dermatologists worldwide. If you've been an avid fan of the brand, you probably know what it has to offer. For the uninitiated, the system offers a complete treatment for those suffering from common symptoms of aging skin, like age spots, uneven skin tone, roughness and a sallow complexion.
If Nu-Derm Fx™ sounds like something you want to try but are still unsure if it's the right fit for you, not to worry. We've talked to the experts at Obagi to get to know Nu-Derm Fx™ better, as well as get some tips on how to use it to maximize results.
What is the Obagi Nu-Derm Fx™ line and what makes it stand out?
The Obagi Nu-Derm Fx™ System is clinically proven and formulated to help clarify and brighten the skin, enhance the appearance of even skin tone and improve a dull complexion for a more youth-looking complexion. There are two systems formulated for specific skin types: Normal to Dry and Normal to Oily.
The Normal to Dry system contains the following products:
The Normal to Oily system contains the following products:
What are its key ingredients and why are they great?
Arbutin is an effective skin-brightening agent. The Obagi Nu-Derm Fx System features arbutin-enhanced Clear Fx™ and Blend Fx™.
Both Clear Fx™ and Blend Fx™ are skin-brightening creams formulated with 7% arbutin, antioxidants and lactic acid. Clear Fx™ enhances the appearance of even skin tone, while Blend Fx™ helps clarify and brighten the skin with a richer, thicker formula for nighttime use.
Who is this line for? Who should use it?
Nu-Derm Fx™ System is ideal if you have:
Age spots
Rough skin
Erythema (redness)
Sallowness (yellowish complexion)
Hyperpigmentation (discoloration)
This system also helps improve these signs of skin aging for brighter, healthy-looking skin:
Dull complexion
Roughness
Appearance of fine lines and wrinkles
Do you need to go to a dermatologist before trying this out? Any other precautions before testing this line?
We always recommend consulting a skin health professional to achieve optimal results; however, the Nu-Derm Fx™ system is available without a prescription.
Do they need all 7 products to get the full result? 
Yes, twice daily application is required to achieve optimal results.
How long should they use this line before they start seeing results?
The length of time it takes to transform the look of your skin varies, but you should begin to notice visible improvements in your skin within 18 to 24 weeks.
Can they use products from other brands when using this line? 
The Nu-Derm Fx™ system includes a robust set of products to take care of your skin such as cleanser, toner, moisturizer and sunscreen. We recommend adding a vitamin A product, such as Obagi 360 Retinol 0.5 or 1.0, into the system to have a complete skin-rejuvenating regimen.
How should we work these products into the Nu-Derm System?
Mix Obagi 360 Retinol 0.5 or 1.0, together with Blend Fx™  for evening application. Additionally, patients may consider adding an antioxidant for additional defense against oxidative stress. Obagi Pro-C Serum in 10%, 15% or 20% can be layered before Clear Fx™  for morning application, as well as ELASTIderm Eye Cream, which can be added after Clear Fx™ to promote a more youthful look around the eyes.
Any other tips or dos and don'ts on how to use this line for best results?
Consistency is key! If you have combination skin, start with the Normal to Dry system.