My patients ask me all the time how to make their skin look younger. Like all dermatologists, I have my favorite creams, serums and topical products that I recommend to help my patients feel great. But as my practice matures, I find myself leaning more heavily on lasers to go deeper than topical products can reach. When I look at a skin sample microscopically, I often cringe at the sick, sad-looking collagen and elastin fibers staring back at me. These changes can be dramatic in sun-damaged individuals, but they're present even in many younger patients. These broken molecules are too deep to reach with a cream. The solution to the problem is to target this deeper layer of aged skin with lasers specifically tuned to generate new, healthy collagen and elastin.
Besides these great anti-aging lasers, there are other lasers I use to treat dark spots and varicose veins and to tighten skin. Let me take you through some of the questions I encounter daily and how I approach each type of patient.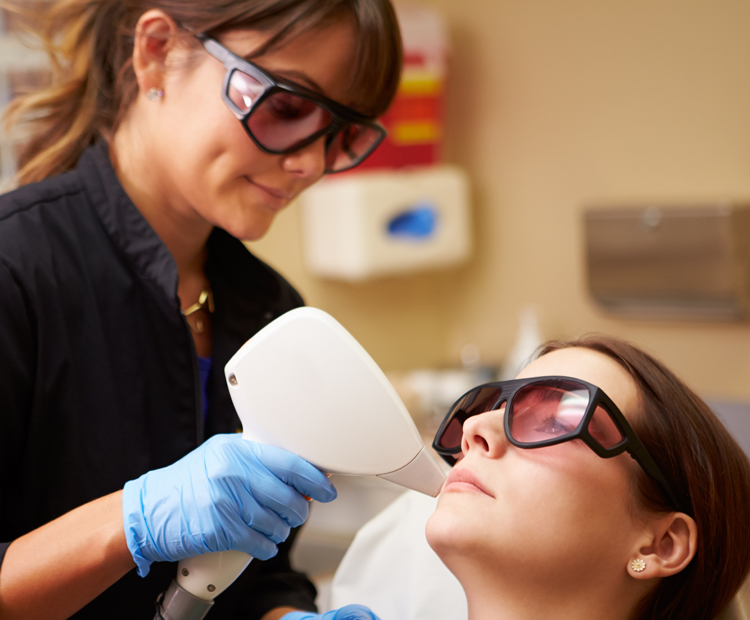 Q: I feel like my skin looks old. The texture keeps getting worse, and I'm developing more and more fine lines. I want fewer wrinkles and a better complexion, but I can't take any time off. What can I do?
A: Fraxel Restore (no downtime)
I absolutely love this laser. The first generation of resurfacing lasers basically vaporized the entire surface area of the skin and often caused complications. Fraxel delivers microbeams of energy, which yields excellent results with essentially no downtime. Fraxel stimulates your skin to remove damaged collagen and elastin and replace it with new, fresh tissue. The result is a noticeable improvement in tone, texture, pore size, color and overall skin quality. This laser also works great for surgery scars and acne scarring. Best results occur with three to five sessions, and your skin will improve for months after the procedure. Trust me, it's worth the wait.
Q: What can I do about my acne scars? I don't care about downtime—I want maximum results! What is my best option?
A: Fraxel Repair
This is our "big gun" laser. Like its sibling I mentioned above, this laser uses microbeams of energy, but the Fraxel Repair is much, much stronger. The result is the absolute best improvement in aged, tired skin or in facial scars, but there is definitely some downtime required. It typically takes several days for the skin to heal and get back to normal. But if you are the kind of patient who wants maximum results in only one treatment—and you can handle a few days of healing and caring for your skin—this is the laser for you. It's the maximum bang for your buck.
Q: I have sunspots. Can these be lasered off?
A: Yes! The Q-switched laser works great for these. They can be "zapped"  and often look much better after only one treatment.
Q: I have tons of little red veins on my cheeks and nose. How can I get rid of them?
A: For prominent veins or capillaries, there are several lasers I use: The pulsed dye laser (PDL) or Nd:YAG lasers work great for these lesions. They also work great for red spots called "cherry angiomas," which are basically benign blood vessel "moles." I like them because they can be set to specifically target the vessels and leave the overlying skin undamaged. As a result, these lasers are very safe and require no downtime.
Q: What about skin tightening? I hate my jowls and saggy cheeks.
A: There is a new device on the market called Ulthera that I have been really impressed with. Ulthera uses ultrasound to tighten the skin. It's the same technology used to look at babies in the womb, but tuned to be much more powerful to cause skin contraction. This is another zero-downtime procedure that I really like for patients who want a nonsurgical option to tighten their facial skin.
To sum up, there is so much we can treat with lasers, and the applications are growing constantly. If you find that your topical products aren't giving you the results you want, head to your dermatologist's office to see what laser options they recommend for you. Your skin will thank you for it!
READERS—Was this article helpful? Tell us in the comments section below—plus, scroll down to see the top products that will complement your in-office procedure.