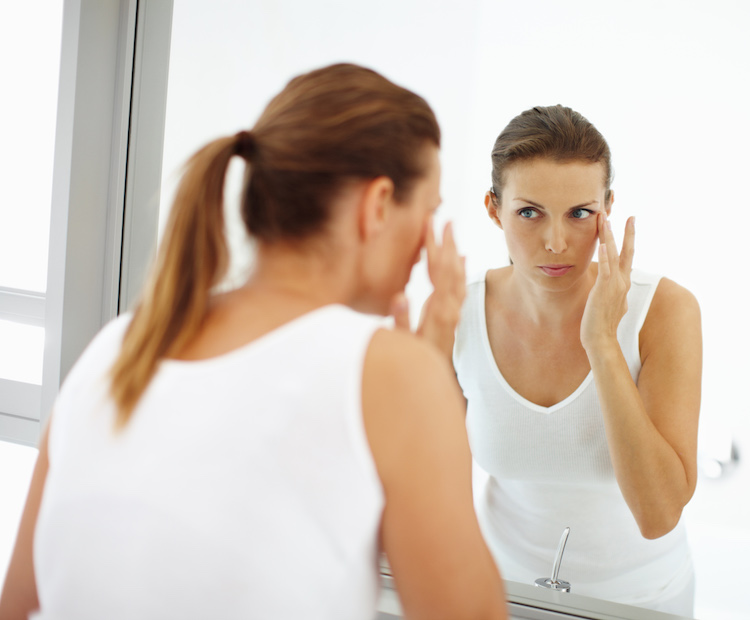 Looking in the mirror, it's common to notice dry skin around the eyes. Not just because our mirror gaze often first locates the eyes, but because this area is very thin and, thus, extremely sensitive and prone to dryness. We spoke with esthetician Nichelle Temple, owner of Inderma Studio in New York City, to find out all about dry skin around the eyes, some of its most likely causes and various treatment options.
1. Eczema
What Causes It: As Temple points out, "The thin skin under the eyes and on the eyelids, is one of the most common spots for eczema." Eczema is a condition that can cause the skin to become dry, inflamed, itchy, red and cracked.
How to Treat It: Avoid scented soaps and other irritants, but do keep the area moisturized. Temple points to aloe vera as an effective ingredient as it "replenishes moisture with high antioxidants to heal the skin."
Try: EyeXcellence by PCA Skin
2. Facial Psoriasis 
What Causes It: According to the National Psoriasis Foundation, "When psoriasis affects the eyelids, scales may cover lashes" and the eyelids and under-eye area can become dry, red and crusty.
How to Treat It: How to Treat It: Look for products with vitamin H, as this helps to correct conditions like psoriasis. Additionally, antioxidants can be effective in its treatment because they prevent further damage.
Try: Ultra Repair Cream by First Aid Beauty
3. Blepharitis 
What Causes It: Blepharitis is a chronic condition causing an inflammation of the eyelid. This can affect the eyelashes or tear production, leading to dryness in the skin around the eyes. The condition is often associated with other skin conditions such as psoriasis or eczema.
How to Treat It: Avoid makeup and other irritating products. Apply a warm compress to the area and try a mild eyelid scrub or cream to gently exfoliate the area.
Try: Gentle Exfoliating Eye Cream by BeautyRx Skincare
4. Contact Dermatitis
What Causes It: Temple points to possible contact dermatitis as a cause for dryness around the eyes. This external irritant can be many things, she says, such as "a shampoo that is passing over your eyes as you rinse, a makeup remover that is stripping your skin of its natural hydrators" or a harsh chemical in your under-eye concealer or eye cream. These products can irritate the skin around the eyes, drying the area out and sometimes causing it to flake.
How to Treat It: Temple suggests clients "take a break from any products containing retinol, stop using any alcohol-based products and introduce moisturizing skin care to your regimen." For example, vitamin E is an oil-soluble nutrient that restores moisture loss.
Try: Eye Balm with Triple Age Defense by SkinCeuticals
5. Seasonal Changes
What Causes It: "Right now we are in the seasonal transition from humidity to dry air," Temple notes. This can cause drying of the skin around the eyes (and everywhere).
How to Treat It: Temple suggests products containing hyaluronic acid because it's extremely effective at moisture binding. Try "applying at night, straight after cleansing when skin is still damp which allows for the petrolatum to lock in moisture."
Try: Concentrated Eye Cream by DHC
When to See Your Doctor
Temple recommends seeking out a doctor if:  
You have an underlying skin condition that you have not already sought professional help with

The dryness around your eyes begins to affect your vision

Over-the-counter treatments are not effective in tackling the issue

Itchiness, flaking and/or redness worsen
Your dermatologist will assess the situation and suggest the best solution for your dryness issue.