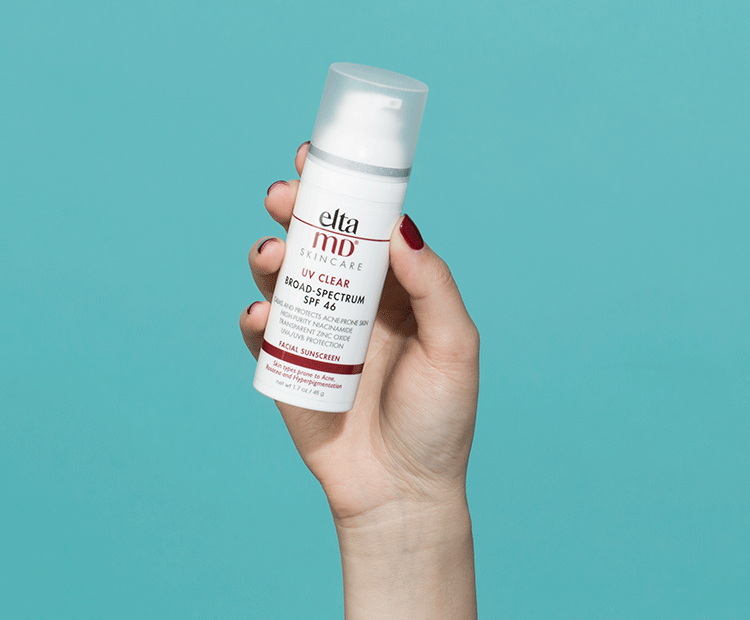 If you've been reading our blog, then you know how adamant we are about wearing a broad-spectrum sunscreen—not just during summer but all year round. It's one of the skin care products even the most basic regimen should have—and for good reason: Not only does it protect against UVB, or the ray that causes sunburn and skin cancer, it also protects against UVA, which accelerates skin aging.
Despite it being basic, sunscreen is not a one-size-fits-all kind of thing. Different skin types, concerns and preferences have spawned different kinds of sunscreen formulas—from spray to powder to cream. But if there's one sunscreen product that consistently get high marks from Dermstore shoppers, it's EltaMD® UV Clear Broad-Spectrum SPF 46. Keep scrolling to see why shoppers love this product.
20,000 Bottles Sold and Counting
We didn't sell over 20,000 bottles of this sunscreen for nothing. This oil-free, lightweight formula features 9% transparent micronized zinc oxide, which protects against damaging UVA and UVB rays. But aside from offering superb sun protection, most of our shoppers love how this unassuming bottle of protection also helps calm and protect sensitive skin types prone to breakouts, rosacea and discoloration. How? It contains some of the same ingredients found in your anti-aging creams and serums that help reduce the appearance of blemishes, discoloration and photo damage. Here's a quick breakdown of what these ingredients are:
Zinc oxide: A natural mineral compound that works as a sunscreen agent by reflecting and scattering UVA and UVB rays
Niacinamide (vitamin B3): Anti-inflammatory that reduces redness and minimizes the appearance of dry or damaged skin and restores suppleness. Niacinamide's effect on blemishes such as acne, as well as skin discoloration, has been proven scientifically many times over. Niacinamide's management of acne in several studies suggests it to be highly effective
Hyaluronic Acid: Humectant that attracts and retains moisture, improving skin feel and restoring suppleness
Vitamin E: Antioxidant that reduces free radicals to help diminish the visible signs of aging
On top of that, this formula is also fragrance-free, oil-free, paraben-free, sensitivity-free and noncomedogenic, which makes it a good choice for those with sensitive skin.
What Dermstore Shoppers Say
Still not convinced? Our shoppers offered 1,000 reasons why they gave EltaMD® UV Clear 5 stars; here are just nine of them.
1. It's recommended by dermatologists and estheticians.
Because you won't see this brand often in drugstores, most shoppers found out about this sunscreen through their dermatologists and estheticians, most of the time as part of their treatment plan.
One shopper wrote: "My dermatologist recommended this brand to me a while ago. The only non-greasy sunscreen that won't make my face look like an oil field or a ghost. I usually put this [on] after my Cerave moisturizer. A pea size for my face and neck and another pea size for chest area."
"My esthetician recommended this sunscreen for my skin and I'm so glad she did," wrote another Dermstore shopper. "I have oily, acne-prone skin and don't like using many products on my face. I'm able to use Elta MD as a primer for my makeup and I love the way it feels. Best sunscreen I've used."
2. It's great for those with oily and acne-prone skin.
While most people complain that most sunscreens break them out, Elta MD UV Clear does the opposite, thanks to its acne-fighting ingredients niacinamide and lactic acid.
This Dermstore shopper shared with us her struggle: "As a life-long acne sufferer who is now in her late thirties, and therefore concerned with minimizing the effects of aging as well, I was looking for the best possible protection I could get that would suit all of my needs. Chemical sunscreens often irritated my skin and the formulas could be difficult to layer on top of other products. Many wouldn't absorb, and instead would clump and/or flake off. Zinc sunscreens tended to be a bit too heavy for my oily skin, particularly during the warmer months."
"I am so thrilled to have found a product that offers the benefit of zinc in a formula that is perfect for oily, acne-prone skin," she continued. "It absorbs wonderfully, feels great on the skin and provides excellent sun protection. The fact that this product also contains niacinamide and lactic acid, two highly regarded anti-aging and anti-acne ingredients, is a fabulous bonus! This product also has my dermatologist's absolute seal of approval. I am currently using my second bottle and would highly recommend it."
3. It works for those with rosacea too.
If you are one of the 14 million Americans who struggles with rosacea, you probably have a hard time finding products that won't inflame your skin. The good news? This sunscreen is designed with you in mind.
Here's proof according to this one Dermstore shopper: "This sunscreen was recommended by my dermatologist to both provide good protection and help prevent rosacea flares. Most sunscreens which contain oxybenzone and/or avobenzone cause my skin to react (and so does octylsalicylate which is in EltaMD UV Sport). This formula, however, really does not seem to irritate my skin. The 5% niacinamide does appear effective in calming my skin. It protects well—as long as you don't sweat it all off. It is moisturizing as well. It's enough to moisturize my combination skin even in the dry winter months due to the sodium hyaluronate and the smoothing silicones this formulation contains."
4. It doesn't irritate sensitized skin.
Don't have rosacea but your skin still reacts to aggressive formulas and certain ingredients? Then you may have sensitized skin. Sensitized skin is triggered by both external and internal factors like pollution, alcohol, chronic emotional and physical stress, poor diet and your skin care products. If you find yourself torn between sunburn or skin irritation, this sunscreen might work for you.
Here's what one reviewer wrote: "My sister introduced me to this sunscreen last summer, finally ending my years-long search for a sunscreen that I could actually stand to put on my face. I have sensitive skin and every single brand I tried, even those advertised to be non-comedogenic or non-irritating, either clogged my pores or gave my poor face a rash—sometimes both! So despite my fair skin and the history of skin cancer in my family, I refused to wear anything: and my face shows it. But last year I had a basal cell carcinoma removed from my arm; I don't want that happening on my face. Thankfully, I found this."
"It does not make my face break out nor does it sting or burn or cause any kind of skin reaction at all," she continued. "It absorbs quickly, is invisible on my face and doesn't feel sticky or greasy or tacky. I swear it helps make my face feel smoother and in combination with Paula's Choice 8% AHA lotion is gradually fading some of the hyperpigmentation on my face. Of course I wish it cost less, but I love this sunscreen and won't wear anything else."
5. It helps lighten acne marks and other dark spots.
While not in any way a treatment for dark spots and hyperpigmentation, this sunscreen has a unique formula that helps fade dark spots and even skin tone. This Dermstore reviewer couldn't have explained it better:
"Since I'm trying to combat post-acne hyperpigmentation, this sunscreen is ideal. Not only does it protect from UV damage, which exacerbates dark spots, it is formulated with niacinamide, which works as a lightening agent. My skin is incredibly temperamental, but I've been using this for about 2 months consistently and I've haven't had any issues! I even get compliments on my skin when I'm wearing it alone; I think it has a mild blurring effect. It goes well under makeup, providing you give it enough time to sink in, preferably after your moisturizer has had a similar chance."
6. It works well alone or under makeup.
Most shoppers liked how this sunscreen absorbs well and leaves a nice, matte finish. "This product is light, totally transparent and looks great alone or under makeup," wrote one shopper. "My skin feels softer and looks better when I use it."
Another one added: "I am in the sun regularly and am always looking for ways to protect my skin that do not clog my pores or look greasy. This absorbs clear into the skin and doesn't leave a residue or heavy finish. I can apply makeup over it and there's no issues at all. No shine or cake-y look."
7. It doesn't leave a ghastly white cast.
Not a fan of that ghastly white cast most mineral sunscreens leave on your skin? Nor are we. Luckily this sunscreen won't give you that ghastly complexion.
One shopper wrote: "It's so silky-smooth, it just glides evenly over your skin, which means you don't have to stand in front of the mirror blending for five full minutes to get your face to look normal. It does leave the slightest white cast, but it's actually very flattering and brightening, not ghastly or unnatural-looking at all."
8. Even men love it.
Men can be stubborn when it comes to sunscreen application (and re-application), but this might be something they'd consider.
One shopper explained: "This suncreen is great for my skin and my boyfriend's skin! It is very versatile and hydrating, but [without that] heavy feeling, even in hot weather! It sinks into the skin quickly and never leaves any residue. I will keep using this for years!"
9. It's great for everyday use.
Overall, shoppers love the versatility of this sunscreen, from the non-negotiable sun protection it provides to the nice-to-have benefits. Here's how one shopper put it:
"I have been searching for a mineral-based sunscreen that is effective (most important), emollient, but not greasy, able to wear alone or under makeup and does not leave a white mask. A lot of expectations, I know, but this product delivers on all of them. I'm very particular with my skin care and don't care for products that are tacky, sticky or flaky—all of which I did not experience with this sunscreen. Its application is easy and clean, but not completely matte. I love everything about this sunscreen."