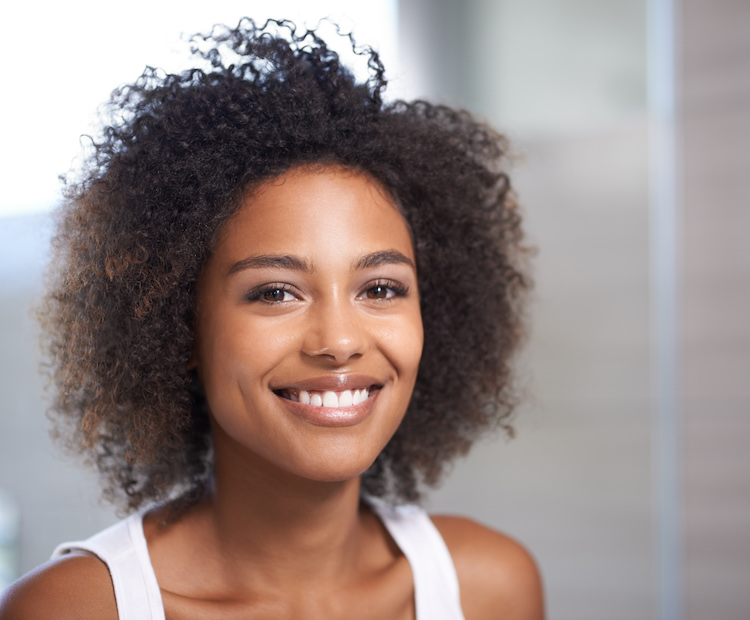 Summer is here, and it's time to shine. But if you have extra dry skin or oily pores, achieving a beautiful glow (not just a sweaty sheen) can feel impossible. So we reached out to the dermatologists at Schweiger Dermatology Group in New York to find out how to get glowing skin all season long. First, we wanted an expert's definition of glowing skin because we weren't even sure what it means to glow. "Glowing skin is skin that is moist and soft—not dull, dry or flaky," says Dr. Tina Funt. "Glowing skin is characterized by small pores, even complexion and clear skin without blemishes."
Here are six dermatologist-recommended tips and tricks for achieving healthy, naturally glowing skin. 
1. Stay Hydrated 
According to Dr. Funt, first you need to stay hydrated for a healthier you. Drinking plenty of water improves your body's overall health and does great things for your largest organ: your skin. Glow from the inside, out.
2. Know Your Skin
Do you have oily skin, dry skin or combination? Take stock of what your skin is up to by looking at the size of your pores and where you typically get oily or dry. According to Dr. Funt, larger pores are a sign of oily skin and needs plenty of astringents and retinoid to balance oil production. "Products like astringents, retinoid and benzoyl peroxide decrease sebum or oil, and help eliminate shine," says Dr. Funt. "Oily skin is caused by hormone changes which cause excessive sebum and enlarged pores."
We Recommend: Repechage – Hydra Medic Astringent for Oily Problem Skin
If your skin dries, cracks or peels during the summer you may want to adjust your environment. "Dry or ashy skin can be due to lack of moisture from overuse of products that dry skin like retinoid or benzoyl peroxide, change in estrogen levels due to menopause or workplaces with dry environments and excessive air conditioning or lack of humidity," says Dr. Funt.
We Recommend: Bliss – Active 99.0 Multi-Action Day Cream
This day cream is dreamy for dry skin. With glycolic acid and a fruit-based complex, it will restore damage from UV rays and clear away any dead skin cells that are preventing your skin from getting the moisture it needs.
3. Don't Forget Your Fruits and Veggies 
You may have what you need for healthy skin already laying around the house or in your pantry. "Green tea and chamomile extracts soothe the skin," said Dr. Funt. "Fruits add moisture and witch hazel decreases the size of pores."
We Recommend: 100% Pure – Green Tea Water Bomb
This mask nourishes with plenty of antioxidants while hydrogel soothes the skin. "Antioxidants are also great ingredients for a glowing complexion," says Dr. Funt. "Vitamin C and vitamin B decrease free radicals in skin, which helps eliminate brown spots and dull, flaky skin."
4. Try a Topical Retinoid
"Retinoid and vitamin A products increase cellular turnover so younger oils replace older skin cells," says Dr. Funt. "This type of ingredient causes younger, plumper cells to absorb moisture and it decreases pigmentation or brown spots."
We Recommend: Sircuit – Supernatural-A Restorative Retinoid Creme
With a rich texture and plenty of vitamins, this night cream reduces skin stress and restores your skin's natural oils. Just be sure to wear sunscreen during the day, as retinoid will increase your skin's sensitivity to light.
5. Look for Products Containing Ceramides
"Ceramides are my favorite ingredient in moisturizers," says dermatologist Jeremy Fenton. "Ceramides are one of the naturally occurring lipids in the lipid barrier of the cell membrane. It is an important component of skin hydration and barrier. They are often placed in formulations that don't clog pores."
We Recommend: SkinCeuticals Retinol 1.0 Maximum Strength Refining Night Cream
Replace a basic moisturizer with this high-powered refiner. It can regenerate the skin, while hydrating and protecting from free radicals.
6. Enhance Your Natural Glow With Makeup 
One of the quickest ways to make your skin glow is by finishing your look with a luminescent highlighter or a hydrating setting spray. Swipe on a powder, cream or liquid highlighter to give your skin an instant glow. Set your makeup with a hydrating setting spray to keep your makeup from melting off, while increasing your skin's glow. Look for product descriptors like cooling, dewy or luminous. While makeup won't necessarily improve the health of your skin, these products can give your complexion an extra boost.
We Recommend: jane iredale – Lemongrass Love Hydration Spray
Spray before or after your makeup, or keep in your bag to refresh your look throughout the day. This spray is infused with aloe vera, lemongrass and organic essential oils to refine, hydrate and condition your skin.
We Recommend: Jouer Cosmetics – Skinny Dip Collection Powder Highlighter
Swipe this vegan, gluten-free highlighter across your cheekbones, forehead, tip of your nose, cupid's bow and brow bones for a beautiful finish.