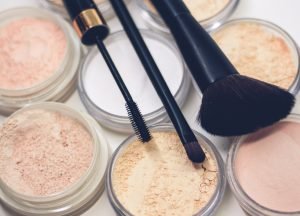 We all remember our firsts—and if you're new to the world of makeup, that includes the first time you tentatively applied foundation while wondering if it was really your skin's perfect shade-match, or if you should ditch the brush and go for a beauty sponge instead (we'll get to that later). Fact is, while trying on makeup for the first time can definitely be exciting, finding the right makeup products can also be a challenge. 
With so many brands and formulas to choose from, it's fairly easy for any beauty novice to get overwhelmed. So to help get you started, we enlisted the expert advice of Jessica Kendall—hairstylist, makeup artist and owner of Beauty Asylum—to give us the dos, don'ts, hows and whys in our guide to the ultimate makeup essentials for beginners. 
Which Makeup Products Should a Beginner Buy?
While you may be tempted to fill your shopping carts with the beauty world's latest obsessions, any seasoned pro will tell you that the road to makeup mastery starts with a good understanding of the basics and knowing what each product can actually do for you. Below, we list down the absolute makeup must-haves for beginners. 
Buy now

with Dermstore

No makeup kit is ever complete without a neutral eyeshadow palette that can take your look from day to night. Taupes, bronzes, browns and cream-colored shadows are not only great for all eye colors and skin tones, but also for creating natural, barely-there daytime looks and nighttime makeup that's both subtle and glam.  

Kendall breaks down how to get the natural look with just three simple tools:

Eyeshadow brush: this is the staple for applying powder loosely on the lid.
Smudge brush: this brush is usually packed together with dense bristles to apply a heavier amount of product. Look for a dome shape the size of a pencil eraser to provide more application control.
Blending brush: this gives the option to apply a soft amount of color in the crease and/or buff the shadow above the crease.

Buy now with free delivery