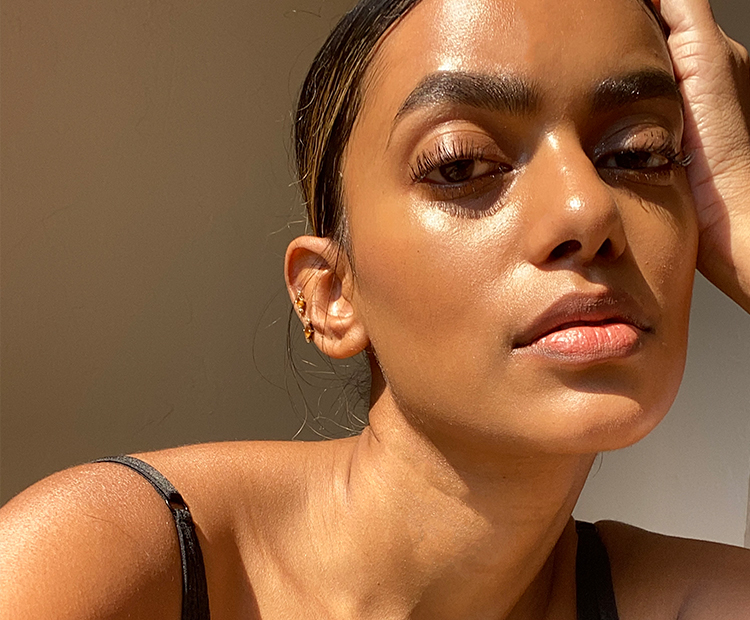 Photo: Courtesy of Stella Simona
The latest installment of our More Than Skin Deep series features Stella Simona, designer and co-founder of two jewelry lines, Amarilo and Haati Chai. As the daughter of East Indian immigrants, Stella draws inspiration from her heritage to create heirloom-inspired pieces that are modern yet timeless. To get to know the Bengali beauty better, we caught up with Stella to get her best tips for a minimal makeup look, plus the exfoliating treatment that changed her skin for the better.
The first skin care product she bought for herself:
I would say it was the Clean & Clear Essentials Deep Cleaning Astringent way back in junior high.
The best (and worst) thing she's done to her skin: 
The best thing I do for my skin is a honey and turmeric face mask. Whatever skin concern you're dealing with, it will [address] the issue and make your skin feel and look better.
On the flip side, the worst thing I did was use crappy sunscreen or no sunscreen at all.
The exfoliating treatment that changed her (and her husband's) skin: 
I'm a big fan of the Alpha Beta Universal Daily Peels by Dr. Dennis Gross. I've been using them for about five years now. Within the first week, I noticed a dramatic improvement in the texture of my skin. My husband uses them too and also noticed results pretty quickly.
Her secret to a natural, glowy look: 
For me, a good makeup look is when you can't even tell any makeup was used to enhance the skin. Also, a good makeup brush really makes a big difference. I only use Artis brushes to apply my makeup. The Palm Brush is perfect for applying foundation since it allows for a natural, flawless application.
I'm not one for a full face of makeup, so all I need is some light coverage foundation and my favorite highlighter. My go-to highlighter is from Kjaer Weis. I like that it makes my skin look glowy and refreshed. To top off my minimal-makeup look, I like to pair natural, glowy skin with bare eyes, but with an emphasis on curled lashes. The Mile High Club Volume and Length Mascara by Wander Beauty helps define and fluff my natural lashes without looking clumpy or fake.
First place she's traveling to once it's safe: 
I went to Tulum, Mexico with my husband and a close friend a year ago. It was beach, sun and yummy food on repeat. I would love to go again one day.