Photos: Courtesy of Bart Kaczanowicz
For the past five years, beauty blogger OMG Bart has been blessing our Instagram feeds with the latest and greatest in skin care. Never one to apologize for overindulging in face masks, Bart boasts an impressive skin care collection that would give any beauty enthusiast major shelfie envy. For the latest installment of our More Than Skin Deep series, we chatted with the skinfluencer to get the scoop on the products he has in rotation and the quarantine pasta recipe that's so good it's "surreal."
The first skin care product he bought for himself: 
This is something I remember very vividly. Back in 2002, I decided to up my skin-care game and graduate from my drugstore cleanser. I saved up some money and made a pilgrimage to the Kiehl's flagship store in downtown New York City. Ever since that visit, I became a loyalist to the Foaming Non-Detergent Washable Cleanser and Lycopene Facial Moisturizing Lotion. Both items are now discontinued, but I still remember how much I enjoyed that face wash.
The best thing he did for his skin (and health): 
It's not easy to admit, but I was a pack-a-day smoker for 15 years. Quitting is the best thing I have done for my overall health, but I noticed immediate positive changes in my complexion as well.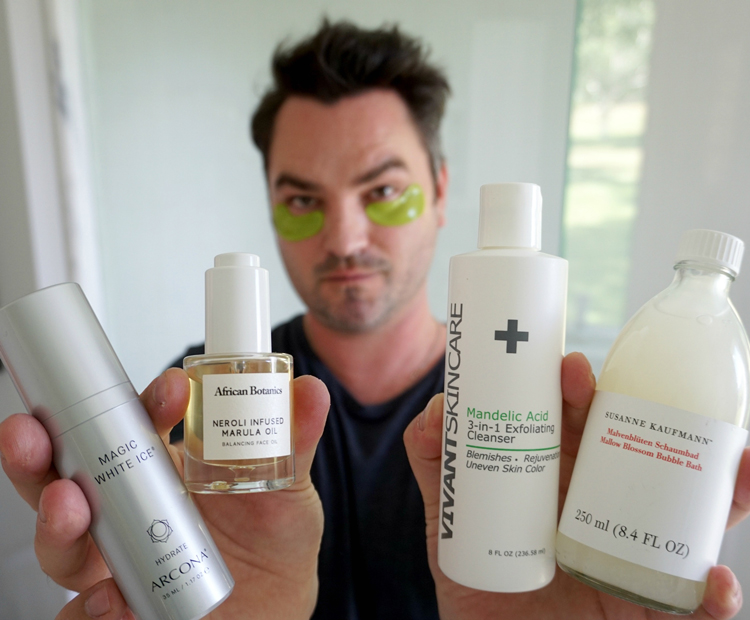 His "all-time favorite" skin care products:
1. Sunscreen
Two things I've learned about sunscreen. First, it's a non-negotiable step in anyone's skin-care routine. Second, in order to become diligent, you have to find a formula you enjoy using. After years of trying everything under the sun (my pun game is strong today), I find EltaMD's UV Clear Broad-Spectrum SPF 46 to be the most user-friendly daily sunscreen. It's oil-free and completely traceless upon application. Since I always strive to achieve an even complexion, I opt for the tinted version, which is very sheer and adds a natural-looking finish to my skin.
2. Cleanser
A few years ago, a beauty-editor friend of mine suggested I try the Mandelic Acid 3-in-1 Wash from Vivant Skin Care. Since then, I can't be without a bottle. This gel cleanser is my absolute summer must-have and makes my skin feel as smooth as glass. No other facial cleanser has helped as much with tone, texture and refining the appearance of enlarged pores.
3. Serum
I can't tell you how many bottles of the ARCONA Magic White Ice serum I've gone through over the years. It's a lightweight liquid gel that delivers instant and lasting hydration. It's also packed with antioxidants that protect against environmental aggressors and leaves your skin feeling and looking refreshed. I also happen to love its juicy cranberry scent.
4. Face Oil
Relatively late to the game, I only got into face oils over the last decade or so. Ever since discovering African Botanics five years ago, their Neroli Infused Marula Oil has been in my top five of all-time favorite products. This lightweight and silky oil is grown organically, harvested responsibly and cold pressed to ensure its highest antioxidant potency. I seal my nightly routine with a few drops over whatever treatment serum I have in rotation and wake up to visibly glowing skin.
5. Face Mask
If there is one skin-care category in which I overindulge, it's masks. The constant in my arsenal is a tube of PCA Skin's Detoxifying Mask because of its purifying and decongesting properties. Unlike other clay masks, this soft-drying formula doesn't crack and flake off, which can cause uncomfortable tightness. During the summer months, I use it twice a week on my T-zone to detoxify my pores.
The self-care philosophy he swears by: 
When it comes to self-care, I've learned that consistency is as important as any product itself. The beauty-gadget landscape can be overwhelming, but I've had great luck with the NuFACE Trinity®. It's amazing how a simple microcurrent device can tone the appearance of your face, especially when your lymphatic system needs a boost—like on mornings when you wake up looking a little puffy. It's an investment, but if you can commit to a few minutes a day, you will be impressed.
His go-to recipe for quarantine cooking:
My favorite meal is actually a product of the pandemic. During the early days of sheltering in place, I was chatting with a friend who told me about the "Coming Home Pasta" recipe from Fanny Singer's new cookbook. It's very simple to make. While the pasta is boiling, heat up olive oil in a heavy pot, add 4-5 anchovies, a handful of smashed garlic cloves, a healthy dash of red pepper flakes and a tablespoon or so of chopped capers. I like to dice up some mushrooms if I have some in the fridge, because I love mushrooms. After the anchovies melt away and the garlic caramelizes, add a squeeze of lemon juice and whatever fresh herbs you have on hand (parsley, basil or even spinach). Toss with cooked pasta and top off with grated parmesan. It's surreal.