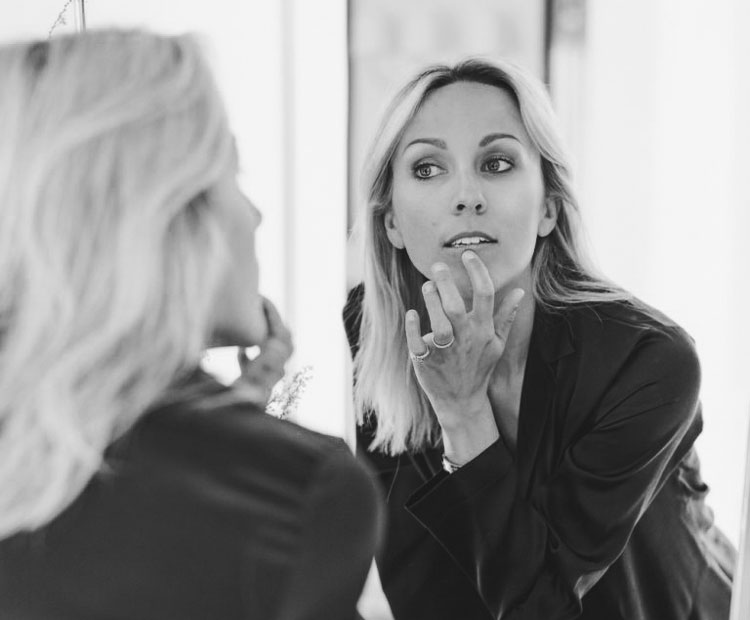 Photo: Courtesy of Jacey Duprie
For nearly a decade, Jacey Duprie has been sharing her best fashion, travel and home décor tips with followers and fans of her website, Damsel in Dior. In addition to running a successful blog, this L.A.-based tastemaker and mom to daughter June also launched an exclusive clothing collection with Nordstrom last year. For the latest installment of our More Than Skin Deep series, we caught up with the "damsel" herself to talk about the beauty regimen she swears by and the one thing she regrets doing to her skin.
The first beauty product she bought for herself: 
The very first beauty product I can recall purchasing was just before senior prom in high school. I was getting my makeup professionally done and they used Laura Mercier concealer. I absolutely loved it and used it all throughout college.
The best (and worst) thing she did for her skin: 
The best thing I ever did was invest in an actual skin care routine when I was engaged to be married. I religiously used the Basic Five Regimen by ARCONA and learned all about how consistent skin care can truly make a difference. The worst thing I ever did was allowing a facial esthetician to perform extractions on my skin at a very young age. She popped a blood vessel on my cheek when I didn't really need extractions at that time.
Her can't-live-without beauty products: 
I'm obsessed with ARCONA's Cranberry Gommage. It feels like a really wonderful scrub for my face. My favorite bath product is hands down SUSANNE KAUFMANN's Oil Bath for the Senses. It's so luxe and smells like heaven. My mom gifted me with BY TERRY's Baume de Rose Lip Care and I use it every day. It's super hydrating, light and is packed with nourishing ingredients like rose wax and vitamin E.
Her favorite postpartum workout: 
My all-time favorite workout is Pilates by Amanda. I was a runner prior to giving birth to my daughter last year, but during postpartum recovery I found running and other types of workouts to be too hard on my joints. I absolutely love Pilates. I love the way it makes me feel mentally and physically. I try to do Pilates at least three times a week—I crave it.
What she likes to treat herself to:
My biggest indulgence has to be a big bowl of pasta and red wine. I try not to deprive myself of good food because it makes me happy. So long as there is balance between eating, drinking and working out then I'm happy!