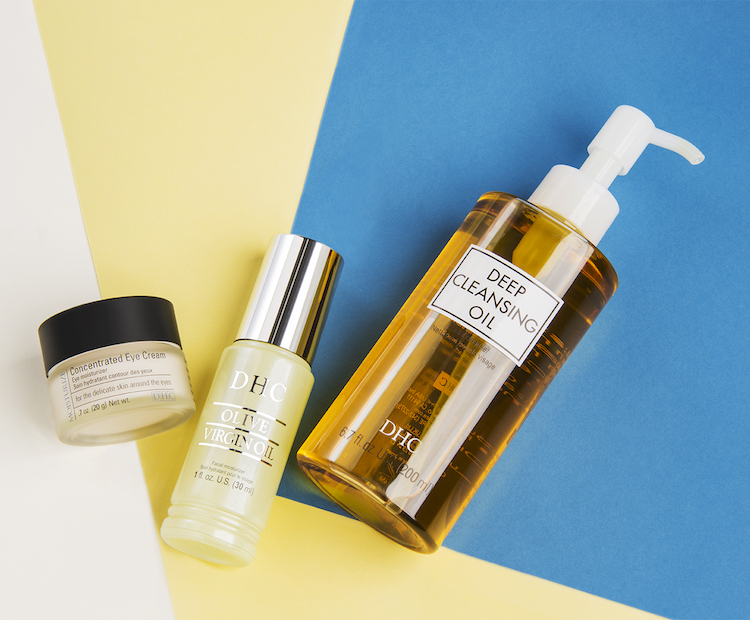 The Mediterranean offers a wealth of lush vistas, azure waves and picturesque ruins, yet it is also home to one of the healthiest oils on the planet—olive oil. With evidence of its existence dating back to 6000 BC, olive oil is obtained by physically pressing olives and withdrawing the juice. It remains a pantry staple worldwide for its rich, nutty flavor and internal health benefits, but did you know that it is also really good for your skin? Packed full of lipids, fatty acids and antioxidants, such as vitamins A and E, olive oil provides a level of skin protection to help ward off free radicals and other environmental aggressors so you can maintain a youthful appearance.
To uncover all the dynamic skin care benefits of olive oil, we chatted with Amanda Rhoades, retail account rep at DHC (a Japanese skin care brand based entirely around olive oil). Read on to learn why you should be incorporating this miraculous oil into your routine today.
1. It Moisturizes Your Skin Without Clogging Your Pores
One of the most nourishing oils in the world, olive oil is high in anti-aging omega-3 and polyphenols. Because it deeply hydrates, it's been a natural beauty mainstay for decades. "Ours comes from an organic olive farmer whose family has been producing the most prestigious grade of olive oil for more than 200 years," says Rhoades. "With its unique ability to mix with water, olive oil helps moisturize your skin without clogging its pores."
2. It Protects Your Skin and Balances Its Moisture Levels
According to Rhoades, olive oil also helps balance your skin's moisture levels and shield it from potential irritation. She notes, "Oxidized oils can cause blackheads and a host of other problems, but because olive oil has a naturally lower oxidation rate than your skin's natural oils, it is a perfect barrier to protect skin from irritants."
3. It's Teeming With Skin-Beneficial Nutrients
In addition to antioxidants and fatty acids, olive oil also contains skin-healing vitamin K and squalene, which help to plump, soften and hydrate the skin. With virgin olive oil being the healthiest variety and offering the most skin benefits, it also acts as a natural anti-inflammatory and anti-microbial agent and shows promising results for those with acne-prone skin. Rhoades continues, "Our signature product, DHC Olive Virgin Oil, is Flor de Aceite—the finest quality, extracted from organic Spanish olives that are handpicked when they are bursting with skin-beneficial nutrients. This superior oil is extracted from the crush before the first cold pressing to preserve its many nutrients."
4. It Helps You Maintain Your Youthful Glow
"Olive oil is one of nature's finest ingredients for helping you achieve and maintain healthy, younger-looking skin," adds Rhoades. Lightweight and silky, olive oil works great as a daily moisturizer to soften and nourish most skin types while imparting a subtle, natural-looking glow. You can also combine a couple drops with a serum or moisturizer or with your favorite body lotion to trap moisture and leave your skin feeling smoother.
5. It's Highly Versatile and Can Be Used All Over
When looking for ways to use olive oil beyond your daily skin care regimen, the options are endless. "Olive oil can be mixed with sugar for a sweet lip scrub in seconds," says Rhoades. "It's also brilliant at taming frizz and flyaways, as a rough skin spot treatment, a cuticle conditioner, a nighttime lash treatment or to get a dewy glow on the go (simply dab a few drops onto your cheeks or on top of your makeup!)."
So, how are you currently using olive oil in your skin care routine? Let us know in the comments section below.