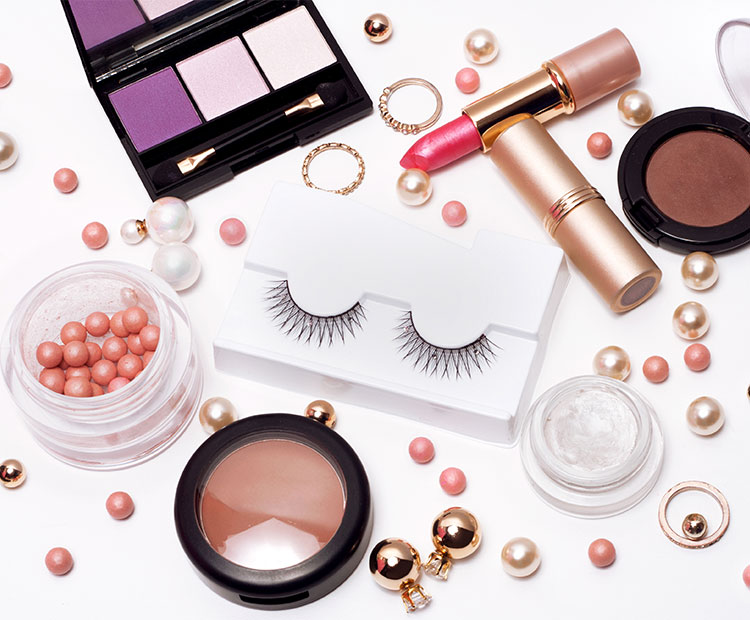 Wouldn't it be nice if, say, when you turned 21, all of your breakouts magically went away? And you had clear, smooth, dewy skin that never suffered from an unfortunate monster zit the day before a big job interview? (Or a date you're excited about. Or a trip to the beach…) Unfortunately for many, acne continues far into our adult decades, and while makeup itself doesn't necessarily cause acne, it can make it worse. That's why it's essential to be mindful of what ingredients are lurking, not just in your go-to moisturizers and cleansers, but also in your makeup bag. Though there are a variety of factors that could be irritating your t-zone, from fluctuating hormones to stress, sometimes the wrong product cocktail on your skin can be to blame. Here are a few tips on how to protect yourself from unfortunate (and let's face it: annoying!) breakouts.
1. Choose "Matte" Over "Dewy"
Even if your bestie swears by a sparkly foundation that mimics a dewey glow, what works for her more tolerant skin might not be the best match for skin that's more prone to acne. That's why dermatologist Dr. Sharyn Laughlin says being a thorough investigator of your pores and tracking your reactions is the first step in defending your skin against acne.
As an example, Dr. Laughlin explains that being aware of your already-oily, shiny skin will keep you from purchasing makeup products that add excess lubrication that you don't need. For oily skin, opt for products that say "oil-free" on its packaging and offer a "matte" or "semi-matte" finish instead of "dewy" or "satin." 
Editor's Tip: In the market for a new foundation? Here are a few foundation options for acne-prone and oily skin.
2. Track Where You're Breaking Out
Depending on the spots on your face that are more likely to attract a zit (or three), you can identify what product is actually causing a reaction. "If your foundation is breaking you out, then you will most likely see the acne fairly evenly dispersed around your face. If the bulk of your acne is around your hairline, then it might be more likely that your hair care products are involved," Dr. Laughlin explains.
However, if you're seeing more dots around your jawline, Dr. Laughlin explains that your acne could be less product-based and more hormonally charged. In this case, you'll want to see a dermatologist who can recommend a solution for you, either via a topical cream or oral prescription.
3. Change Your Makeup Routine Based on Your Cycle
Every woman has different indicators that her menstrual cycle is on its way. From sleepless nights and cranky moods to a severe craving for pizza. By the time you reach your mid-20s, you're well aware of your personal period's warning. If you know you're more likely to get a breakout around that time of month, Dr. Laughlin says to make sure your makeup matches your changing hormones. What you wear the other 25 days of the month might not be what you need to sport when you're spotting.
"If you are wearing the same makeup every day, then there will be no stopping and starting to your acne," she explains. As you anticipate the arrival of your zits, switch to a lighter formula and try to use less makeup when your skin is being challenged by your hormones.
Try: glominerals Pressed Base Powder Foundation
4. Let Your Skin Breathe
Though it can be difficult to go makeup-free when you're struggling with acne, Dr. Laughlin says taking a few days without makeup on can help your pores heal a little bit faster. On days when wearing makeup is inevitable, make sure to cleanse your skin thoroughly at night with a cleanser designed for your oily or acne-prone skin.
Try: Dermalogica Special Cleansing Gel
5. Avoid Products That Are Occlusive
Here's your vocabulary lesson of the day: certain ingredients in makeup—phthalates, paraffin wax, mineral oil and petrolatum—can be "occlusive" on your skin. What does that mean? Dr. Laughlin explains these ingredients—though common in skin care products—don't absorb into your skin, but rather, lay heavy on the surface. While this shouldn't be an issue if you have normal to dry skin, this can be problematic for people who are prone to breakouts because they create "pools" that eventually settle into pores, clogging them up and preventing your natural oils from escaping when they need to.
"These products do not let sebum, which is a natural and normal by-product of the skin, to exit from the pore to the skin surface. Combined with dead skin cells, the occluded pore becomes infected by bacteria, creating an inflammatory and immune reaction that becomes the acne lesion," she explains.
Try: Stila Cosmetics Aqua Glow Serum Foundation
6. Avoid Alcohol and Other Drying Ingredients
Though most people will attempt to "dry out" a red, painful zit, Dr. Laughlin says dehydrating your skin can have the opposite impact. If the makeup you're using has drying ingredients, like alcohol, it will prevent your skin from completing its natural exfoliating process, which allows dead skin cells to fall off on their own.
Try: Juice Beauty Serum Foundation
7. If You Want Makeup With SPF, Look for Zinc
If you prefer your makeup to have some sort of sun protection, Dr. Laughlin suggests opting for mineral options. Most mineral makeup brands will avoid using talc as a binder, which can be irritating to those who have difficult skin to begin with. Instead, mineral products are rich in zinc oxide, which is an anti-inflammatory that was once used to treat acne via tablet. And when mixed with other subtle ingredients, these more Earth-friendly products can give you everything from sun protection to coverage. "Mineral-based makeup with zinc alone or combined with titanium dioxide provides a good, balanced UV protection and 'natural' coverage for those who might have acne," she says.
Try: Colorescience Sunforgettable Loose Mineral Powder Brush SPF 30