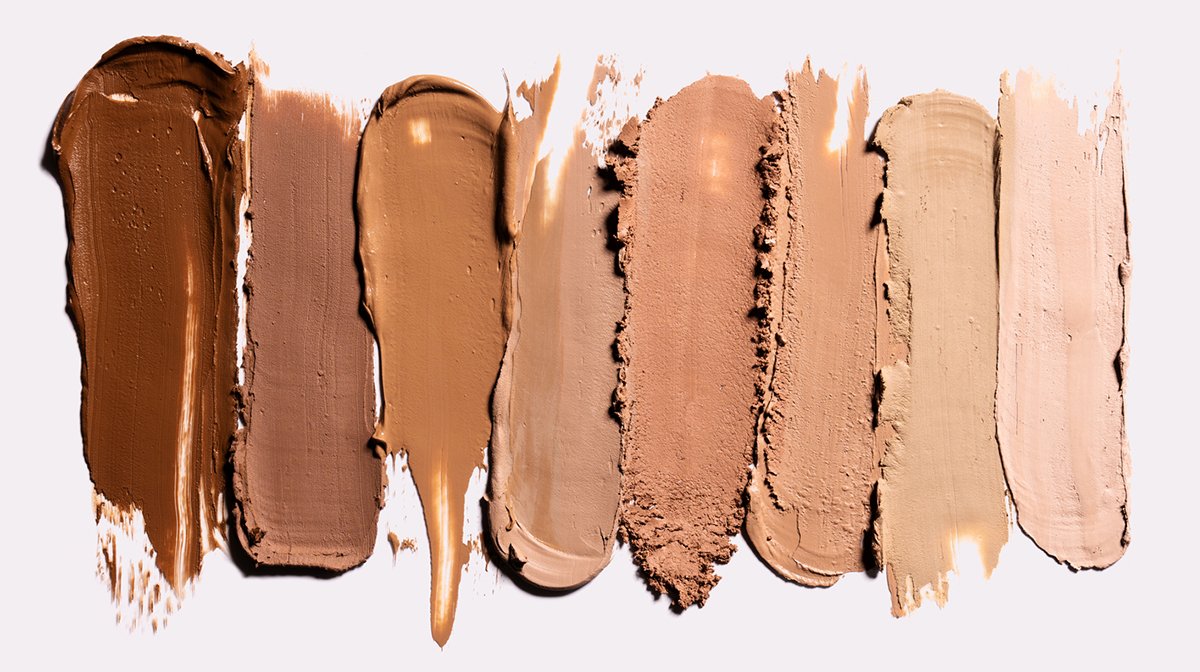 When your skin is prone to breaking out, it can be a struggle to find a foundation that won't aggravate your complexion. While it's tempting to cover up redness, bumps and post-acne marks with products that promise full coverage, this could spell bigger trouble if you're using the wrong product. "Generally, if your foundation isn't formulated for your skin type, it could clog your pores and worsen acne," explains Sandra Johnson, MD, FAAD, a board-certified dermatologist in Fort Smith, AR.
Choosing Foundation for Oily or Acne-Prone Skin
These days, makeup products come in all shapes, formulations and consistencies, so picking out the best foundation for oily and acne-prone skin can be rather overwhelming. While some makeup products won't necessarily indicate the skin type it's best suited for, their labels could offer you some clues. To narrow down your options, look for products that say "hypoallergenic," "oil-free" and "non-comedogenic" as these tend to work better on problematic skin, as with mineral-based loose powder formulas.
But if you want to play it even safer, "It's important to not only rely on the 'non-comedogenic' label on cosmetics, but instead, turn the bottle over and look at the ingredients list," says Brittany Buhalog, MD, chief dermatology resident at the University of Wisconsin-Madison. In a 2006 study using a modification of the Mills and Kligman test, Dr. Buhalog notes that researchers found ingredients like octyl palmitate, lanolin and its derivatives, isopropyl myristate and isopropyl isostearate (both esters of isopropyl alcohol) as potential contributors to acne.
And since you're likely going to be wearing foundation all day, you'll want to make sure you're getting extra skin care benefits from your makeup. Reach for foundations that are formulated with SPF, antioxidants and brightening and anti-inflammatory ingredients to pamper and protect your skin.
How to Apply the Foundation on Your Skin for Best Results
Product buildup is one of the primary causes of clogged pores and breakouts, so Dr. Buhalog says, "Try to use the thinnest foundation you can get away with! The last thing someone with acne-prone skin should be doing is applying thick foundation!" Instead, keep things light and focus on areas where you need it most. Follow it up with a concealer that contains salicylic acid "to provide some acne-treatment while you correct," shares Dr. Buhalog.
To apply your foundation, Dr. Buhalog suggests doing so with clean hands rather than a brush or sponge. "[Some women] rarely wash their makeup tools as often as they should, which promotes bacterial and fungal growth. Finish with a loose setting powder (which typically has fewer potentially pore-clogging binders and ingredients as pressed powders) in areas that really need it like the forehead, chin and area around your nose," adds Dr. Buhalog.
Here are some tips on how you can make the most of your foundation if you have oily or acne-prone skin:
Consider using a mattifying gel or primer under your foundation to help keep your makeup in place.
To minimize shine, keep blotting paper on hand.
When you're trying a foundation for the first time, try the product on the inside of your arm for two weeks before trying it on your face so you know how well it works with your oily and acne-prone skin.
Don't forget to cleanse your face at night and apply moisturizer (yes, even if you have oily skin) in the mornings and evenings before wearing foundation. Remember: Over-cleansing or skipping moisturizer could lead to irritation and more oil production and may make breakouts worse.
Our Top Foundations for Oily or Acne-Prone Skin
Buy now

with Dermstore

With jane iredale, you can be sure this foundation does more than just hide blemishes and reduce shine. Not only does it deliver buildable coverage with a velvety, matte finish, it also tightens pores and improves the skin's elasticity—thanks to a unique blend of skin-restoring ingredients that include peptides, plant-based hyaluronic acid and linseed extracts. With its lightweight, long-wearing and non-comedogenic formula, this primer, concealer and foundation in one stays flawlessly in place even on long days.

Buy now with free delivery