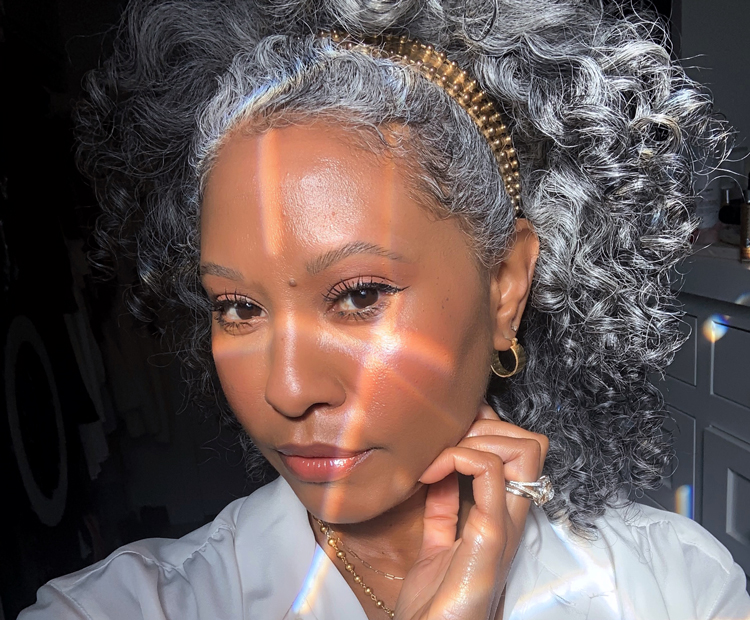 Photos: Courtesy of Tennille Murphy
For the latest installment of our More Than Skin Deep series, we're shining a spotlight on Instagram star and blogger, Tennille Murphy. As a former-interior-designer-turned-celebrity-flight-attendant, Tennille is no stranger to traveling in style. When she's not jetting across the globe as part of her job in corporate aviation, the silver-haired mom of two is busy sharing her design, wellness, fitness and (of course) curly-hair tips with her followers. Curious to know the natural oil she swears by and how she cares for her iconic curls? Keep reading to find out.
The first skin care product she bought for herself: 
The first skin care product I bought was pure rosehip oil, which was about nine years ago. Up until then I pretty much used baby products on my skin. My love affair with rosehip oil began after using it to reduce the scarring from a severe burn. Once I saw how effective it was for reducing the appearance of scars, I started using rosehip oil on my face daily. [After one year,] I saw a remarkable change in the appearance of old acne blemishes on my skin. For the first time ever, I felt comfortable adopting a natural, fresh-faced look.
How she went from having no skin care routine to a 10-step one: 
I have oily, aging skin so you would think that I would have always had a solid routine, but that is not the case. Over the last decade, my skin care routine has gone from not having one at all to having a multi-layered 10-step routine that legit brings me so much pleasure! Little by little as I have added a serum, oil or mask to my lineup, I have become more in tune with my skin's needs. Each product is essential to supporting the skin's barrier and at this point I can unequivocally say my routine is a huge reason my skin is now thriving.
The best (and worst) thing she's done to her skin: 
The best thing I did for my skin is switching to a plant-based diet. Nothing is more powerful for healthy happy skin than what I eat daily.
The worst thing I did back in the day was using one of those well-known subscription-based acne skin care routines. The products were horrible for my skin and also expensive!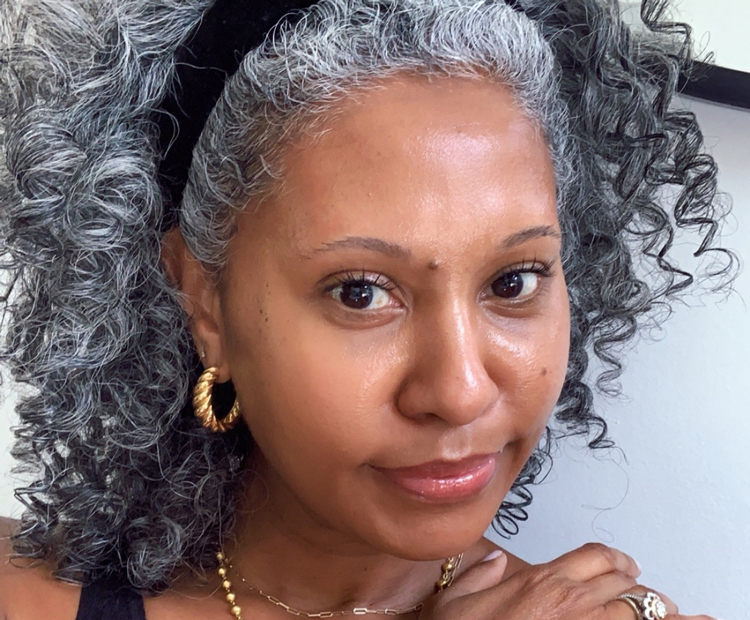 How she cares for her natural, silver curls: 
I've worn my hair naturally my entire life. Meaning I have had a lifetime of trial and loads of errors on my journey to learning how to properly care for my silver curls.
Why you shouldn't feel guilty about treating yourself: 
I would say my biggest indulgence these days is allowing myself to take time for ME. Usually it's through skin care or makeup, but more recently since quarantine, doing [at-home] manicures and pedicures. Time is extremely precious, as there is never enough time in the day, but it is equally as important to spend time indulging in the simple pleasures that make me happy. Treating myself has been a hard-taught lesson I learned in my 30s. It's actually less about the treat and more about the "no guilt" behind the treat. As a mother [of two], treating myself has always felt selfish. The fact that I can now do so guilt-free is a beautiful treat in itself!